Posted: 06/26/2006 at 6:05pm | IP Logged

---
A Review of Bob Mumford's Dr. Frankenstein and World Systems
by Steve Eastman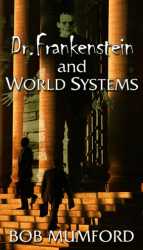 Why is Dr. Frankenstein's monster lumbering around on the cover of a Christian book? After all, the monster has been giving generations of children nightmares since the well-known movie in 1931, based on the 1818 novel by Mary Shelley. The answer to the question lies in how Bob Mumford uses the imagery of the monster to portray what he terms world systems. Variations of a familiar refrain sound throughout his book as a system takes on a life of its own "… the creature slides off the table, and begins to walk and talk."
The scripture that inspires Mumford's analysis is Ephesians 6:10-13. The key verse is number 12 (The Living Bible) , "For we are not fighting against people made of flesh and blood, but against persons without bodies – the evil rulers of the unseen world, those mighty satanic beings and great evil princes of darkness who rule this world; and against huge numbers of wicked spirits in the spirit world." Other versions use the terms principalities and powers. It is interesting how closely the concept of a person without a body corresponds to the legal notion of a corporation as an artificial person which may conduct business and be sued.
Mumford contends principalities and powers describe both good and evil forces. He even calls the Kingdom a system. Mumford says some systems are redeemable and some are unredeemable "… set for destruction or dissolution." He sees the church's role as instructing redeemable principalities in the ways of the Kingdom, especially in agape love. Rest assured Mumford is not talking about redeeming demons, just certain systems they may control such as a police department gone bad.
Another example of a redeemable system is the medical profession. Mumford tells how medicine was considered a calling in Florence Nightingale's day and practitioners were instructed in how to care. Today it has eroded into a system that cannot love. Only flesh and blood people can do that.
According to Mumford, churches and ministries can start out with good intentions to serve God. After a while they may engage in the same struggle to acquire, possess and control, just like secular systems. Mumford is uniquely qualified to speak on this issue. He looks back on the Discipleship Movement which he promoted in the 1970's. In 1987, Mumford publicly apologized to the Body of Christ, finally realizing how far the movement "… had deviated from its original purpose and teaching."
From a new perspective, Mumford introduces the concept of the Father's sentence of death. "Even when something is born of God, has been anointed, and has hope for the future. God may ask us to trust Him through the death sentence. If we refuse to hear him, the ministry, business, or organization begins to degenerate." To sum it up, never let a system take the place of being in close touch with God. He is our lifeline, not a system created to serve Him.
Dr Frankenstein and World Systems shows the influence of at least two authors mentioned in its bibliography – Oswald Chambers and Francis Schaeffer, but mostly it is fresh manna from the throne. At 69 pages, it is a quick read and, in my opinion, the best book yet by Bob Mumford. MorningStarMinistries is the publisher.
For more information about Bob Mumford, visit Lifechangers.