Posted: 03/02/2007 at 5:56pm | IP Logged

---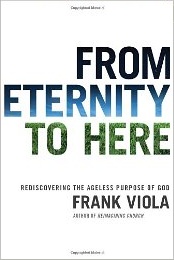 A Review of Frank Violaís Godís Ultimate Passion/From Eternity to Here
by Steve Eastman
I originally reviewed God's Ultimate Passion in 2007. The book is now out of print and replaced by From Eternity to Here.
Readers who look to Frank Viola to explain the rationale and methodology of house church will be pleasantly surprised. Up till now heís best known for Pagan Christianity, which has all the subtlety of an atomic bomb in dismantling unscriptural traditions that have insinuated themselves into the practice of church. Thatís not a bad thing, but something was missing.
Church, as God means for it to be, is not a destination to be arrived at by careful examination of history or even theological analysis. This time Violaís passion eclipses his impeccable scholarship, which is just as good as ever. The author gives us a window into his own soul and spirit as he explains Godís Ultimate Passion. We end up understanding the Kingdom better, which is essential in living out an unending love affair with God.
Viola identifies fourteen Biblical images that illustrate an aspect of the church. He concentrates on just a few, logically dividing the book into three major sections:
∑ A Forgotten Woman: The Bride of Christ
∑ An Eternal Quest: The House of God
∑ A New Species: The Body of Christ and the Family of God
In the first section, Viola draws an analogy between the first and second Adam. Adam was created as a single man. When he was naming the animals, Adam doubtlessly noticed they came in pairs. Not so for him. Although God was the initiator of their relationship, Adam had no one of his own kind to expend his passion on. Then, after the original week of creation, God put Adam into a deep sleep and made him a mate out of his own anatomy. In a sense, Eve was part of Adam all along. She was inside his body, waiting to be manifested. When they met, it was love at first sight.
Viola takes us to Eternity past when the second person of the Trinity experienced a similar predicament. Jesus Christ was the only son of God. God the father was the initiator of their relationship, but Jesus had no one of His kind to expend his passion on. God knew he needed a wife and in His plan created a church to fulfill that role. In a sense, the church was always part of Christ, because it would partake of His divine nature. It was love at first sight. Some would call the term Bride of Christ a metaphor. For Viola, this is too weak of a term.
In the second section of Godís Ultimate Passion, Viola introduces the concept of a homeless God. Many of us are familiar with the Tabernacle of Moses. It was one step in Godís quest for a home. It had an outer court, an inner court and the most holy place which contained the Ark of the Covenant. Only a priest could enter the most holy place and that was just once a year. Throughout the year, priests offered up various offerings on the bronze altar.
Not as many believers are familiar with the Tabernacle of David. At one point, the Philistines seized the Ark. David eventually got it back and put it into a little canvas tent on Mount Zion. The two tabernacles were just a few miles apart. The priests continued their ceremonies at the Tabernacle of Moses as if Godís presence had never left. David worshipped where the Ark and Godís presence were. Viola speculates that when the psalmist spoke of being under the shadow of Godís wings, he was referring to the shadow of the wings of the golden cherubim on top of the Ark. In other words, David was nestled against the Ark of Godís presence in that little tent.
The Tabernacle of David foreshadowed the home God would find in His people in New Testament times. Even in our day, we find parallels to both tabernacles. Some carry on religious activities as usual, not noticing Godís presence has departed. Others enjoy intimacy with Him outside the traditional system.
The second section of Godís Ultimate Passion lays the foundation for the third part. Having learned about fleeing the city of bondage, leaving the city of religion and exiting the desert of waste, we are ready to hear more about the Kingdom.
Viola constructs a parable that speaks to our postmodern era. A ďcreatureĒ from another universe invades planet earth. (He also uses the term ďnew species,Ē placating the concerns of detractors who would falsely say Viola is teaching Jesus is a created being.)
ďOne of the centerpieces of this creatureís message is that he is not native to planet earth. Instead, he has been sent from another realm. And more: He announces that he is a ruler in that other realm! Even more startling, he proclaims that he has come to establish his rulership on planted earth. Specifically, he has been sent to establish a colony of his own kind that will represent his rule. And that colony will eventually take over the planet!Ē
The final section of the book also throws a spotlight on Violaís own spiritual journey. His focus has shifted from one emphasis to the next:
∑ revivalist theology
∑ the power of God
∑ eschatology
∑ theology and doctrine
∑ holiness
∑ walking in faith
∑ worship and praise
∑ personal prophecy
∑ apologetics
After eight years Viola came to the conclusion he didnít need another it; he needed a Him. He learned Jesus Christ is the embodiment of all spiritual things.
From this, it is evident Violaís well known advocacy of house churches does not stem from a primarily historical or theological perspective. In his words, ďThe calling of every Christian servant is to build the ekklesia (Greek word often translated ďchurchĒ) upon an overmastering revelation of the Son of God. A revelation that burns in the fiber of their being and leaves Godís people breathless, overwhelmed, and awash in the glories of Jesus.Ē
Read Steve Eastman's interview with Frank Viola on the book.


Edited by Steve Eastman on 12/18/2010 at 9:36am