Posted: 08/12/2007 at 4:04pm | IP Logged

---
A Review of Alan Hirsch's "The Forgotten Ways"
by Steve Eastman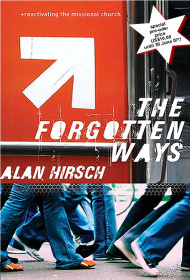 Alan Hirsch brings a unique perspective to the emerging church discussion. He used to pastor a 140 year-old dying, denominational church that was given a second chance after the congregation crossed paths with a recently converted drug addict and his party animal friends. Suddenly addicts, prostitutes, gays and Goths -- the fringe of society -- were showing up regularly, challenging the old-timers to adopt a more "missional" stance. Hirsch's time at seminary, which was still ongoing, had not prepared him for this!
South Melbourne Church of Christ "morphed" into South Melbourne Restoration Community. The new name exemplified the "missional" thrust and other concepts God was opening up to Hirsch. His ministry at SMRC had its share of failure, eventually clarifying his vision of the forgotten ways. Alan Hirsch is well read, an astute observer of society. This helps, rather than detracts from his ability to hear from God. He reminds me of Francis Schaeffer, who would probably say many of the same things if he were still alive today.
Hirsch's contribution to the emerging church discussion is the concept of "apostolic genius." The Forgotten Ways says he developed the phrase "... to try to conceive and articulate that unique energy and force that imbues phenomenal Jesus movements in history." He repeatedly refers to two Jesus movements in particular -- the original one that began in 30 AD in the Middle East and the contemporary one that began in 1949 when Communists forced the Church underground in China. Hirsch believes Apostolic Genius is buried deep within every Christian. It may well remain hidden until extreme conditions give it an opportunity to manifest.
Hirsch breaks down Apostolic Genius into several elements which he calls mDNA (missional DNA). He devotes close to half the book to explaining:
· Jesus is Lord
· Disciple Making
· The Missional-Incarnational Impulse
· Apostolic Environment
· Organic Systems
· Communitas instead of Community
Hirsch explains that "Jesus is Lord" means Jesus is supposed to be Lord of every aspect of life. There are not separate spiritual and secular sides to life. Jesus wants all of us.
Disciple making flies in the face of the "seeker-sensitive" model of church. It goes beyond intellectual assimilation of ideas. Hirsch realized he had failed as a disciple-maker when church members refused to support a marketplace ministry he had championed in the restaurant district of Melbourne.
The missional-incarnational impulse refers to how Jesus became one of us so we could identify with him. The church needs to reach beyond those who are like us and identify with others at the fringes. We need to put the Gospel into various cultural contexts. Like Jesus, we can do this without compromising.
Apostolic environment refers to a field of influence around an apostolic person. Hirsch compares an apostle to a midwife who ensures that conditions are right for birth or to a farmer who prepares soil for a harvest. Influence is the key word, not compulsion. An apostle nurtures, enables and inspires. He is a servant-leader, not a CEO.
Closely connected to the idea of apostolic environment is the concept of organic systems. Church, at its best, is not a hierarchical structure. Cells are held together by communication and shared values. There is "... no precise head or heart that can be readily identified." That is one reason why the Church in China has survived the death of leaders.
Hirsch borrowed the term "communitas" from anthropologist Victor Turner. For the church, communitas refers to the heightened sense of togetherness a group experiences when participants are out of their element and have to depend on God and each other. They may be experiencing the stress of persecution or the uncertainties of a mission trip.
Hirsch's message of The Forgotten Ways can be just as challenging to house church as to more traditional forms of church. Either way, if we are not being missional, we have missed our purpose and are mostly serving ourselves.
To read a sample of The Forgotten Ways, click here.
To visit Alan Hirsch's website, click here.


Edited by Steve Eastman on 09/03/2007 at 5:51pm