Posted: 07/05/2008 at 11:01am | IP Logged

---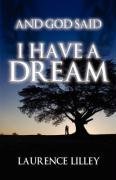 A Review of Laurence Lilley's And God Said I Have A Dream
by Steve Eastman
We humans tend to have a bad case of tunnel vision. We can be so easily distracted by our own problems and circumstances that it's difficult to see things from someone else's viewpoint, let alone God's. From pastors to evangelists, many ministers base their "pitch" on how God is ready to meet our needs whether by salvation, health or finances. Only rarely do we hear about God's deepest desires and how His church will make His dreams come true. It's not that He isn't interested in our world. He is, but are we interested in His world? Laurence Lilley illuminates the heart of the Father, Son and Holy Spirit with And God Said I Have A Dream. Along the way, he sacrifices a herd of sacred cattle.
Laurence Lilley was practically born in church. It grew less and less satisfying. From the age of 30 he started "running around searching for substance and reality." At age 40, he was a Pentecostal pastor. Six years later God took him out of church. Lilley spent the next seven years interceding for his nation. The intercession ended with a vision of all Australia worshipping God Almighty.
Lilley made discoveries along the way. The Bible is not the fourth person of the Quadrinity (a facetious term Lilley coined for the Trinity plus one). It is good for doctrine but is not supposed to be mindlessly repeated as God tries to catch our attention with a now (rhema) word. Obeying those nudges spells the difference between success and failure in life. Lilley summarizes it this way, "Life comes as the result of your relationship with God, not from knowing Bible verses."
So what is God's dream? It is to have sons and daughters who are duplicates of Himself. Does it sound like that's stretching "Let Us make man in Our Image" (Genesis 1:26b) a little too far? Lilley offers a New Testament counterpart. "As He is, now, so are we in this world (based on I John 4:17)." Don't worry. God is still supreme. He just wants us to take part in the family business and assert dominion on His behalf.
While many Christians are looking to the skies for a divine rescue from this messed up world, And God Said I Have a Dream reminds us that it is our privilege to be part of releasing the knowledge – and the substance - of the Glory of the Lord so it covers the earth as the waters cover the sea (Isaiah 11:9). His enemies will become His footstool (Psalm 110:1) and we have a role to play. God can do things through us that we can hardly imagine.
Laurence Lilley brings the reader to a moment of truth. Shall it be more of the same old, same old or sharing the adventure that God dreamed of in earliest Eternity? The Kingdom may not be the church of your fathers, but it is the church of the Father, and so much more.
Read Steve Eastman's interview with Laurence Lilley.
To view the book's website, click here.


Edited by Steve Eastman on 07/05/2008 at 2:13pm