Posted: 01/25/2006 at 7:30am | IP Logged

---
A Review of Gene Edwards' The Christian Woman … Set Free
By Steve Eastman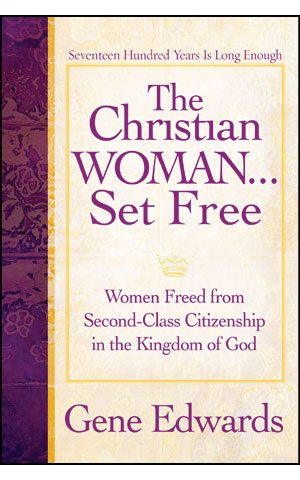 For many years Gene Edwards has taken the road less traveled in God's kingdom. Some are familiar with his deeper Christian life books A Tale of Three Kings, The Divine Romance and The Prisoner in the Third Cell. A smaller but growing audience knows Edwards for what he calls his radical books on house church. Recently he was touched by the traditional Christianity's second class treatment of women, resulting in The Christian Woman … Set Free. Edwards unearths little-known but relevant historical facts and shows how even modern teachings about the place of women are based on italicized English words that do not appear in the underlying Greek. This may be his most controversial book yet.
The Christian Woman … Set Free begins with a series of 18 quotes such as this one from King James: "To make women learned and to make a fox tame work out to the same end. Educating a woman or a fox simply makes them more cunning." The next seven chapters pretty much continue the expose that led off the book. To some this may be overkill, moving from one atrocity of opinion to the next. Those readers may want to skip directly to Chapter 8, A Revolutionist Named Jesus. Others may find the repetition reinforcing for a good, fact-based understanding.
After tracing the origins of traditional attitudes to the ancient Greeks and Hebrews and showing how similar attitudes prevailed in the Middle Ages and Reformation, Edwards givers us a breath of fresh air as he focuses on the revolutionary earthly ministry of Jesus. Here was a Man who ministered to the Samaritan woman at the well when men did not routinely talk to women in public. One of His parables gives dignity to the homemaker looking for her lost coin. As Jesus shared His feelings toward Jerusalem, He used the imagery of a hen spreading her wings over her chicks.
Next Edwards introduces us to the early church where women such as Priscilla and Lydia were co-workers with Paul. Priscilla, along with her husband, Aquila, explained the way of God more accurately to traveling preacher Apollos. Lydia provided lodging for Paul and his ministry companions.
Having established Jesus' attitude toward women in the Gospels, and Paul's, as well, through the first part of the book of Acts, Edwards shows the apostle's attitudes did not change when he wrote 1 Corinthians 11 and 14, Ephesians 5 and 1 Timothy 2. That's where he takes on silent women, head coverings and submission to husbands. Edwards knowledge of Greek and historical context prove invaluable.
Don't think The Christian Woman … Set Free is just for history buffs and other scholars. The book also draws upon the experience of the house church Edwards attends in Jacksonville, Florida, where women and men exercise their unique giftings to build up the body under the headship of Christ. The whole body suffers when part of it is muzzled. Traditions of the past must be examined to see if they are really of God. It is only as each of us learns to recognize God's voice and respond accordingly that the whole body springs to vibrant life. This book dares to dismantle the traditions of men when they violate the truth of God.
Read Steve Eastman's interview with Gene Edwards.


Edited by News Room on 01/25/2006 at 8:39am