Posted: 01/26/2012 at 1:47pm | IP Logged

---
Worldwide Kingdom Awakening News and Views




Published by Ron & Barbara McGatlin - Basileia Publishing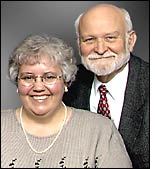 In This Edition
1. Overwhelmed by God's Love - Cleansed by His Fire
2. The Kingdom of God and the Kingdoms of Men - Video
3. Top News Headlines


Subscribe To OpenHeaven.com Digest





1. Overwhelmed by Gods Love – Cleansed by His Fire

By Ron McGatlin


My God, My God, why have Your people, Your creation, forsaken You and turned their backs to Your love - love that is far above and beyond all understanding and all knowledge and all strength in all of Your creation?
The longer that we live and the closer we come to complete intimacy with God, the more we no longer exist and the more He lives.
My dear friends, we are as dead men emptied of all life and as an empty carton or shell filled with the life of another – the life of Spirit God. Every intricate part of our being is becoming fully alive with only the pure, holy, glorious life of Christ Jesus – having nothing of our own and everything of His, abiding in these miraculously made earthen vessels prepared for God's dwelling.
My fellow sons and daughters of God, the time has come; the season is here to be completely consumed in the fire of His love. There is no room and no place in our God-made miraculous human bodies, souls, and spirits for even a tinge of the past Adamic fallen life. There is no place in our lives for even a hint of sin or past wounds. Our healer, our purifier has come as a consuming fire to make us new creations in Christ Jesus by His Holy Spirit.
THE AWESOME WORSHIPFUL RESPECTFUL FEAR OF GOD IS UPON US
.
Forerunners are being prepared to carry and impart the glorious all-consuming cleansing fire of God's love. The fire of His love flowing to all who are abiding in His presence is setting us free. God is washing away all of our lust, religious pride, and every dirty part of our past Adamic fallen ways. All of our wounds and bruises are being healed as we remain in His powerful presence and receive by the Spirit from his ministers made flames of fire.
The 21st century outpouring of His fire and love is a reality and is beginning now to flow into gatherings and meetings, especially where there are young people who are ready to receive the liquid fire of His love purging and cleansing them by His HOLY presence.
The words of the prophet will flow from ordinary people, filled with the Spirit and moving in His powerful presence. Dreams and visions are speaking the spiritual will and plans of God in indelible images upon the hearts of His maid servants. His young men are seeing visions, and His old men are dreaming dreams. The Spirit of the Most High is upon us and within us.
The awesomeness of God is being revealed. His plan and design for mankind was and is beyond our ability to even think and cannot be calculated. The Spirit of God is opening eyes to see the absolutely incalculable miracle-working love and power of God. The intelligence and wisdom of His design for life is infinitely intricate and perfect in every detail. The miracle of human seed and egg connecting through a love relationship that mirrors the intimacy of life as the Bride of Christ, the Wife of God, receiving His seed and producing His children into the world is an unexplainable miracle. The spiritual children of God are miracle made.
In the natural realm, no one can understand or explain how some cells get together and began to multiply extremely rapidly until they begin to form into a tiny heart and blood vessels and all the parts of a human body perfectly balanced and fit together in the womb. Miles and miles of blood vessels are formed and filled with life sustaining blood, vital organs develop and all this is from the start of tiny cells.
Some way the heart starts beating, and life begins to come about. In only about nine months, a living breathing human being comes into the world an unexplainable mystery of God's designed work. So it is in the spiritual realm as spiritual children are being produced in the love relationship with God. The Body and Bride of Christ are being miraculously formed and becoming His life in this world.
God is far beyond what we can even think in our limited natural minds. Personally, I am overwhelmed by growing closer to Him and seeing His absolute magnificence and glory of His love, ultimate power, and wisdom so far beyond that we seem as foolish and ignorant in even our greatest abilities and understandings.
Being Overcome in the Spirit
This all-powerful, all-knowing, all-loving God is who we are encountering in the 21st century outpouring of God's consuming love and fire. Is it any wonder that people fall to the ground sometimes like dead while God works on them rearranging who they are – cleansing trash from their lives – taking out the bad and useless and replacing it with Himself? He is reprogramming sons and daughters to carry His kingdom to the entire world.
Many of us are familiar to some degree with this kind of work of God from past outpourings. However, many others that are younger or that, for whatever reason, were not fully tuned into the past outpouring are not at all familiar with this type of cleansing work of God. Still others have encountered false or counterfeit works put out by the enemy to seek to discredit the real. What God is bringing today is pure and holy beyond the mixtures of the past. The next layer or work of God is coming forth in this new 21st century.
"Slain in the Spirit" is a non-biblical term that has been used to describe the many examples of people encountering the presence of God in biblical history and in revival history of past centuries. A much better term is "being overcome" in the presence of almighty God while God deals with us or does spiritual surgery on us. Biblical terms are statements like, fell into a trance or in a trance I saw a vision, falling down before Him or fell as dead before him or fell on my face, in a deep sleep, or I was in the Spirit. Saul/Paul fell to the ground and heard a voice; these and other terms are used biblically in describing the experience of encountering and being overcome by the presence of God and sometimes in the presence of angels (ministering spirits from God).
The term slain in the Spirit was, to the best of my knowledge, coined in the early powerful revivals in America in the 18th and 19th centuries when observers saw people at the revival gatherings laying out in the fields overcome by the Spirit of God. It looked to them like a bunch of people that had been slain. Thus the term was born: slain in the Spirit.
During the long reign of the lukewarm religious church, false teachings were devised to discredit this and other manifestations of the power of God. Most church people were taught against these works of God and now are often convinced that they are not real or not from God. The lukewarm church did not have the powerful presence of God and devised teachings to cover their lack including the end of many of the spiritual gifts that have been and are being restored layer by layer to the Body of Christ in spiritual outpourings.
The plain truth is that throughout biblical and natural history when human beings encounter the presence of All Mighty God, there is often a reality of being overcome and falling in His presence. It is always to be lifted up higher into spiritual things and often much cleansing is taking place.
Purification for Kingdom Reality
In this 21st century outpouring that is now beginning, people are encountering the powerful presence of God when they come together. As people are prayed for, the presence often comes, and the people are overcome as God works bringing purification fire in their hearts, minds, and lives. Healings and deliverance sometimes take place as part of the cleansing.
Where there were scattered recorded examples in the biblical accounts of encountering God, now in this day the encounters with the holy fire of God is more prevalent and available. The fire and love of God have come to us in these latter days of God's revealing and restoring work with mankind. People are turning to God with their whole hearts, and the love and fire encounters are repeatedly happening in gatherings of kingdom seeking people of God.
The focus of the 21st century outpouring is the LOVE and FIRE of God leading to the kingdom of God being formed in the hearts and lives of God's kingdom disciples.
Mixture often developed in the past outpourings. God is bringing now a pure and holy work in which none will enter and remain that defile. We are now experiencing the cleansing work of God making ready a people in whom Christ fully dwells.
The cleansing is not always pretty. There is much filth in the bath water that must be drained off and replaced with fresh showers of clean water to further cleanse the people of God. I believe that this kingdom-focused outpouring that is spontaneously coming up in spots across the world will spread across the world in the next several years. It is preparing a pure and holy people who have the kingdom of God on earth as it is in heaven dwelling in them.
The cleansing of God's kingdom people prepares the way for the great harvest of the earth and the fullness of the kingdom of God ruling and reigning on earth. Those who will not be cleansed will not remain beyond the great earth-cleansing fire of God that comes to destroy all evil from the earth and bring forth the glorious kingdom of God on earth as it is in heaven – the kingdom that is without end in the beauty of His holiness.
We are so overcome by His glorious majesty – our hearts so melted – so enamored with Him that nothing else really matters.
Nothing or no one can move us from adoring Him and yielding our lives completely to Him. Persecution, misunderstandings, or rejection from those we love and care about is a small sacrifice and means little to nothing to us in the awesome presence of His pure holy love. He is so magnificent, and we so love Him that adversities are insignificant to us in His presence. We truly love our enemies, those who persecute or spitefully use us. We are so filled with Him we cannot help but love. God's love is all-consuming. Truly our God is a consuming fire.
Are we now able to say with Paul, "I have been crucified with Christ; it is no longer I who live, but Christ lives in me; and the life which I now live in the flesh I live by faith in the Son of God, who loved me and gave Himself for me" (Gal 2:20)?
Praise God for the fresh outpouring of His love and fire. It is for such a time as this that we have come to the kingdom.
Keep on pursuing Love. Love never fails
and His kingdom never ends.


Ron McGatlin

archive.openheaven.com
basileia@earthlink.net




2. The Kingdom of God and the Governments of Men - Video
The Kingdom of God and the Governments of Men
-
Kriston Couchey
http://vimeo.com/35552258
For some additional teaching on this,
Go Here:
http://archive.openheaven.com/forums/forum_posts.asp?TID=38852&a mp;a mp;a mp;a mp;PN=1


3. Top News Headlines

Burma's new day dawns
- 1/26/2012
Burma's civilian government seems to be keeping on the path toward democracy and freedom. The United States kept its promise too, meeting action with action. "I really believe it's an answer to prayer. I never thought that we would see this." The climate in the country is very different. The people there seem excited and filled with hope at the changes. Read On:
http://archive.openheaven.com/forums/forum_posts.asp?TID=38863&a mp;a mp;a mp;a mp;PN=1&TPN=1
Persecution of Christians Rising in Islamic Countries
- 1/24/2012
With Islamists poised to take over governments overthrown during the "Arab spring," Christians and other minorities may soon be subject to Sharia (Islamic) law. In Egypt, attacks on Christians have increased exponentially since the fall of Hosni Mubarak's regime. Egyptian Christians have been beaten, shot and stabbed to death. Homes and churches fire bombed. Read On:
http://archive.openheaven.com/forums/forum_posts.asp?TID=38846&a mp;a mp;a mp;a mp;PN=1&TPN=1
Pakistan: Asia Bibi's accuser is said to have admitted that his charges are phony
- 1/23/2012
The case of Asia Bibi, the Pakistan Christian mother-of-five who was sentenced to death for alleged blasphemy, has taken an extraordinary turn. Qari Salam, who accused Bibi of blasphemy charges is reported to have realized that the case was not based on facts but on hyped religious emotions and personal bias of some village women, including his wife. Read On:
http://archive.openheaven.com/forums/forum_posts.asp?TID=38842&a mp;a mp;a mp;a mp;PN=1&TPN=1
President Obama proposed new age requirements for high school graduates during his State of the Union address.
- 1/26/2012
President Obama called on all states to raise their school compulsory attendance age to 18, a move that stirred verbal backlash from homeschoolers. "There appears to be no limit to the president's desire for power" "Car companies, banks, doctors, and now schools and family. He's gone too far." Compulsory approach fails to instill a love of learning or a quality education. Read On:
http://archive.openheaven.com/forums/forum_posts.asp?TID=38868&a mp;a mp;a mp;a mp;PN=1&TPN=1
Hundreds Gather for Prayer, Worship at The Response Florida
- 1/26/2012
A prayer movement that began with a Texas gathering in August, organized by former presidential hopeful Rick Perry, made its way to Orlando, Fla., Tuesday night ahead of the Republican primaries in the state. Online viewers, also had access via 225 host sites. More than 40,000 people gathered in Houston Aug. 6. Similar meetings have been held in Iowa and South Carolina. Read On:
http://archive.openheaven.com/forums/forum_posts.asp?TID=38867&a mp;a mp;a mp;a mp;PN=1&TPN=1
Seven Christians Killed by Muslims in Bauchi State, Nigeria - Many injured, church building destroyed
- 1/26/2012
The attack on the Evangelical Church was carried out by area Muslims alongside members of the Boko Haram sect, with the church building and surrounding houses bombed. Pastor with the Church of Christ in Tafawa Balewa, told Compass that the assailants arrived in the early morning hours and began shooting at Christians in the town, about (62 miles) south of Bauchi City. Read On:
http://archive.openheaven.com/forums/forum_posts.asp?TID=38866&a mp;a mp;a mp;a mp;PN=1&TPN=1
Egyptian Judiciary Accused of Collusion in Kidnapping and Forced Islamization of Christian Minors
- 1/26/2012
In December 2011, Amira attended a school lesson but failed to return home. Her teacher said she had left school with two veiled girls. Her family looked for her and were informed that she had accompanied three Muslim men to Cairo. They filed a report with the police. The head of security in Minya confirmed her kidnapping. Time passed and nothing was heard from security. Read On:
http://archive.openheaven.com/forums/forum_posts.asp?TID=38865&a mp;a mp;a mp;a mp;PN=1&TPN=1
A Tribute to a Great Mother - Pioneer Missionary Anne Wooding Lived a Life of 'Blind
- 1/26/2012
After completing her studies she set sail from Liverpool for Lagos, Nigeria, and soon became a pioneer missionary amongst the blind of Kano, the famed Muslim walled city in the north of the country. She became the first white woman missionary ever allowed into the city, on the edge of the Sahara Desert, to help the sightless there to read Braille. Read On:
http://archive.openheaven.com/forums/forum_posts.asp?TID=38864&a mp;a mp;a mp;a mp;PN=1&TPN=1
Tensions Rise in Kashmir, India after 'Guilty Verdict,' Fatwa
- 1/24/2012
Christian workers are fleeing India's Kashmir Valley after a Shariah, court issued a "guilty verdict" against three Christian leaders, issued a fatwa against Christian schools and launched a door-to-door campaign to bring converts back to Islam. The three had already left the region. The court ordered all Christian schools to teach Islam. Read On:
http://archive.openheaven.com/forums/forum_posts.asp?TID=38847&a mp;a mp;a mp;a mp;PN=1&TPN=1
Sudan: Abyei Elder Deeply Concerned At Deteriorating Situation In The Region
- 1/23/2012
A senior elder from Abyei has expressed deep concern over the deteriorating humanitarian situation in the contested region, which has been occupied by the Sudan Armed Forces (SAF) since May 2011. A UN Interim Security Force composed of Ethiopian troops mandated to establish peace in the area. The worst internal violence since South Sudan gained its independence. Read On:
http://archive.openheaven.com/forums/forum_posts.asp?TID=38841&a mp;a mp;a mp;a mp;PN=1&TPN=1
The Radical Islamization of Norway Creeps Forward
- 1/23/2012
It is truly bizarre that leftists and feminists champion a religion, Islam, in which women have the legal status of minors,which reserves the right to beat or kill women with impugnity, and views non-Muslim women as whores. Norway's leftist government has embraced Hamas and scorned Israel, and thrown wide the gates to the radical Muslim agenda. Read On:
http://archive.openheaven.com/forums/forum_posts.asp?TID=38840&a mp;a mp;a mp;a mp;PN=1&TPN=1
Muslims Attacking Nigeria - Radical Islamic Attacks Threaten Nigeria's Future
- 1/23/2012
The African country of Nigeria is continuing to witness waves of attacks by the Islamic group Boko Haram. Ten unexploded car bombs were discovered Monday in the aftermath of a weekend attack in the northern city of Kano. At least 178 people died in the latest attack, many police officers. Officials say death toll could rise as high as 250. Is the nation breaking apart? Read On:
http://archive.openheaven.com/forums/forum_posts.asp?TID=38839&a mp;a mp;a mp;a mp;PN=1&TPN=1
'Angels' Brave Violent Mexican City to Share Gospel
- 1/21/2012
A half dozen murders every day make Ciudad Juarez one of the most violent cities in the world. Drug trafficking drives the violence in this Mexican city, which is right across the border from El Paso, Texas. Mexican youth waited patiently as silver makeup and white robes turned them into "messenger angels." They have drawn the attention of international media. Read On:
http://archive.openheaven.com/forums/forum_posts.asp?TID=38826&a mp;a mp;a mp;a mp;PN=1&TPN=1
Muslims in Egypt Attack Church, Burn Christian Homes and Shops
- 1/21/2012
A Muslim mob Thursday (Jan.19) attacked Copts in the Upper Egyptian village of Rahmaniya-Kebly, Nag Hammadi, Qena province, destroying and torching their homes, straw huts and shops, while chanting Allahu Akbar. No one was reported killed or injured. Security forces were present but did not intervene and the fire brigade arrived 90 minutes late. Read On:
http://archive.openheaven.com/forums/forum_posts.asp?TID=38825&a mp;a mp;a mp;a mp;PN=1&TPN=1
For More Top News Headlines,
Go Here:
http://archive.openheaven.com/news/headlines/
---
Unlimited permission to copy and post or reprint without altering text or profiteering is hereby granted subject to proper credits and inclusion of this web address:
http://
archive.openheaven.com
. However, if an item not written by Ron McGatlin is marked Copyright, you should contact the original publisher for permission to reproduce.
Thank you for forwarding the OpenHeaven.com Digest to your mail list.


Edited by Ron McGatlin on 01/26/2012 at 4:04pm