Worldwide Kingdom Awakening News and Views




Published by Ron & Barbara McGatlin - Basileia Publishing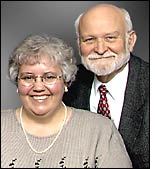 In This Edition
1. The Transformational Love of God
2. Personal Note
3. Top News Headlines

http://go.netatlantic.com/t/25391033/72684589/153261/0/ - Subscribe To OpenHeaven.com Digest





1. The Transformational Love of God

By Ron McGatlin


Within the kingdom there is one greatest of all kingdom principles, one greatest spiritual mystery law, one greatest of all kingdom concepts that saturates the entire kingdom and every other principle or law of the kingdom. It is the force that draws and holds the kingdom together, the glue that bonds the kingdom into unity. It is the motivation for every work in the kingdom. It is the power that causes all other kingdom principles to work. It is the root of righteousness, obedience, peace, and joy, the reason for the cross, the resurrection, and Pentecost. It causes purity, purpose, production, prosperity, contentment, and faithfulness. It causes men to become faithful servants and stewards. It can change a harlot or adulteress into a purified bride. It is the source of grace, mercy, and forgiveness.
This greatest thing in the kingdom cannot be easily explained. It must be experienced and felt Spirit-to-spirit. The most passionate, intense, and pleasurable natural experience cannot equal it. We can see and say what it does. But what it is or why it is goes beyond human natural understanding.
The greatest mystery law, principle, concept, understanding of the kingdom, the predominate force, and most significant factor in the kingdom of God is THE LOVE OF GOD.
Without the love of God, there would be no salvation for mankind. Jesus would not have come to earth. There would be no cross, no resurrection, no indwelling Holy Spirit, no righteousness, no peace nor joy on earth, no forgiveness, no deliverance, no healing of the heart, no real reason for living, no relationship between man and the living God, and no drawing force establishing God's kingdom on earth. Apart from the love of God, there is no kingdom of God from heaven on earth. Yet, who can describe what the love of God is?
John 3:16: "For God so loved the world that He gave His only begotten Son, that whoever believes in Him should not perish but have everlasting life."
Matthew 22:36-40: "Teacher, which is the great commandment in the law?" Jesus said to him, "You shall love the Lord your God with all your heart, with all your soul, and with all your mind. This is the first and great commandment. And the second is like it: You shall love your neighbor as yourself. On these two commandments hang all the Law and the Prophets."
The number of those who really know the love of God in a personal, intimate experience is increasing. Many may be heard to voice a desire to know God and to know Him better. To know God is to know love. God is love. The spiritual union and intimacy of knowing (experiencing) the love of God is the greatest fulfillment in life. Earthly accomplishments and human desires all fade into the distance. Life's highest highs pale in the rapture of experiencing God's love. There is nothing one would not do, nothing one would not give, to please Him. The only fear is the fear of disappointing Him. The heart's greatest desire is to hear His voice, to do His bidding, and to be pleasing in His sight.
The intense love between a man and a woman is a natural parallel to the love of God. In the Bible, the Song of Solomon is an expression of spiritual love in natural terms. Anyone who has truly been in love with someone knows to some degree the feelings of loving God. A man in love will do anything to be with the woman he loves. When they are apart, a deep aching and longing fills his chest. Only embracing her and pressing her against his chest will stop the ache and fill the longing. Her every characteristic, even her flaws, seem intensely beautiful and desirable to him. He will look deep into her eyes and say, "I will change the whole world for you. I will climb the highest mountain, defeat the fiercest enemy for you." They kiss, and she melts in his arms and replies, "I am yours forever. I will serve you with my whole heart; only, please, never leave me nor forsake me." He promises, "I will never leave you nor forsake you."
The world may have difficulty understanding why one in love with God will leave the activities and things of the world to be with Jesus. Religious people, with their rules and strife, may demand for the person in love with Jesus to be more involved with their religious activity. They may never understand why their ceremonies mean so little to the one who is personally experiencing the loving presence of God.
The love of God is love from God and love for God. The love of God flows toward us from God through Jesus. The Holy Spirit in us produces love from within us that flows toward God through Jesus, and we feel intense love from Jesus, and we feel intense love for Jesus. We are passionately and desperately in love with Jesus.
LOVE PURIFIES
Jesus' love motivates us to purity. Our desires are to be, to have, and to do according to His will. No other needs can drive us. He is all we need. His will and ways are always righteous obedience to the Father.
This greatest mystery of love can change harlotry to purity. The love of Jesus can change a rebellious, adulterous bride into a faithful, purified bride without spot or blemish. Jesus, by the love relationship, becomes one flesh with His bride and is manifest in her so that His life becomes flesh on the earth. As His presence appears within us and is revealed through us, we become as He is; we are purified.
Ephesians 5:25-27,29-32: Husbands, love your wives, just as Christ also loved the church and gave Himself for it that He might sanctify and cleanse it with the washing of water by the Word, that He might present it to Himself a glorious church, not having spot or wrinkle or any such thing, but that it should be holy and without blemish.
For no one ever hated his own flesh, but nourishes and cherishes it, just as the Lord does the church. For we are members of His body, of His flesh and of His bones. For this reason a man shall leave his father and mother and be joined to his wife, and the two shall become one flesh. This is a great mystery, but I speak concerning Christ and the church.
1 John 4:7-9: Beloved let us love one another, for love is of God; and everyone who loves is born of God and knows God. He who does not love does not know God, for God is love. In this the love of God was manifested toward us, that God has sent His only begotten Son into the world, that we might live through Him.
1 John 4:12b-13, 16,19: If we love one another, God abides in us, and His love has been perfected in us. By this we know that we abide in Him and He in us, because He has given us of His Spirit. And we have known and believed the love that God has for us. God is love, and he who abides in love abides in God, and God in him. We love Him because He first loved us.
Paramount Transformational Power
There is no power greater than the power of love. Nothing else can transform the world. No other power or force can overpower love. Nothing can neutralize the inherent power flowing within love. Every work of evil in man can be neutralized by love. Nothing can conquer love, and there is nothing that love cannot conquer.
God is love, and he who abides in love abides in God and God in him. Every aspect of man's life in the world can be transformed by love. Every burdensome weight and stressful oppression of man can be fully relieved by love. In a very practical and real way, the love of God in a person will transform his or her life. The love of God in a large number of people will transform areas of the world. The love of God in all people will transform the entire world. In a real and practical way, the world can be transformed into the kingdom of God.
It is impossible to abide in God and His love and not be a transforming agent in the world.
My prayer for this New Year of 2012 is that we may all have a greater experience of the manifest presence of the love of God – that we may more fully express the love of Christ in the Holy Spirit. I pray that a great outpouring of His love would saturate us with the overpowering love that will transform us and pour out to the world around us bringing His powerful transforming love to all the world.
Keep on pursuing Love. Love never fails
and His kingdom never ends.

Ron McGatlin

http://go.netatlantic.com/t/25391033/72684589/146995/0/" eudora="autourl - archive.openheaven.com
mailto:basileia@earthlink.net - basileia@earthlink.net




2. Personal Note
Ron McGatlin

I am seeking to be obedient to the leading of the Spirit in writing this note. This is the first time I have felt led to let people know this. This may not be for everyone reading the OpenHeaven.com Digest. You will know if it is for you as we go on. If it does not speak to you simply pay it no further attention, and that will be fine with all involved. I feel it is the leading of God for me to make you aware of a changing situation. It is interesting how often God chooses to use the change of a New Year or new decade or century to implement changes in our life and ministry or business operations.
God is always faithful and has faithfully provided all that was needed for OpenHeaven.com and for our personal needs. I am completely at rest that He will continue to do so. However, a distinct change in the method He uses to supply the operating expenses and our personal needs is changing in this first month of 2012. It is like God is setting up another pipeline to flow some of His provisions for http://go.netatlantic.com/t/25391033/72684589/146995/0/ - archive.openheaven.com website and OpenHeaven.com Digest weekly publication. Let me explain further.
God provided for the original cost for the set up of this ministry and much of the monthly operational expenses with savings from the sale of businesses from many years ago. God put me in business long ago and supernaturally provided savings from the sale of businesses which became the resources to largely fund OpenHeaven.com ministry.
There have been gifts received to support the ministry and to assist with personal expenses from time to time which allowed the funds from savings to last much longer. Thank you again to everyone who has given through the years.
Here is the big change. The savings have now run out and are no longer available to fund the ministry operations or supplement our personal income. I have prayed for over a month about letting you folks know about this change. I believe the Lord told me that there were people whom He had prepared to assist with this situation.
Since all of the people that help with the daily operations are willing volunteers, the needs are not great. The monthly expenses for OpenHeaven.com are 250 to 300 dollars each month. My Social Security check falls short of meeting our personal living expenses by about another $300 per month. This is what has been provided through savings until now.
I believe that God has a few people that are prepared to help us with the five to six hundred dollars each month that is needed. We are not about money but seeking to be obedient in making this need known.
We currently are running out of electronic postage for the Digest and will need more before next month.
For information on giving to OpenHeaven.com please http://go.netatlantic.com/t/25391033/72684589/169426/0/ - Go Here: http://go.netatlantic.com/t/25391033/72684589/169426/0/ - http://archive.openheaven.com/contact/
Thank you for your love and prayers and the many sincere responses to the OpenHeaven.com Digest and the http://go.netatlantic.com/t/25391033/72684589/146995/0/ - archive.openheaven.com website. You are a great blessing to all of us at OpenHeaven.com.
Keep on pursuing Love. Love never fails
and His kingdom never ends.

Ron McGatlin

http://go.netatlantic.com/t/25391033/72684589/146995/0/ - archive.openheaven.com
mailto:basileia@earthlink.net - basileia@earthlink.net


3. Top News Headlines

---
Unlimited permission to copy and post or reprint without altering text or profiteering is hereby granted subject to proper credits and inclusion of this web address:
http:/// -

. However, if an item not written by Ron McGatlin is marked Copyright, you should contact the original publisher for permission to reproduce.
Thank you for forwarding the OpenHeaven.com Digest to your mail list.
http://archive.openheaven.com/ - http://archive.openheaven.com
mailto:basileia@earthlink.net -