Worldwide Kingdom Awakening News and Views




Published by Ron & Barbara McGatlin - Basileia Publishing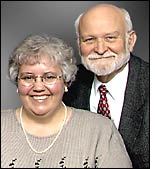 In This Edition
1. The Spirit Gives Life
2. Satanist Healed and Saved
3. Top News Headlines


http://go.netatlantic.com/t/25506275/72684589/153261/0/ - Subscribe To OpenHeaven.com Digest





1. The Spirit Gives Life

By Ron McGaltin

A fresh intensifying move of God has begun in spots. However, it is coming down universally as a world-size sheet of God's substance and glory. The spots are where it is being gladly received by God's people. The fresh intensification move is not the same as the previous moves in recent history. It is going to another level. In brief, the new thing is a fire of purification of life bringing true Spirit-empowered holiness. Mixtures of seeking anything apart from or in addition to becoming one with God in intimate relationship, as a child of the Father and the Bride of Christ, are being cleansed. This intensifying spiritual work of God is the kingdom of heaven advancing on earth.
The intensification of love and power is exciting to say the least. It brings fresh hope and increasing faith. However, it is also severely and at times abruptly changing many of our lives. Relationships are changing as God is realigning connections in preparation for the awesome works of God coming in this new season.
There is greatly intensified freedom to worship and praise God full-out without reservation. There is also increased freedom to boldly move in the gifts of the Spirit that powerfully ministers to people. Prayer is becoming an intensified experience with powerful results. A resurgence of praying in the Spirit is producing strengthening of our spiritual lives and opening doors to increased powerful spiritual resources of God.
For reasons that perhaps only God knows, a spiritual veil remains upon the eyes of some that limits their vision of the fresh move.
The veil is lifting from those who are fully yielding their lives to the "Spirit of the LORD" to become filled with His life of freedom.
2 Cor 3:17-18: Now the Lord is the Spirit; and where the Spirit of the Lord is, there is liberty.
But we all, with unveiled face, beholding as in a mirror the glory of the Lord, are being transformed into the same image from glory to glory, just as by the Spirit of the Lord.
Freedom comes by the Spirit. Freedom is in the Spirit of the LORD becoming our lives.
"Kingdom Freedom"
requires the total elimination of the restraining influences of fallen human flesh and religion that works through our souls to hinder or prevent the Spirit of the Lord from fully living and reigning in our hearts and being expressed outwardly in our lives. It is the total release of the Spirit of the Lord to have full authority to rule and reign in our hearts and lives.
Religious bondage
involves the restraining of the Spirit of the Lord in us by our human souls that have been trained in the letter of law through understandings derived from interpretation of the Bible and through life experiences that were both filtered through a grid of imperfect human "wisdom." Religious bondage relates to the pride of life and establishes a life of mandatory human control posing as God. It is an abomination standing as God in the temple (our bodies) where it ought not.
Worldly bondage
has to do with the restraining of the life of the Spirit of the Lord in us caused by our seeking to meet human needs and desires of our flesh. Human desires drive the soul to devise repetitive actions to bring temporary satisfaction (pseudo peace) to our lives. The body and soul become dependent on the effects of the repetitive actions or substances for a false sense of "well being."
Both religious bondage and worldly bondage are forms of spiritual harlotry. Both are seeking from other sources, other gods, what the Spirit of the Lord has provided for us. Religious bondage relates mostly to the soul and could be called bondage or control from the soul. Worldly bondage relates mostly to the flesh or needs of the flesh (lusts) and could be called fleshly bondage or control from the flesh.
Both of these bondages are strong hindrances to living and walking in the Spirit of the Lord, the kingdom of God lifestyle.
Experiencing Kingdom Freedom
Kingdom freedom involves the death of worldly fleshly drives or dependencies. It also involves the destruction of all religious controls, beliefs, and practices that were not planted in us by God. This has to do with the cross we are to take up daily, the death by crucifixion with Christ Jesus of our fleshly living, and the willing destruction or removal of our religious rocks.
The fullness of the resurrection life of Christ Jesus cannot live in us and through us until there has been death of our natural soul-controlled past lives. Resurrection life can only come after there has been a death.
THIS IS NOT OUR WORK. It is God who works in us by the Spirit of the Lord. HOWEVER, IT IS OUR WILLINGNESS and OUR DECISION TO UNRESERVEDLY YIELD OUR LIVES TO HIS COMPLETE CONTROL. It is our willingness to come to Him and lose control of our lives and our control over the lives of those around us. This seems like a death process to our souls. In reality, it is only the transition from our souls controlling our lives to the Spirit of the Lord guiding and empowering our lives. It is the transformation from self or soul control to Spirit of the Lord control of our lives.
God provides the power for this transformation through death unto resurrection life by the Life of Christ in us by the Spirit. The Spirit of the Lord, the crucified resurrected ascended and returned Spirit of Christ Jesus, is the only power capable of ending our past lives and filling our bodies, souls, and spirits with HIS LIFE, HIS SPIRIT.
His love, righteousness, power, wisdom, peace, and joy fill our lives where once lived our controlling, striving, judgmental, spiritually weak lives that were masked with a pretension of godliness. Shouts of joy emerge from our set-free hearts filled with His abundant life. The rule and reign of God fills our hearts and overflows outward in explosive bursts of His glorious light and rivers of living water. Pure waters of the Spirit of the Lord flow out to the dry thirsty land of the waiting people who are seeking more of God.
God is again calling, "you who thirst, come to the waters, come to the mighty river of the pure Holy Spirit of the Lord."
Isa 55:1: "Ho! Everyone who thirsts, Come to the waters; And you who have no money, Come, buy and eat. Yes, come, buy wine and milk Without money and without price."
In the past we have experienced revivals, spiritual awakenings, and renewals that called to us to come to receive from God and to give our lives fully into His loving hands. Now, in this day, in this season, there is a powerful spiritual roar of deep rumblings, as if it were deep within the earth about to explode like a volcano of fire shaking the earth and changing forever the landscape of life.
Can you feel the spiritual rumblings deep in your being shaking your insides; bringing tears flooding your eyes from a rush of unexplainable awe of anticipation – of joy unspeakable and awe-filled worshipful fear of All Mighty God – anticipation of Heaven come to earth in power and indescribable glory? The awe-filled reverent FEAR of God is returning. Men's hearts will fail in anticipation of the awesome works of God.
Multitudes are going to come running to the mercy seat of God seeking the place of cleansing by the blood of Christ Jesus and the rivers of living water washing and filling their lives with the pure holiness of the liquid fire of God's love.
God is preparing an army of able ministers of the Spirit to help prepare the way for the Spirit of the Lord to fill the trembling multitudes that will come by the miraculous works of God. Spiritual gifts are increasing explosively among those who have faith to minister supernaturally to the thirsty people of the land. Build yourselves up in the Spirit by praying profusely in the Spirit and expect supernatural support from Holy Angels to bring forth the mighty works of God to bring freedom to a world in bondage.
Who also made us sufficient as ministers of the new covenant, not of the letter but of the Spirit; for the letter kills, but the Spirit gives life.
(2 Cor 3:6)
"So the last will be first, and the first last. For many are called, but few chosen."
(Mat 20:16)

Keep on pursuing Love. Love never fails
and His kingdom never ends.

Ron McGatlin

http://go.netatlantic.com/t/25506275/72684589/146995/0/ - archive.openheaven.com
mailto:basileia@earthlink.net - basileia@earthlink.net






2. Satanist Healed and Saved

By Jay West
More Waves of God's presence are flowing into our area
I have a friend named Justin who sent me a note on facebook Tuesday stating he had just met and ministered to a Satanist named Robert at Starbucks. Tonight at the Omaha HUB which is a coffee house setting type of ministry similar to IHOP but smaller, the Bethel Redding team was ministering again and this guy got healed of a leg disease, He came up crying and blubbering stating that he was a Satanist and he asked for forgiveness from the people there. He said that he has been trained to hate Christians and hates everything about Christians - but that God healed him tonight of something in his leg and feet that he has had for many years, and that he was not leaving until he knew God tonight. Then many came up and prayed with and for him to get saved - and then he was crying even more.

Update a few days later, from my friend Justin

Well, I went to pick up Robert for the Hub on Monday night. During the 4 days since he had gotten saved, he played with his kids in the back yard for the first time because his leg was healed. He also hadn't touched a cigarette in those four days.
He had actually been in his 3rd year of priesthood in the satanic church. His old fellowship of about 50 people kept calling him to see why he wasn't coming to their gathering.
So he finally went. He took his Bible and told them he had found a better way; he said he hoped they would be convicted the way he was because God pulled him out of a crowd. He told them they worship a fallen angel, but the One who threw that angel down had shown him care. Then he walked out with 50 people staring at him.
Monday night he received the gift of tongues. That night he also prayed over people for healing and prophesied. I met with him Tuesday night. He can discern things in the spiritual realm very well already. After we met, he went home and burned his satanic bible, Ouija board, and other paraphernalia. He read his entire new Christian bible in 48 hours and could not put it down.
He came to Bible study on Wednesday night. He was highly involved and is very open to confess and repent publicly, and to ask questions about his obedience. He also asked me about getting someone as a spiritual father. He makes me see a lot of what the Church is missing a lot of the time.
I- (Jay West) will be meeting with him in person next week so I can update you once again after that
Surf's Up! A New Wave of God's
Presence is about to Hit!
Warmly and Sincerely,
Pastor Jay W. West

mailto:anointed2go@cox.net -
---
Unlimited permission to copy and post or reprint without altering text or profiteering is hereby granted subject to proper credits and inclusion of this web address:
http:/// -

. However, if an item not written by Ron McGatlin is marked Copyright, you should contact the original publisher for permission to reproduce.
Thank you for forwarding the OpenHeaven.com Digest to your mail list.
http://archive.openheaven.com/ - http://archive.openheaven.com
mailto:basileia@earthlink.net -