Worldwide Kingdom Awakening News and Views




Published by Ron & Barbara McGatlin - Basileia Publishing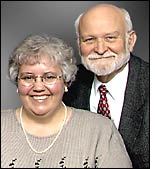 In This Edition
1. Such as I Have, I Give Unto You
2. A Word in Due Season
3. Top News Headlines


http://go.netatlantic.com/t/25466576/72684589/236401/0/ - Subscribe To OpenHeaven.com Digest






1. Such as I Have, I Give Unto You
Almost 60 years of being involved in the things of God in many varied church, business, and ministry experiences, seeking to serve God with my whole heart and all that is within me, have brought me to this place and this time. Surely the most significant time, the greatest season of God is now unfolding on earth and we (all who will) get to be a part of it.
Over two millennia of history have brought us from the time of the Cross to this time of the early years of the beginning of the third millennia since Jesus and the restoration of the preaching of the gospel of the kingdom. We have entered the third one thousand year period since Peter, James, and John and the other disciples of Christ walked upon Planet Earth planting the precious seed of the gospel of the kingdom of God on earth as it is in heaven.
It would be a grave error to look back in history and think it would have been better to have been in that day or to look ahead to the future and think it will be much greater in that day. All that has gone before us has brought us to this time of the fullness of the gospel of the kingdom of God being boldly proclaimed in power by the Spirit of Christ that has multiplied and is maturing in His many sons coming to glory (Heb 2:10).
The Kingdom Coming Within
Can you feel the explosion of fire and love within your spirit as the blazing glory of Christ Jesus erupts within us to consume all it touches? We are like those who dream or those who have died and resurrected into heavenly life. We are removed from natural concerns and earthly triviality to be transformed by the love and fire of heaven come to earth in us.
Even in the darkness of religion's valley of the shadow, the glory of God is bursting onto the scene of our world destroying evil - cleansing the vile from our lives. Harlots are becoming purified holy brides. Broken men from the darkest corners of life are becoming purified holy sons of God carrying the love of Christ in their hearts and the fire of his life flowing from their hands.
Religion's false limiting dogmas are being washed away as Truth Himself manifest in His sons. The resurrection life of Christ is alive and consuming the fallacious doctrines derived by demons planted by the traditions of men (1 Tim 4:1) (Mark 7:9, 7:13). Emptiness and boredom of self-centered pleasure-seeking is zapped away by the light of the joy of loving and serving God with all our strength and all our minds. Truly abundance of life abides in the resurrection life of Christ (John 10:10).
The 21st century outpouring is restoring the next layer of the kingdom of God that Jesus brought to earth over two millennia ago (Mat 4:23). The gospel of the kingdom seeded by Christ Jesus into the earth is growing into maturity in this the seventh millennium since Adam and the third millennium since Christ Jesus. The Spirit of God is producing the love and power of the sacrificed life now resurrected. We are truly becoming living sacrifices set apart to God for Him to fill with His resurrection life to be poured out to cleanse, heal, and deliver the people to become sons of God to bring forth His kingdom here and now on earth.
We now have much more to give. Like Peter, John, and the other first century disciples after the Holy Spirit came at Pentecost and filled them all with power from heaven, we now have power to preach and demonstrate the true kingdom of God. After the disciples had waited in Jerusalem to receive the promise of the Father, as Jesus had instructed before ascending to the throne, they were empowered by the Holy Spirit just as Jesus had said they would be (Acts 1:4-8) . Christ Jesus became a life-giving Spirit and returned to dwell in them by the Holy Spirit (1 Cor 15:45) (John 14:18). Christ in them by the Holy Spirit filled them with all the attributes of the resurrected life of Christ Jesus. They had more to give than ever before. They had the love, the fire, power, wisdom, and authority of Christ Jesus abiding in them as they lived and walked in the Spirit. They were filled and saturated by the Spirit of God. Christ was now abiding in them, and they were abiding in Him by the Spirit.
Peter and John walked into the temple at the hour of prayer. They passed a lame beggar that they probably had passed before sometime in the past prior to the Holy Spirit's coming at Pentecost. Perhaps they had even given him alms before when they had some coins to give. They had given him such as they had at the time. This time would be different. They had something much greater to give the lame beggar now.
And Peter, fastening his eyes upon him with John, said, Look on us. And he gave heed unto them, expecting to receive something of them.
Then Peter said, Silver and gold have I none; but such as I have give I thee: In the name of Jesus Christ of Nazareth rise up and walk.
And he took him by the right hand, and lifted him up: and immediately his feet and ankle bones received strength. And he leaping up stood, and walked, and entered with them into the temple, walking, and leaping, and praising God.
(Acts 3:4-8)
As I considered this encounter I began to imagine two religious men of that day stopping to answer the beggar's request with questions like, What sin have you committed to cause this lameness? Was it the sin of your parents that caused you to be born this way? If you will properly repent for those sins and bring the proper sacrifices and pay a proper tithe on the alms you receive, perhaps God will help you. And turning to his companion, "Aren't you glad we are not in sin like this poor man?"
Then a compassionate good man, but a man who was not experiencing the fullness of living and walking in the Holy Spirit, came by and sought to comfort the beggar. He sat down beside him and put his arm around him and said, "Oh you poor fellow, I am so sorry you are in this condition. I know it's not your fault that you are lame. Someday when Messiah comes and establishes His kingdom, life won't be like this. But if Messiah does not come in your lifetime, you will be all well in heaven." The good and compassionate man gave him some alms and comforted him in his condition and promised to come again to help him more.
Each of these men gave what he had to the beggar. It was the very best they had to give. Like the religious legalistic church systems, the first men had only legalistic religious instruction that added condemnation to the lame man. The compassionate man like the lukewarm and liberal church systems gave compassionate comfort and money to help the situation but left him crippled still. They each gave what they had, and they all turned the man toward faith in something other than Christ and His kingdom that had come to earth in the Holy Spirit. The legalist had faith in human works and the priestly order of the passing old covenant. The good man had faith in human compassion, heaven some day and a kingdom to come some day in the future.
However, Peter and John filled with the Holy Spirit had Christ and His kingdom love and power in them by the Spirit to completely heal the man and set him free
.
The kingdom of God is righteousness, peace and joy IN THE HOLY SPIRIT and is not in word but in power
(Rom 14:17)(1 Cor 4:20).
1 Cor 4:20: For the kingdom of God is not in word but in power.
To me this is a picture of where we are today. We have endured the religious legalistic church system and the lukewarm powerless church system that could only try to correct us or comfort us in our deformed cripple state. Now in the New Century (21st century) outpouring outside the religious church systems, ordinary people are powerfully encountering the presence of God by the Holy Spirit and are being cleansed by the work of the Spirit of Christ. We are receiving a pure heart and moving into a holy life by the power of God.
We are being prepared and released to bring forth the kingdom of God in the world as it is in heaven. We are beginning to move as one with one focus and one life in which to serve God by serving His people with the fullness of Christ in us by the Holy Spirit – lifting our eyes and setting our minds on things that are above. We are no longer seeking after the things of this life but seeking Christ Jesus and His kingdom first and above all else in this life. We are here in this life in this time to bring forth the glory of our Lord and His kingdom.
Mat 6:31-33: "Therefore do not worry, saying, 'What shall we eat?' or 'What shall we drink?' or 'What shall we wear?' For after all these things the Gentiles seek. For your heavenly Father knows that you need all these things. But seek first the kingdom of God and His righteousness, and all these things shall be added to you."
Keep on pursuing Love. Love never fails
and His kingdom never ends.

Ron McGatlin

http://go.netatlantic.com/t/25466576/72684589/146995/0/ - archive.openheaven.com
mailto:basileia@earthlink.net - basileia@earthlink.net
2. A Word in Due Season
By Jonathan Sechrist
We are in what could be the greatest time of all History concerning the Kingdom of God. The chains of darkness are at their height in our generation. The religious system has been the greatest tool the enemy used both in the past and in the present. The dangers today far outweigh the past because his deception has so morphed into the largest stronghold in History.
But Praise God the chains are being broken and the shrill of the defeat of the enemy is being heard across the land. God is awakening and unlocking the chains that have bound us for far too long. He is revealing the mysteries of His Kingdom and empowering us by His Spirit to be more than Conquerors through Him who loves us.
When a country goes to battle against the enemy they first send in the stronger weapons to take out the enemy's strongest defense. Then they begin to go in with ground troops to strategically take out smaller strongholds until they have things under-control and then the clean up process begins.
We and those who have taught us have allowed the enemy to deceive us in such a sly way. He knew he could not to steal the rule of the Spirit of God in man unless he could change the teaching of that reality. But through religious strengths and twisted theology he has been able to nearly squelch out the rule of Jesus living in His people.
But thank God that throughout History there have been a remnant who God has revealed Himself to, who said I don't care what others think, I just know that I want God more than anything. Through these people, who saw God as their only worthy goal, God has been able to restore at different times the truth that it is only by His Spirit that the battle against the enemy and our own flesh can be won.
So the enemy continued to try to hide this truth. Much of it has been by taking a few verses from here and there and twisting them into a doctrine. One of these teachings that has been prominent in some denominational realms, is that we somehow traded the gifts of the Spirit for the written word. How sad. Why would God want us to trade the empowerment of His Spirit that dwells in us for words on paper that have no power without the Spirit? Consider these verses.
1Cor 2:4: And my speech and my preaching was not with enticing words of man's wisdom, but in demonstration of the Spirit and of Power.
1Cor 2:14: But the natural man receives not the things of the Spirit of God: for they are foolishness to him: neither can he know them, because they are spiritually discerned.
2Cor 3:6-8: Who has made us able ministers of the New Testament; not of the letter, but of the Spirit: for the letter kills, but the Spirit gives life. (7) But if the ministration of death, written and engraved in stones, was glorious, so that the children of Israel could not steadfastly behold the face of Moses for the glory of his countenance; which glory was to be done away. (8) How shall the ministration of the Spirit be rather glorious?
Jesus said if a person was going to go into someone's house to take possession that he must first bind the strong man. The strong man in God's people is the Holy Spirit. The enemy knows if he can deceive us into believing that we don't need the gifts of the Spirit to empower us, that we can just live by the word and be ok, then he has defeated us and others who are looking to us as a witness of the Power of God.
We as God's people cannot go forward in Victory until we have been endued with Power from on High. This is the first step to God bringing revival and the reality of His Kingdom in Power. As this takes place then we can go in and take the strongholds that the enemy is holding people captive in and clean up the mess that false teachings and doctrine of demons have deposited.
Too many times people have wanted to try to clean up the mess first, when the major strongholds had not been dealt with. God is sending the purifying Fire of His Holy Spirit to awaken us to the reality of the Power of Christ in us and through us.
"Even so come Lord Jesus"


Jonathan Sechrist
mailto:sechristfamily1@gmail.com - sechristfamily1@gmail.com




3. Top News Headlines

http://go.netatlantic.com/t/25466576/72684589/236402/0/ -

Blind See, Deaf Hear at Bonnke Meeting in Africa - 1/30/2012
The Holy Spirit was poured out in Burkina Faso, West Africa on a multitude in a mass baptism of fire! Dramatic signs and wonders accompanied the preaching. An old mama who was totally blind received her sight. A woman with a lump in each breast, had both lumps vanish. A totally deaf woman was also completely healed along with another blind girl." Read On: http://go.netatlantic.com/t/25466576/72684589/236389/0/ - http://archive.openheaven.com/forums/forum_posts.asp?TID=38898&a mp;PN=1&TPN=1


The First Time He Saw His Father Cry - 2/2/2012
This was the same man who had chased him out of the house three times (once with a knife), mercilessly beat his own wife and children for their faith in Jesus Christ and falsely accused a pastor of kidnapping his family. This same man now stood before a church congregation with tears streaming down his face as he testified of his personal encounter with Christ. Read On: http://go.netatlantic.com/t/25466576/72684589/236390/0/ - http://archive.openheaven.com/forums/forum_posts.asp?TID=38916&a mp;PN=1&TPN=1


'Courageous' Tops DVD Sales Nationwide - 1/30/2012
Christian retail stores helped make Courageous the best-selling DVD of all in the country in its first week of release. The faith-based cop drama from church-based Sherwood Pictures, makers of the hit marriage drama Fireproof, topped the Nielsen VideoScan First Alert sales chart for the week ending Jan. 22, ahead of the George Clooney political drama, The Ides of March. Read On: http://go.netatlantic.com/t/25466576/72684589/236391/0/ - http://archive.openheaven.com/forums/forum_posts.asp?TID=38900&a mp;PN=1&TPN=1


Petition for Asia Bibi on its way to one million signatures- 1/30/2012
After hundreds of thousands of signatures, Voice of the Martyrs is still calling for more to speak up on behalf of believer Asia Bibi. In November 2010, Bibi was falsely accused of blasphemy and thereby sentenced to death by the Lahore High Court of Pakistan. The number of international signatures on a petition for Bibi's freedom has now reached well over half a million. Read On: http://go.netatlantic.com/t/25466576/72684589/236392/0/ - http://archive.openheaven.com/forums/forum_posts.asp?TID=38902&a mp;PN=1&TPN=1


Bishop Eddie Long Crowned King in Ritualistic Jewish Ceremony - 2/2/2012
Rabbi Ralph Messer and two other men wrapped an original scroll from Israel around Bishop Eddie Long as the New Birth crowd cheered. Messer dubbed the scandalized megachurch pastor a king during a televised broadcast on Sunday. Four men then lifted the seated Long up and carried him around the platform. A YouTube video of the event is spreading rapidly over the Internet. Read On: http://go.netatlantic.com/t/25466576/72684589/236393/0/ - http://archive.openheaven.com/forums/forum_posts.asp?TID=38918&a mp;PN=1&TPN=1


Gospel Singer George Beverly Shea Turns 103 - 2/2/2012
As he turns 103 on Wednesday, George Beverly Shea's heart is as joyful as that of a child. "Karlene and I rejoice in the Lord's overwhelming grace to give me 103 years of life!" The youthful centenarian will celebrate the day in the company of his family in quiet reflection. Shea is thankful for people with whom he has traveled the world since he met Billy Graham in 1943. Read On: http://go.netatlantic.com/t/25466576/72684589/236394/0/ - http://archive.openheaven.com/forums/forum_posts.asp?TID=38919&a mp;PN=1


Egypt: the gross insecurity of the dhimmi - 2/2/2012
In an Islamic State, Christian may keep their religion if they live in total submission to the Islamic order. Known as 'dhimmis', these second-class citizens are without human rights. Any resistance, and their life and property are forfeited. In accordance with Islam, no Islamic State will ever prosecute Muslims for killing or looting Christians who demand human rights. Read On: http://go.netatlantic.com/t/25466576/72684589/236395/0/ - http://archive.openheaven.com/forums/forum_posts.asp?TID=38917&a mp;PN=1&TPN=1


News From British Isles, Ireland. Europe and Worldwide - 2/2/2012
Burkina Faso: Blind see, deaf hear at meeting - People have less integrity and it is harming society - Philosopher warns of threat to religious freedom - Sentamu warns don't legalise gay marriage - Sexual freedom and relationship breakdown cost £100 billion - Nine-year-old British girls forced to marry under sharia law - Syria: Risking it all to report the uprising - More> Read On: http://go.netatlantic.com/t/25466576/72684589/236396/0/ - http://archive.openheaven.com/forums/forum_posts.asp?TID=38915&a mp;PN=1&TPN=1


Islamic parents found guilty of murdering 3 teen daughters in Canada - 1/31/2012
A jury found an Afghan father, his wife and their son guilty of killing three teenage sisters and a co-wife in what the judge described as "cold-blooded, shameful murders" resulting from a "twisted concept of honor." The jury took 15 hours to find Mohammad Shafia, 58; his wife Tooba Yahya, 42; and their son Hamed, 21, each guilty of four counts of first-degree murder. Read On: http://go.netatlantic.com/t/25466576/72684589/236397/0/ - http://archive.openheaven.com/forums/forum_posts.asp?TID=38907&a mp;PN=1&TPN=1


Human lives for sale at the Super Bowl - 1/30/2012
The Super Bowl has been called the largest sex trafficking event in the U S. Women, men, boys, and girls are all sold on the underground for the sexual pleasure of fans caught up in parties and alcohol. Thousands of girls will be brought into Indianapolis for this single event. Theresa Flores knows what horrors will take place. She was a victim of trafficking for two years. Read On: http://go.netatlantic.com/t/25466576/72684589/236398/0/ - http://archive.openheaven.com/forums/forum_posts.asp?TID=38901&a mp;PN=1&TPN=1


http://go.netatlantic.com/t/25466576/72684589/236399/0/ - Over 3000 Muslims Attack Christian Homes and Shops in Egypt, 3 Injured - 1/29/2012
A mob of over 3000 Muslims attacked Copts in the village of Kobry-el-Sharbat Alexandria, Egypt. Coptic homes and shops were looted before being set ablaze. The perpetrators were bearded men in white gowns. "They were Salafists, and some were from The Muslim Brotherhood," Terrorized women and children who lost their homes were in the streets with no place to go. Read On: http://go.netatlantic.com/t/25466576/72684589/236399/0/ - http://archive.openheaven.com/forums/forum_posts.asp?TID=38890&a mp;PN=1&TPN=1

http://go.netatlantic.com/t/25466576/72684589/236400/0/ - Obama-Backed Energy Company Goes Bankrupt - 1/29/2012
The parent company of an electric car battery maker backed by the Obama administration is going bankrupt. In 2009, Ener1's subsidiary, EnerDel, received a $118 million stimulus grant from the Department of Energy. Ener1 is the third such company to file for Chapter 11 after receiving grants from the Energy Department under the economic stimulus law. Read On: http://go.netatlantic.com/t/25466576/72684589/236400/0/ - http://archive.openheaven.com/forums/forum_posts.asp?TID=38891&a mp;PN=1&TPN=1


For More Top News Headlines, http://go.netatlantic.com/t/25466576/72684589/236403/0/ - Go Here: http://go.netatlantic.com/t/25466576/72684589/146994/0/ - http://archive.openheaven.com/news/headlines/

---
Unlimited permission to copy and post or reprint without altering text or profiteering is hereby granted subject to proper credits and inclusion of this web address:
http:/// -

. However, if an item not written by Ron McGatlin is marked Copyright, you should contact the original publisher for permission to reproduce.
Thank you for forwarding the OpenHeaven.com Digest to your mail list.
http://archive.openheaven.com/ - http://archive.openheaven.com
mailto:basileia@earthlink.net -