1. The Evening and the Morning
By Ron McGatlin
The end precedes the new beginning.
The dawning of each day is the beginning of its end.
So it is with all natural life. Only the creator of all life has no beginning and no end.
God is inviting us to transcend from natural life into life of no beginning or end.
Life not of this world but in this world. Life within time but not of time.
Life that did not begin at our birth on earth but was and is and shall be.
A life of awakening to Spirit awareness of a life before time as a Spirit-being and now abiding in an earthly body.
A life of oneness with Christ Jesus abiding within by the Holy Spirit.
A life of endlessness and limitlessness Spirit life in earthly natural bodies.
It Is Evening
It is evening time for past limitations and failures that we have endured as natural mankind striving to attain a godly life in a world bent on evil and self-destruction. It is evening time for our doubts, fears, and weaknesses arising from the lack of experiencing who we really are, where we really came from, and the purpose for which we have come to this world.
It Is Morning
It is morning for the fresh resurrection life of Christ within us arising in the brightness of our originally created state as sons of the living Almighty God in Christ Jesus by the Holy Spirit. At the moment when we give our lives to Christ Jesus and His life enters our being, our mortal bodies take onboard immortality of life eternal without limitations. In the twinkling of an eye, our mortal bodies have become carriers of immortal life within. (2 Cor 5:17) (1 Cor 15:54).
Literally Christ is our life.
IN CHRIST we are firmly connected into the vast unlimited resources of Spirit God at the throne of all creation. (Eph 2:6).
CHRIST IN US while we are in this natural body on earth connects the unlimited resources of Spirit God in heaven to this world through us. Christ in us is literally bringing heaven to earth. (Col 1:27).
We that are in Christ and Christ is in us are the light of the world, the one true source of the heavenly life of love, power, and wisdom of Almighty God ruling and reigning on earth. (Mat 5:14) (2 Tim 2:11-12).
THE ONE GREAT HINDRANCE IS NOW COMING TO AN END.
The one and only thing that hinders the fullness of the release of the unlimited resources of Spirit God from heaven is man's declaration of independence from God. Through mankind's choice to function and rule life in this world by his own understanding and ability without God, faith and hope are lost, and the ability to love is tossed aside.
Men become their own god each striving for supremacy and control over people and the wealth of the world. Rebelliousness, greed, lust, and pride lead to strife to take control over the people and the wealth of the world. In the fierceness of this evil competition, mankind produces his own death as nations and tribes destroy one another in world wars. "For nation will rise against nation, and kingdom against kingdom. And there will be famines, pestilences, and earthquakes in various places." (Mat 24:7).
THE GREAT APPEARING
Christ Jesus, Lord of all, is now appearing (manifesting) in the world from the hearts and lives of those who love God and are again declaring their dependence on God alone to rule their lives. Faith is being restored, hope is alive, and the true ability to love is filling hearts and lives. The righteousness, peace, and joy of the kingdom of God is becoming the greatest desire of the hearts of God's people. "When He comes, in that Day, to be glorified IN HIS SAINTS and to be admired among all those who believe….." 2 Thes 1:10.
As pure hearted men and women of God seek first the kingdom of God and His righteousness, the wealth after which the world seeks is being added to them. (Mat 6:32-33). Mankind is being restored to our original place as pure holy sons of God ruling and reigning with Christ on earth. Truly the kingdoms of this world shall become the kingdoms of our God. (Rev 11:15).
THE VICTORY OF GOD'S INTERVENTION
Because there is now coming forth a people on earth in whom Christ fully dwells, the supernatural intervention of God will come forth to redeem all who will turn to God with their whole hearts and at the same time God will cleanse the world of all that is not of God. The perfect order of the Garden of Eden lifestyle of God dwelling with man in the righteousness, peace, and joy of the rule of Love on earth. God is love.
This season has begun and is now available to you and me today. There is nothing impossible to the Spirit of God in us as we reckon ourselves dead to the old life and alive unto God. (Rom 6:11) (Mark 9:23). Allow God in Christ to have full authority over our lives. Declare our complete utter dependence upon God and lean not to our own understanding. Let the love of God rule in our lives and believe the written word of God revealed by the Spirit of God. Let the pure revelation of God flow from the written word by the living Word of Christ in us the hope of glory in this world.
"If you can believe, all things are possible to him who believes." Mark 9 23.

"For it was fitting for Him, for whom are all things and by whom are all things, in bringing MANY SONS to glory…." Heb 2:10.
"For as many as are led by the Spirit of God, these are SONS OF GOD." Rom 8:14.
Ron McGatlin
http://archive.openheaven.com/ - archive.openheaven.com
mailto:basileia@earthlink.net - basileia@earthlink.net





2. Pursuing the God Who Loves to Be Caught - Video
Ooops! We had a bad link last time.
By Steve Eastman
http://waittilyouhearthis.com/pursuing-the-god-who-loves-to- be-caught/ -
https://www.youtube.com/watch?v=vPXP7ZNL200">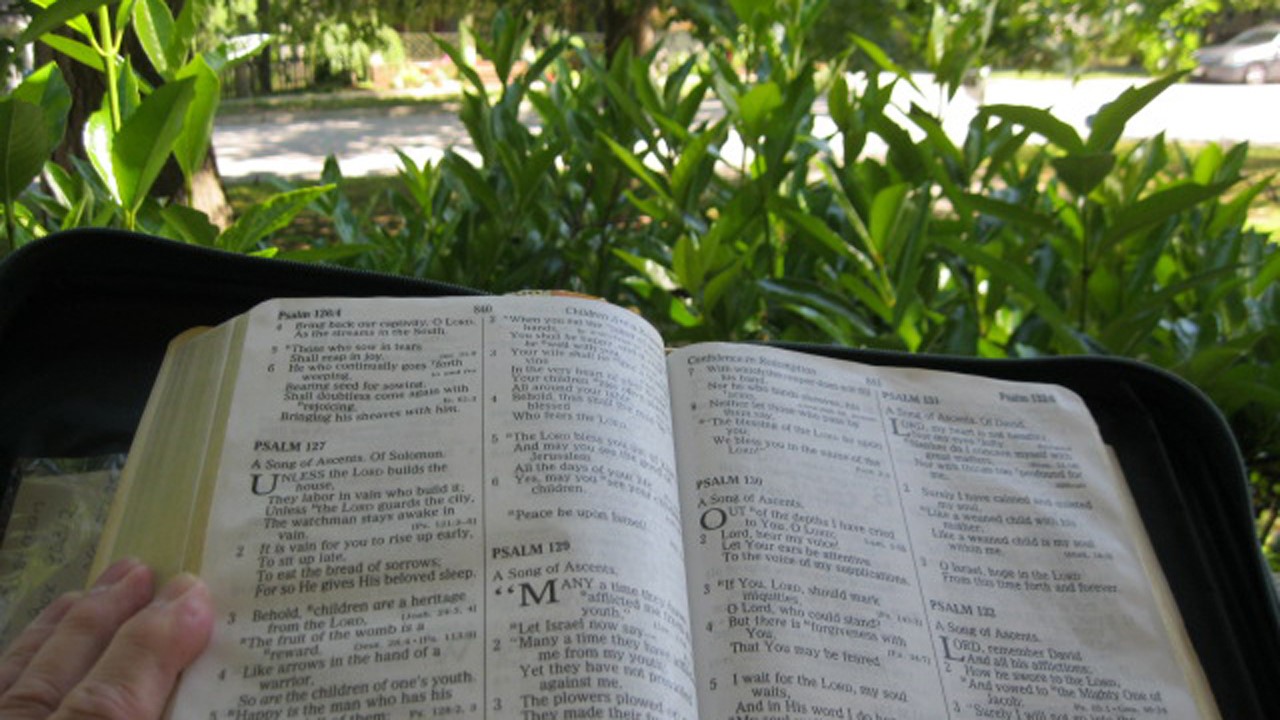 http://waittilyouhearthis.com/pursuing-the-god-who-loves-to- be-caught/ - http://waittilyouhearthis.com/pursuing-the-god-who-loves-to- be-caught/

3. https://timeinhispresence.wordpress.com/2016/03/31/the-journ ey-to-re-membering/ - The Journey To Re-Membering
By Amanda Leonard
I have been on a journey of re-discovering my Father. I have believed so many things about Him that were so far from the truth. Whether it be what people had told me He was like, my preconceived ideas of what He was like, whatever demonic doctrine I had believed, He is helping me to remember, before all these things. He is helping me come back to that place as a child.
For me, it's been that I haven't seen Him rightly, so I haven't seen myself or others rightly either. I say, "re-discovering" because He knew me before I even came to earth, He was "mindFULL" of me (His mind was full of thoughts towards me). So I imagine that I knew Him too, so the re-discovery begins again.
A child, is so sensitive to His voice, His leading, His love because they just came from Love Himself. There's been no time yet, to believe opposite of what they originated from, anything contrary to what they know to be true, would just be ridiculous. Their home is still fresh in their hearts. The thoughts He has towards them are still vibrating within and everything echoes His name, His nature, His character. We've all seen it, in the face of a child; sheer wonder, creative expression, love that knows no boundaries. The very nature of their Daddy seeps out. I can just hear someone saying to them, "You look and act just like your Daddy!"
Then something happens and life experience begins to speak louder. The mind becomes like static. We tighten up, leaning in to try and hear the familiar tune our hearts once sang.
Often times it fades, but then one day you hear one note and the memories begin to replay. Bits and pieces come and flood your heart and pours from your lips, you remember!!! The more you sing it, the more you begin to remember. You re-member, that you are a member from another dimension, eternity. Eternity begins to tell you again who you really are, why you were created.
I believed at one time, I was created to worship. Sure, I love to worship my Daddy because He is amazing but that's not why He created me. He doesn't even need my worship, just as David discovered with His intimate time with Him. Acts 17…says, He doesn't even need to be worshipped with human hands.
I've heard the prophetic community talk about rebuilding the tabernacle of David, the worship tent, with 24/7 worship and this is not a bad idea but I wonder if this is more the tabernacle that it's referring to. The knowing, dwelling, abiding; the "tent" without walls, (our own bodies) where He created us to BE, to be His image, His likeness upon the earth. The place within us that He can be Himself. The place within where we know ALL His thoughts are towards us and His love cannot be measured. He created us for intimate relationship. This is how His Kingdom comes.
My son is always trying to impress me or others, he gets it honest, as I had always done the same. He longs for attention, mainly because he's learning, as am I, that the Father's endless attention is upon us, not because of anything we do but because He loves us. We don't have to fight for His attention or strive for some position, we are in Him and He is in us. His thoughts are forever on His children.
I, at times would try to impress God with my worship, which led to striving and trying to gather my identity from that place. Worship is just a byproduct of our oneness, of our union with Him. He just wants us to BE.
He has always wanted relationship. He is so far greater, bigger, more creative, more, more, more than I have ever known up to this point. His thoughts towards us are always good and His love really is like an endless ocean, a bottomless sea. I use to just sing it, now I'm beginning to believe it. I'm excited to be on this incredible journey of "re-membering" again.
Amanda Leonard
timeinhispresence




4. News Headlines
'Europe Is Alive for Jesus': Revival Breaks Out in France - 7/6/2016
Amid the ongoing threat of Islamic terror and economic instability, thousands of people in France are giving their lives over to Christ. People from all over Europe flocked to Nates, France, last week to seek the Lord at the Grande Conference. The purpose of the conference this year was to call an increasingly secular Europe back to a true relationship with God.

Full Article »


Kenya: How in one city 8,672 people received Christ - 7/6/2016
Christians in Eldoret, Kenya, have seen a large harvest in their city following an evangelism outreach. Over 1500 people attended the commissioning service led by the pastors. From there, hundreds of mission volunteers descended on the center of Eldoret to clean the gutters and the rubbish heaps in a symbolic and physical act of cleansing. People passing by were amazed.

Full Article »


Fiery Pentecostal Keeps Preaching Bible Truth Even as Churchgoers Walk Out - 7/6/2016
One member pops up. Then another and another walked out, "kinda shaking their heads," because Pastor T. L. Bates refused to compromise the Word of God. The Assemblies of God Pastor was preaching and addressing one of the hot-button issues facing the Church today: Homosexuality. "50-75 people walked out. Bates is one of many who will not ignore biblical teaching.

Full Article »


93 total killed in extremist attacks; hiccup in headlines - 7/6/2016
41 people were killed in Turkey last week. 42 were also murdered in Yemen, and 5 people each in Jordan and Lebanon. They were all attacks by Muslim extremists, and they all barely made a blip in headlines or formally on social media. However, after Islamics killed 49 in Orlando, and 32 in Brussels airport, the world lit up with news headlines.

Full Article »


'House church' prompts Muslims to attack Christian homes in Alexandria, Egypt - 7/6/2016
Recent visits by a Coptic priest to Moussa's home in a village outside Alexandria, Egypt, gave locals reason to think a Christian place of worship was springing up in their midst. "After the Muslim noon prayers, angry Muslims gathered outside. More than 5,000 people mobbed my home. They were shouting: 'One way or another, we'll bring the church down to the ground'."

Full Article »


News From British Isles, Ireland, Europe and Worldwide - 7/6/2016
Fifty-four enforced slaves finally home - Brexit and the fight against corruption - Christian bids to be next PM - 'We are at a tipping point' - Christians and Brexit - Europe post-Brexit - Ukraine: historic national day of prayer - Lebanon: suicide bombers attack Christian village - Iran: Christian back in prison after treatment - Afghan: suicide bombers - More>

Full Article »


100 million Christians in over 60 countries are being persecuted for their faith - North Korea is still the worst place to be a Christian - 7/6/2016
North Korea, no changes or improvements have been seen over the past year." Iraq: "Christians have lived in Iraq for two millennia but are currently on the verge of extinction. Eritrea: "The Eritrean regime is absolutely authoritarian and intolerant towards any form of association, dissent, and free expression." "Things are getting worse by the day in Middle East."

Full Article »


World Prayer Against Terror News - 7/6/2016
A Wakeup Call about the Dangers of Islamization - Governmental Collusion with the Muslim Brotherhood in the USA - Brexit: a significant spiritual moment for the UK and Europe - Together 2016 on the Washington DC Mall- Join Hundreds of Thousands to Pray for a Reset of America - Christians Urged to Pray for the USA'S Critical Election - And Much More>

Full Article »


California church frees 4500 Christian slaves in Pakistan, sees two Muslim leaders come to Jesus - 7/3/2016
Two church members negotiated with a Taliban leader to free 4500 Christian slaves working at a dozen brick factories. They also participated in an evangelistic outreach that saw two Muslim clerics and hundreds of others receive Christ. One of the imams had a vision of Jesus as the Great Physician in the night following the outreach, which led to his healing and salvation.

Full Article »



Is the United Nations Creating a Police Force to Fight Christians on U.S. Soil? - 7/6/2016
The idea of the United Nations creating a global police force to fight Christians sounds like a conspiracy theory, but truth shines through evidence. United Nations trucks suddenly appeared on United States roads late last month. (Note: I strongly encourage every person that can to watch this video.) https://youtu.be/O_vi9R9P9y8

Full Article »


>>