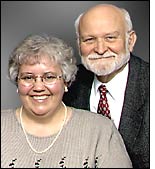 Ron & Barbara McGatlin


OpenHeaven.com is a web based communication network connecting and encouraging the Body in kingdom awakening.

"Apostolic Kingdom Revival is turning the heart of God's people to an intimate love relationship with Father."

Ron & Barbara McGatlin are part of an army of men and women sent to fan the flames of apostolic/kingdom awakening and spread the gospel of the kingdom. Revival/renewal fires have ignited kingdom awakening in multitudes of groups worldwide. They are seeking to encourage and connect groups and ministries in the gospel of the kingdom.

Ron has over 62 years of seeking to serve God in ministry and business. Barbara has served in pastoral and Christian education positions for over 10 years. They currently make their home in the foot hills of the Blue Ridge Mountains in North Carolina, USA. Ron has written 5 books on revival and the in-breaking kingdom and continues to write powerful apostolic/prophetic articles published weekly in the OpenHeaven.com Digest.

What People Say About Us


IRN History





IRN was founded in Scotland in 1995 by Tony Black in the fire of the exciting revivals and renewals of the 1990s with the encouragement of several key revivalist and ministries in UK, Canada, and USA. The International Revival Network was a major connecting internet portal for revival/renewal in the 90s. In the subsequent major shift and transformation of the church toward the kingdom of God that began with the dawn of the twenty first century, IRN has transitioned into OpenHeaven.com IRN. Revival/Renewal of the 90s became Kingdom/Revival and is further transitioning into Apostolic/Kingdom Revival. OpenHeaven.com is now a connecting place serving as a Kingdom Awakening - Apostolic/Prophetic Portal focused on organic church transformation.

Our goal is to provide increasing services and encouragement in kingdom awakening worldwide by encouraging, connecting and informing people and groups through online communication. Major apostolic/prophetic kingdom awakening articles and discussions on this website and in the flag-ship email weekly publication OpenHeaven.com Digest. Currently there are thousands of subscribers to the Openheaven.com Digest from almost every nation.

Openheaven.com serves the Body of Christ with: Worldwide News of what God is doing - Apostolic/Kingdom/Prophetic Articles - Kingdom/Revival and Prophetic forums - Networking Linking - Networking Prayer and intercession groups - and a wealth of revival resources online.

The network is facilitated by a team of assistant coordinators with Ron's leadership. There is no "official" structure; rather the team and participants relate to each other in friendship and mutual accountability. By committing ourselves to unity, we are not demanding uniformity. We seek always to meet on points of accord and to maintain a clear focus on the kingdom of God.


Our beliefs and objectives - taken from Ephesians 4:1-16 (NKJ)

ďThings Most Surely Believed Among UsĒ Luke 1:1

In presenting this Doctrinal Statement we do so with the precaution that the message of Scripture can never be reduced to theological abstractions. Such attempts are both dangerous and abortive. Dangerous, because of the possibility--as happened frequently in the past--that such documents become tools to interpret Scripture instead of Scripture being used to interpret the documents. Additionally, the Bible speaks to every generation, culture, and circumstance, with truths relevant to each particular age. While Scripture remains unchanging, a specific illumination may appear--or disappear--according to need.

THE BIBLE: "Holy men of God spoke as they were moved by the Holy Spirit." II Peter 1:20,21. In its original language and form, the Old and New Testaments are Covenants (not mere books); the first, sanctified by Moses "sprinkling the blood of bulls and goats" and the second sanctified by the Messiah sprinkling His own blood. Hebrews 9:11-23;12:24. As such, each Covenant is inalterable, cannot be added to or taken from, and of which no part has lost the Divine Seal. Revelation 22:19. We therefore believe that I Corinthians 12 and 14, and similar passages, are trustworthy, reliable, and credible parts of Scripture and that all sincere believers should acknowledge them as authoritative. As modern Christians, we believe it is our duty to preach all New Testament Scripture with commitment equal to that of first century Christians. Regarding the unity of the two Covenants, we understand the Old Testament to be the New Testament concealed; the New Testament to be the Old Testament revealed. Holy Scripture is the Divinely inspired Word of God and our only rule of faith and practice. II Timothy 3:16.

THE BEING AND NATURE OF GOD: God is One, maintaining His unity while sovereignly manifesting Himself in three distinct persons, Father, Son, and Holy Spirit. II Corinthians 13:14; John 1:1-14. Genesis 1:26. 18:1,2.The Father is the origin and initial cause of all that is. Jesus Christ, eternally pre-existent with the Father, became flesh, was born of a virgin into the earth, is the only sin-bearer for mankind, was crucified, resurrected, ascended, forever satisfied the demands of the Law, and will return again in Glory for the reclamation of the saints. "For he has made him to be sin for us, who knew no sin; that we might be made the righteousness of God in him." II Corinthians 5:20,21. The Holy Spirit was, is, and forever remains, God with us on the earth as the Divine Presence in creation, salvation, inspiration, continuation, and consummation.

RELATIONSHIP WITH GOD: Jesus Christ is manís complete and sufficient approach to God. He said, "I am the way, the truth, and the life: no man comes to the Father, but by me. John 14:6. "Neither is there salvation in any other: for there is none other name under heaven given among men, whereby we must be saved." Acts 4:12. To receive eternal life, one must be redeemed in Christ, cleansed of sin in His blood, born-again by the Holy Spirit, and presented guilt-free to the Father.

This new-birth experience is achieved "Not by works of righteousness which we have done, but according to his mercy he saved us, by the washing of regeneration, and renewing of the Holy Spirit; Which he shed on us abundantly through Jesus Christ our Savior." Titus 3:5-6. God "saved us, and called us with an holy calling, not according to our works, but according to his own purpose and grace, which was given us in Christ before the world began" II Timothy 1:9. "For by grace are you saved through faith; and that not of yourselves: it is the gift of God: Not of works, lest any man should boast. For we are his workmanship, created in Christ Jesus unto good works, which God has before ordained that we should walk in them." Ephesians 2:8-10.

The gift of salvation is received as Jesus explained: "He came unto his own, and his own received him not. But as many as received him, to them he gave power to become the sons of God, even to those who believe on his name: Who were born, not of blood, nor of the will of the flesh, nor of the will of man, but of God." John 1:11-13. "For God so loved the world, that he gave his only begotten Son, that whosoever believes in him should not perish, but have everlasting life. For God sent not his Son into the world to condemn the world; but that the world through him might be saved. He who believes on him is not condemned: but he who believes not is condemned already, because he has not believed in the name of the only begotten Son of God." John 3:16-18. "The gospel of Christ ... is the power of God unto salvation to every one who believes; to the Jew first, and also to the Greek." Romans 1:16

HOW DOES ONE KNOW HE IS SAVED? The evidence of a born-again life is oneís true belief that Jesus Christ is the Son of God. This is proved by his "denying ungodliness and worldly lusts" and the desire to live "soberly, righteously, and godly, in this present world." Titus 2:12. "We know that we have passed from death unto life because we love the brethren." I John 3:14. Being in the "state of grace" is personal to each individual. We cannot claim salvation because of relationship to people, churches, denominations, organizations, or family ancestry. Jesus said, "By their fruit you shall know them." Matthew 7:20.

BAPTISM IN THE HOLY SPIRIT: Jesus provided the Holy Spiritís baptism and miraculous gifts to equip believers for power-endued ministry and victorious living. As the new birth brings us into eternal life, preparing us for Heaven, so the baptism in the Spirit equips our present life with miraculous words of wisdom, knowledge, faith, healings, miracles, prophecy, discerning of spirits, tongues, interpreting tongues, and more. I Corinthians 12:4-11. Since the New Testament is Covenant-guaranteed, this wonderful gift remains available to the Body of Christ until Jesusí return. I Corinthians 1:7. None of the spiritual gifts have been withdrawn. The "Baptism in the Holy Spirit" is also called "The promise of the Father" and/or the "filling of the Spirit". Luke 24:49. Acts 1:4-8. I Corinthians 12:12-14.

THE GOSPEL: As a "witness to all nations", the gospel should be presented with the original message and power Jesus gave at the beginning. He expected the gospel of the kingdom to remain unchanged when He said to the first disciples, "Go therefore and make disciples of all the nations, baptizing them in the name of the Father and of the Son and of the Holy Spirit, teaching them (all nations) to observe all things that I have commanded you; and lo, I am with you always, even to the end of the age." Matthew 28:19-20. Jesus was emphatic. His instruction, "teach them all things," referring specifically to the church at the "end of the age" is unmistakably clear. He expected the 21st century church is to be taught precisely what He taught the first century church.

As a Ministry, we therefore deny the cessation theory that parts of the New Testament lost their validity or that the Holy Spiritís miraculous gifts and power have been withdrawn. The power is absent because the masses of Christianity have replaced faith in Bible tr uth with doctrines of denial. Jesus established one church for all time; there is no such thing as an "apostolic" and "post-apostolic" gospel with different teachings, different powers, and different expectations. As Jesus is "the same yesterday, today, and forever," so His gospel is as unchanging as Himself. Hebrews 13:8. "One Lord, one faith, one baptism." Ephesians 4:5.

"SIGNS AND WONDERS" CONFIRM THE WORD: The Apostle Paul equated his "fully preaching the gospel of Christ" by the attestation of "mighty signs and wonders". Romans 15:19. That is, no "signs and wonders", no full presentation of the gospel. Mark 16:20. The gospel itself is miraculous and should be verified miraculously. Not until contemporary times did the churchís unbelief force it to abandon faith in the Holy Spiritís visible manifestations. That deception has caused some believers to credit genuine works of God to the devil. That is both blasphemous and dangerous. As a Ministry, we not only believe in the Spiritís present-day miracles but we experience them. While this includes healings, deliverances, revelations, etc., the New Testament provides no list of such "signs and wonders". It merely confirms that amazing things took place and that the Holy Spirit expects to continue them until the coming of Jesus.

THE CHURCH AND THE KINGDOM: Jesus "loved the church and gave Himself for it". Ephesians 5:25. While He spoke the word "church" only three times in the Gospels, Matthew 16:18, 18:17, He spoke of the Kingdom more than 130 times. Jesus established the church, nourished and protected it, all the while focusing His major attention on the Heavenly Kingdom. When churches reverse this order, placing themselves first, disaster results. Such congregations fail their true mission and lose Kingdom power. By being in submission to the Kingdom, from which they draw all authority and strength, Matthew 16:19, local churches become capable instructors in Scripture, providers of strong spiritual families, instruments for baptism, holy communion, and the operation for spiritual gifts. As part of the Body of Christ, the visible congregation is Godís tool for involving believers in world-evangelism and directing new converts to the all-important Kingdom. Whenever possible, every believer should be identified with a local Bible-believing church.

DELIVERANCE MINISTRY: Thirty percent of Jesusí recorded New Testament ministry was spent in direct conflict with unclean spirits. He declared that the proof of His Kingdomís presence was the casting out of demons, Matthew 12:28, and commanded the disciples to continue doing so. Mark 16:17. We therefore believe in--and exercise--the ministry of deliverance from unclean spirits.

THE RESURRECTION: There will be a resurrection and final judgement of the dead. Those redeemed in Christ will be saved, others will be lost. Jesus said, "And these shall go away into everlasting punishment but the righteous into life eternal." Matthew 25:46. The duration of one is as great as the other.

THE RELIABILITY OF SCRIPTURE

God the Father said: "My Covenant I will not break nor alter the Word that is gone out of my lips." Psalm 89:34.

Jesus said: "Heaven and earth shall pass away but My words will by no means pass away." Matthew 24:35.

Jesus said: "It is written, man shall not live by bread alone, but by every word that proceeds out of the mouth of God." Matthew 4:4

Jesus said to the Father: "For I have given to them (the disciples) the words which You have given Me, and they have received them ..." John 17:8.

Peter said: "But the word of the Lord endures forever. Now this is the word which by the gospel was preached to you." I Peter 1:25.

Peter said again: "Knowing this first, that no prophecy of Scripture is of any private interpretation, for prophecy never came by the will of man, but holy men of God spoke as they were moved by the Holy Spirit." II Peter 1:20-21.

Paul said: "All Scripture is given by inspiration of God and is profitable." II Timothy 3:16.
---
Kingdom/Revival Books By Ron McGatlin
All five books by Ron McGatlin are available for Free Download in PDF.
Kingdom Growth Guides
Overcoming Life On A Small Planet
The Seventh Millennium
The Basileia Letters Volumes 1&2
I Saw The Smithton Outpouring