Posted: 01/27/2008 at 1:25pm | IP Logged

---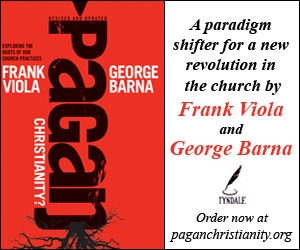 A Review of the Revised and Updated Pagan Christianity
by Steve Eastman
The revised and updated Pagan Christianity is a disturbing book, but disturbing in a good way. Like the iconoclasts of old who smashed down idols that found their way into the church, authors Frank Viola and George Barna break down cherished traditions that challenge Christ's headship over the church and the every-member-functioning of His Body.
With the skill of a surgeon who excises a tumor or that of a lawyer presenting exhaustive evidence, the two leave the reader unable to return to preconceptions, at least without a twinge of conscience. The book requires a new order of integrity, displacing the Christian political correctness that keeps us in the status quo.
Pagan Christianity evokes the picture of a traditional pastor standing behind a pulpit in a church building preaching a sermon saying his group does everything by the Bible. Long before the reader reaches the final chapter he learns that in the earliest years of the church there was no equivalent to the modern day pastor, no pulpit, no church building, no sermon of the kind that is common today and no denominational groupings. After passing out and coming to, the reader learns tithing did not become common place among Christians until the eighth century and had its roots in a rental charge for land. Now it's time to bring out the smelling salts.
I once came across a book by a traditional theologian admitting the "primitive" church had a different organization than what we have today. It even suggested the present day structure is more advanced. Many would agree, but not Viola and Barna with their strong emphasis on the priesthood of all believers. One of the authors' keynote scriptures is I Corinthians 14:26:
"How is it then, brethren? Whenever you come together, each of you has a psalm, has a teaching, has a tongue, has a revelation, has an interpretation. Let all things be done for edification." (NKJV)
The Paganism that Pagan Christianity refers to can best be seen in the time of Roman Emperor Constantine, who legalized Christianity, although pagan momentum had been building since the deaths of the original apostles and the people they trained. The newly authorized church buildings bore an uncanny resemblance to pagan temples and Roman government buildings. Bishops dressed like Roman government officials. The structured sermon, performed weekly like clockwork, had its roots in the speeches of Greek rhetoricians, who entertained the masses like modern talk show hosts, except they did not take listener calls. When the orators became Christians, they found a new audience and carried over many of their pagan ideas. The newly defined laity was not allowed to speak up.
The motivation of Pagan Christianity is not controversy for controversy's sake. Viola references concepts from God's Ultimate Passion, a book he published after the original edition of Pagan Christianity but before the latest edition. Jesus wants to express Himself through His Body, which He inhabits. To do this, each believer needs to learn how to listen to God directly and express Him wherever he goes. Years of sermons do not accomplish this. Believers learn by doing. A hierarchical church structure suffocates what an organic structure promotes.
I find myself agreeing with much of what the authors say. On the other hand, I've come across a few historic references that indicate some of the pagan-style practices may have occurred a little before Viola and Barna indicate, but this does nothing to detract from their thesis. Undoubtedly errors cropped up in a scattered fashion before they were widespread and perhaps even documented.
While appreciating what the authors say about spontaneous music in house churches, I wish they had elaborated a bit more on "… appreciating those who are musically gifted and who can use their musical talents to bless others." I think of how David's anointed music alleviated the demonic suffering of King Saul, if only temporarily. Music can make us more aware of God's presence and help focus our thoughts on Him. Concerts and occasional large praise gatherings have their place, as do worship CDs. They become a danger when they take over and edge out the kind of music the authors describe.
It's been nearly three years since I read the original edition of Pagan Christianity. I'm sure part of the impact of reading the new edition was simply a reintroduction to the classic material. The major contribution of the new work is the "Delving Deeper" section at the end of every chapter, featuring the kinds of questions you, the reader, would like to ask, along with the authors' answers. There is also a nice list of key figures in church history and a bibliography of more than 250 books and articles. I estimate over 98 percent of the words were written by Frank Viola. I only detected a little that seemed original with George Barna, but understand he was invaluable in re-editing. The new edition is worth the read even if you enjoyed the original Pagan Christianity a few years ago.
Read Steve Eastman's news article about the revised and updated Pagan Christianity.


Edited by Steve Eastman on 01/27/2008 at 1:38pm