Posted: 01/08/2010 at 7:15pm | IP Logged

---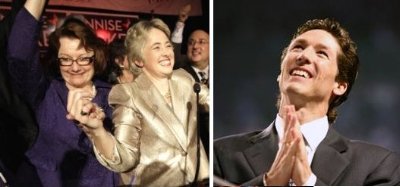 Mayor Annise Parker (in gold jacket) held hands with her partner Kathy Hubbard at an earlier event. Joel Osteen offered the opening prayer at Parker's inauguration.

Joel Osteen Helps Inaugurate Houston's First Official Gay Mayor
by Lillian Kwon, The Christian Post
HOUSTON, TX - Pastor of America's largest church, (Joel) Osteen was invited to offer the opening prayer at the inauguration of Houston's elected city officials on Monday. While praying for the 14-member City Council, he also specifically thanked God for the new mayor, Annise Parker, a partnered lesbian.
"She's our mayor. Joel doesn't view Annise through a gay lens," Don Iloff, Jr., spokesman for Lakewood Church in Houston, told The Christian Post. "He sees her as a person."
"Annise says she's a believer. Let her stand before God; that's kind of where Joel is," Iloff noted. "He's not going to tell homosexuals they can't come to our church. If the Holy Spirit convicts them, then they'll change."
To view this article, click here.
Watch Joel Osteen discuss salvation with Larry King.


Edited by News Editor on 01/08/2010 at 7:45pm