Posted: 04/11/2010 at 11:52am | IP Logged

---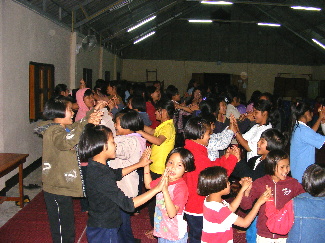 Where Revival is Led by Four Year-olds Who Get Up at 4 AM to Meet with God
by Worapong Jariyaphruttipong (Sydney) and Steve Loopstra, The Sentinel Group
OMKOI PROVINCE, THAILAND - Imagine a school where children are more eager to enter into the worship of the Lord than to play on the playground. Where revival is led by four-year-old children who rise at 4 AM to pray and meet with their Lord. Where the land is producing an increased harvest, and new species of fish are appearing. This is no fantasy story, but the reality of what God is doing today in the Omkoi Province of Northern Thailand. The story of Godís work of transformation in Omkoi is a story of persistence, sacrifice, and committed leadership.
In 1996, Sidney Worapong began to meet with church planting pastors in this region to talk and to pray together about their expectation of revival coming to Northern Thailand.
The next year, in 1997, Sidney began to teach on the strategic importance of fasting and prayer for revival and transformation. Christian leaders in Thailandís four most important cities united for a 40-day period of prayer and fasting for the spiritual and physical well-being of their nation. It was a seed that would bear the fruit of transformation.
In 1999, those prayers for revival and transformation were strengthened when Sidney saw the Transformations DVD produced by The Sentinel Group. When Sidney saw the stories of Godís mighty work in that DVD, it gave him faith to believe that God could do that same thing in Northern Thailand if they came together to seek the Lord. Those seeds of hope were being watered.
There was a brief season of revival in the year 2000, as people began to enter more and more into prayer and intercession, but because of prevailing prejudices, ridicule of those involved in the intense intercession, and spiritual attacks, the people became discouraged and lost their focus. The revival waned.
However, the seeds of hope and the vision for transformation continued to grow, and, in 2002, they began a Bible School to train Church leaders in that area. A key to what happened next was the decision by the leader of the new school to begin a 40-day fast. This became a great example and encouragement to others who joined with him in this season of fasting. As a result, God began to move among the youth and the women. Cooperating with the Spiritís moving, Sidney required his worship teams to fast as a part of their worship ministry. This commitment paid off at one youth camp. As the worship team entered into only the third worship song, the Spirit of the Lord fell upon the group. The young people began to weep under the conviction of the Spirit of God. Sidney had them stop and spend time in confession of every sin they had in their lives. That day, 650 young people stood to confess their sins before the Lord and one another.
By 2006, there was enough unity and strong leadership, that they decided to call a conference and invite George Otis, Jr., President of TheSentinel Group, to speak. As he shared of the mighty work of God, especially in the island nation of Fiji, their faith was challenged and they began to distribute the Let The Sea Resound DVDís produced by The Sentinel Group. Plans were made for another conference in November 2006 on how to take the principles seen in the Fiji transformation to the Omkoi Province. Five hundred leaders from 100 churches gathered together with a hunger and a heart for transformation. Unknown to them, pastor Vuniani Nakauyaca, a leader in the transformation movement in Fiji, had heard about what was happening in Thailand. As Sidney went to the airport to pick up other international speakers, much to his surprise, Pastor Vuniani was there to come to see for himself. Although Pastor Vunianiís stay was short, he left them with encouraging words. As he observed what was happening, especially among the youth, he said he would return because the revival was comingÖĒhe could smell it.Ē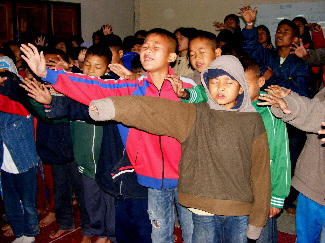 The Lord used that conference, and many believers were encouraged to continue to pray, fast, and seek God for a similar movement of God in Omkoi. By January 2007, the Spirit of God was powerfully answering their prayers. In village after village, the Spirit of God was touching hearts. In many cases, this movement was being led by the children. Children, sometimes as young as four years old, would be worshipping, and in some cases seeing visions of heaven, hell, and the crucifixion of Jesus. This completely changed their focus on spiritual things. They began to love to worship, and would gladly leave aside their childrenís games at the invitation to attend worship. The Lord used these children many times to expose sin - even in the adults who were present. As a result, a deep spirit of repentance, prayer and fasting permeated these children and young people. The spiritual climate was changing.
In March 2007, at a Karen camp in Omkoi with ten thousand people, there was a powerful move of repentance for sins committed between the Karens and the Northern Thais. The head of the district land department (a Christian) prayed, asking the Lord to bless the land in Omkoi.

In April 2007 there was a wonderful healing in a village. A young girl caught her foot in the spokes of a moving motorcycle, and was in danger of having her foot amputated. After a month, the 22 stitches were no longer holding the flesh together. She had no feeling in her foot which was severely swollen and appeared to be dead.
For five and a half hours Sidney and others prayed. They remained in prayer instead of going into the meetings, but the long prayer was worth it. As they prayed, they saw her foot being healed right before their eyes. Her foot became normal and all the feeling returned. The wound was completely healed. In that evening meeting, she still had to skip around with one leg, but the children prayed a few more short prayers for her, and soon she was able to walk normally. The whole village went wild!
Pastor Vuniani returned to Omkoi to speak to village leaders in November 2007 and again in November 2008. He led them through the process prescribed by 2 Chronicles 7:14 (ďIf My people who are called by My name humble themselves and pray and seek My face and turn from their wicked ways, then I will hear from heaven, will forgive their sin and will heal their land.Ē) Since 2007, they have seen an increase in crops. Both the size and the quantity of fish have increased, and they even have new varieties of fish. Gazelles, not seen for many years, have returned. Villages where there was insufficient water now have an abundant supply.
Today, some of these villages that have been touched by Godís transforming hand have reverted back to previous conditions due to opposition and ridicule from other believers. However, there is a solid group which continues to see Godís transforming power at work in lives, and in the healing of the land. In one case, a family which has usually harvested only about 10 sacks of rice a season is now harvesting 100. In 2009, in 30 villages where the government had predicted a rain shortfall, each time the villagers needed to water their crops, the Lord supplied rain at just the right time. In areas of newly-planted rice crops, the harvest was four times what would have been the normal yield. The believers prayed that the Lord would change the spiritual atmosphere in their villages, and it is now easier for people in those villages to come to faith in Christ. In Omkoi, nearly half of the 200 villages now have a church. In a country where statistically Christians are at about .3%, in NorthernThailand that percentage is now about 2.88%!
Sidney reports that the reason for this amazing touch of transformation in Northern Thailand is their pursuit of prayer, fasting, repentance, and reconciliation. In 2006, the goal was to have a composite total of 10,000 days of fasting for transformation. In 2009, their goal had increased to 100,000 days of fasting and prayer. God is indeed answering their prayers and their commitment to the principles of transforming revival. Transformation continues to grow in Northern Thailand.

Source: GlowTorch.org
© 2010 - The Sentinel Group


Edited by News Editor on 04/11/2010 at 11:58am