Posted: 09/01/2016 at 7:10am | IP Logged

---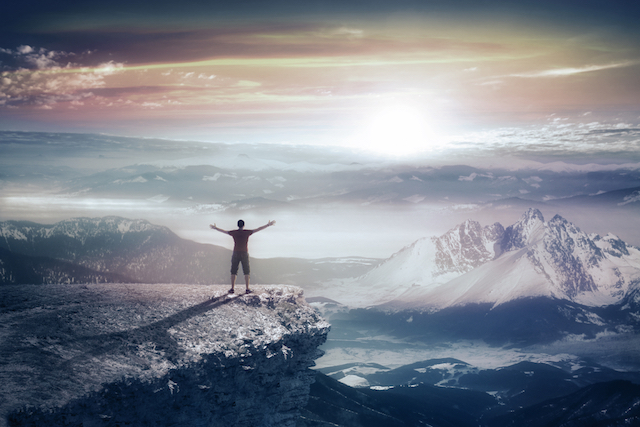 Abundance of Resurrection Spirit Life
LIFE AFTER DEATH WHILE ON EARTH
By Ron McGatlin
This is written from the heart of God under mandate to remove death and bestow life to the people of God on earth now and in the season just ahead of us.
LIFE IS LOVE FULFILLED IN ONENESS. – Oneness with that which is life to an individual.
ETERNAL LIFE IS LOVE FULFILLED IN ONENESS WITH GOD. – Now and forever.
DEATH IS SEPARATION. – Separation from life or from that which is life to an individual.
ETERNAL DEATH IS EVERLASTING SEPARATION FROM GOD. – Now and forever.
Many if not all of you reading this are now or have in the past or will possibly very soon endure a death-like experience of separation in life. The ultimate test in life that is coming to people now on earth is about who or what we really love. From where do we draw life other than from God? Who or what on earth do we love as much as or more than we love God? Is God truly our first love above all?
The true answer to this question may not be what we think it is or what we would like for it to be. The purpose of the tests is not so God can know our hearts. He already knows. It is for us to truly know our own hearts and what gods or idols exist in us that hinder our complete oneness with God and subsequently our fully walking in the full presence, power, and love of God.
Every day the TV news is filled with people who have been separated from their life, that is to say they are separated from people, places, or things they really love. Some of them will never recover and will experience mortifying pain for the rest of their shortened lives on earth. Others will feel the pain of loss or separation for a season and will soon recover and experience an abundant resurrected Spirit life.
What is the difference in the ones who are never able to overcome the tragedy of loss and those who can continue in a life of peace and eventually joy?
The short answer is that those who truly love God more than anything else in life will not be totally devastated by the loss of anything or anyone else in life.
However, those who love anyone or anything as much as or more than they love God will experience death in their lives when they are separated from that which they love.
Not time nor anything else, apart from falling in love with God with our WHOLE HEARTS, will ever completely heal our wounds. Without coming to God with our whole hearts the pain of our wounds will fester into bitterness and poison our lives with a hell-like progressively decaying life of pain and suffering that will not be healed until we come to God with our WHOLE HEARTS.
God is love, and He completely loves us whether we fully love Him or not. However, at the same time His love is an irresistible drawing to eternal life now and forever. The way that we respond to that irresistible drawing love of God makes all the difference in our lives now on earth as well as beyond this life.
The love of God, in this season, is drawing people away from their other gods unto Himself, the one true God in whom is life and life more abundantly. There is no death, no separation in God. Those who come to Him with their whole hearts He will not leave or forsake. (Heb 13:5). The fullness and completeness of life is in God and His love.
However, in our natural lives on earth as those born under the sin nature of the first Adam, we are naturally drawn to seek the fulfillment of life in natural people, places, or things. The natural desires and affections of natural mankind is for the things of this world. Subsequently our default natural mindset is to be joined to those people, places, or things from which we draw natural life and a false sense of wellbeing.
The natural person apart from Christ Jesus knows nothing of the love of God and His resurrection life of Christ abiding in His people by the Holy Spirit. The profound truths of the reality of Spirit life are foolishness to the natural mind. (1 Cor 2:14). Yet there is an insatiable need for something more than himself or herself within the natural person. Without Christ, natural man in his attempt to fill that inner need seeks and establishes many other gods or idols from which he or she draws life.
When a person truly comes to God in Christ Jesus by the Holy Spirit, all of the other gods or idols from the natural life must be removed from their high place in our hearts and lives. Most of us have continued to hold on to our idols to some degree and therefore remain unable to live in the fullness of the life of God in Christ Jesus by the Holy Spirit.
It may appear to us that people and things outside of us and around us that will not connect to us and flow life to us are the source of our lack of abundant life and lack of a sense of true wellbeing. The truth is that we lack the awesome fullness of walking in the Spirit as mature sons because of our lingering affection for the things of this life. We continue to hope that things will change and the people will receive us and give us life through acceptance and respect for us.
We may be yet clinging to the hope of the acceptance and honor of men. Yet because we are connected to God, we cannot be accepted and honored by those who are not of the Spirit of God but are of the spirit of the fallen world. Perhaps the most miserable life is to know God and see from a distance the abundant Spirit life of righteousness, peace, and joy in the pure holy love and supernatural power of God and yet be clinging to affection for other gods or idols of this life that prevent us from receiving the fullness of the glory of God.
GOD IN HIS PERFECT LOVE IS NOW HELPING US TO BE CLEANSED FROM OUR IDOLS THAT WE MAY TRULY BECOME ONE WITH HIM WITHOUT ANY HINDRANCES TO THE FULLNESS OF THE LIFE OF GOD IN US.
The cleansing judgments of God coming now upon us and our world are for the purpose of first cleansing the house of God by allowing the destruction of all that our idols and other gods have built and then cleansing the entire world. (1 Peter 4:17).
This is the pure holy love of God in action. This is the kingdom of God and His love coming forth in our lives and then into the world. This is a death that we feel that seems unbearable as our other sources of life, our other gods, are removed.
THERE CAN BE NO RESURRECTION LIFE UNTIL AFTER THERE HAS BEEN A DEATH.
PRAISE GOD! THE PURE HOLY RESURRECTION SPIRIT LIFE IS BEING POURED INTO OUR HEARTS AND LIVES BEYOND THE DEATH OF LOSING ALL OF OUR IDOLS AND FALSE GODS.
The pain we feel at the loss of the people, places, and things that we loved quickly turns to extreme passionate love for God. He becomes everything to us, the total source and focus of our lives; there is no life in us apart from God. We are one with God, and all He is and all that He has becomes ours as truly we become a new creation and joint heirs with Christ. It is no longer us who lives for we are dead, crucified with Christ, and our life that we now live is the Son of God, Christ Jesus, living in us where we once lived. (Gal 2:20).
Yet we are abundantly alive in the resurrection Spirit life of Christ in us bringing forth His glory. Truly we have passed from death unto life, eternal life in Christ and Christ in us, one with God in Christ by the Holy Spirit. (Col 1:27).
This is entering through the narrow gate sometimes spoken of as the eye of the needle through which we carry nothing with us. (Mat 19:24) (Mat 7:13-14). Entering through this narrow gate of loss we arrive into a wide place of abundance of life as one with God. All things are possible, and nothing can take away the glory of God and the perfect peace and everlasting joy of the Lord that is within and among us. We are now one with God and one with all of His people that are also one with Him. (John 17:20-23). All things are become one under one King, Lord, Savior, and Almighty God now in this life and in eternity. (Eph 1:22). This is the real kingdom of God on earth as it is in heaven.
It matters not to our wellbeing how others see us or whether they accept or reject us. We are eternally secure in oneness with the living God and have no need to draw life from any other source.
This life is simply not about us. It certainly is not about fixing or saving us so we can enjoy our false life with our false gods and man-centered religious or secular activities. This life is about God in Christ Jesus by the Holy Spirit reigning supreme and in full glory in this world now and forever. It is about Christ and His kingdom on earth as it is in heaven. Without Christ the King of glory we are less than nothing. With Christ the King of glory in us and us in Him, the resurrection Spirit life of Christ Jesus, Yeshua reigns on earth. (Psalm 24).
In Philippians 3: 7-11, Paul spoke of attaining this resurrection life now in this life. He was not speaking of resurrection after physical death. He was already assured of that by the cross. He gave up all things in striving for attaining the resurrection life of Christ Jesus living in him in this life on earth. He counted the things of this life as rubbish in comparison to the resurrection life of Christ in him by the Spirit.
In Galatians 2:20, Paul wrote: I have been crucified with Christ; it is no longer I who live, but Christ lives in me; and the life which I now live in the flesh I live by faith in the Son of God, who loved me and gave Himself for me.
Christ in you is the hope of glory. (Col 1:27).
Ron McGatlin
archive.openheaven.com
basileia@earthlink.net


Edited by Ron McGatlin on 09/14/2016 at 1:25pm