Ron McGatlin


Admin Group





Joined: 08/23/2004
Location: United States
Online Status: Offline
Posts: 4141
Posted: 09/23/2016 at 3:21pm | IP Logged

---


OpenHeaven.com Digest Publication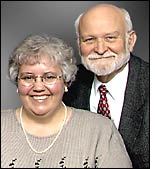 In This Issue
1. Personal Update on OpenHeven.com
2. AMBASSADORS OF HEAVEN ASSIGNED TO EARTH
3. News Headlines

SUBSCRIBE OpenHeaven.com Digest


1. Personal Update on OpenHeaven.com
A Fireside Chat
By Ron McGatlin
I remember well during World War II, in the evening after supper, gathering around the radio to listen to what our President, Franklin Delano Roosevelt, would say in what he called a "Fireside Chat." He spoke with the comforting strength of a great leader as he told us of the recent activities of the worldwide war on several fronts. We looked forward to these Fire Side Chats to encourage and inspire us to do our part to assist our armed forces to win the horrible war against tyranny.
The old Fireside Chat talks came to my mind as I began writing this note to the thousands of readers of the OpenHeaven.com Digest. It has been a different week than usual this week. I was led to invest my limited time and stamina in considering the redesign of the OpenHeaven.com website. I say limited because I often fall asleep while working from my recliner with my laptop, especially after I have been up late or ate a good meal.
It is my opinion that God allowed the internet for this time to get the fresh word of the kingdom out to the world. The OpenHeaven.com website and the weekly emails along with the printed books in the past have been a part of a very effective kingdom seed scattering plan of God. Now there are many others proclaiming and demonstrating the gospel of the kingdom across the world.
I feel so very blessed to have some part in bringing in this new era of loving intimate relationship with God changing lives and eventually the world to the kingdom of God on earth as it is in heaven. From the early years beginning in the 80s of scattering kingdom seed when much of it fell on hard ground packed hard by the heavy footsteps of men, and some fell among the rocks of strong religious traditions that were void of the word of the kingdom reality in this life, and some among people too entangled to the cares of this life to consider the Spirit and the kingdom in their lives. But some fell on good ground like you and is multiplying across the land.
It has been and is so wonderful to see multitudes receiving and growing in the reality of the relational kingdom with God in the Holy Spirit. The seed is multiplying just as God told me that it would, like grass in a field covering the earth.
The strong works of vile darkness arising now are directly in response to the kingdom coming forth. The devil and all that follow him are in great fear of the coming kingdom and are going all out in a futile attempt to destroy the name of Jesus and His kingdom from the earth. Praise God! We win!
I truly thank God for all of you that are a part of the move of God's kingdom coming forth on earth. If the Lord brings it to you mind, please pray for us and for a company called Pronets that is doing the technical work on the new website.
If this note has some errors in it please forgive me. I don't have time to send it to be proofed as I usually do.
Much love and Blessings,
Ron McGatlin



2. AMBASSADORS OF HEAVEN ASSIGNED TO EARTH
By Clay Sikes

Over the centuries there has been much in the way of religious understanding that curtails any real knowledge of the "Kingdom on earth as it is in heaven." Man and his religion has limited us to human understanding, and therefore kept us void of the spiritual reality of a true role 'on earth.' Religion disallows the revelation that EARTH IS A COLONY OF HEAVEN, AND OUR JOB IS TO ESTABLISH HIS KINGDOM IN HIS COLONY. The concept of bringing heaven's government/culture to earth has been foreign, yet a 'prophetically assigned awakening' is changing all of that.

There is a set time for everything, and the time of the Kingdom to be openly displayed (on earth) has come. We have entered 'the time of fullness – Tabernacles, a time of unity (man and God becoming one). Arthur Burt and many other prophetic voices spoke of this prior to their passing, as did the prophets of old. This oneness 'awakening' is happening all over the Body of Christ, like a new birth. When man awakens to God 'in him,' and awakens to "Greater is He who is in me than he who is in the world" (1 John 4:4), "Christ in me, the hope of glory" (Colossians 1:24-29), something great is about to happen – true purpose is about to be revealed! No longer will the stale 2nd Day – Church Age message provide life.

A restlessness is hitting the Body of Christ like a ticking time bomb – man hungers for his purpose upon earth. Look up! A witness is being birthed as Third day 'doers' are replacing Second day 'talkers.' When walk and talk marry, overcoming testimony (Revelation 12:11) becomes the witness. A 'first-fruits' company of 'prophetic doers' are being released into the earth in specific waves. First is the progressive wave of 1) Awakening (happening everywhere now), then 2) Arising (evidence of overcoming power), and lastly 3) Shinning (a 'shinning' of His favor and blessing, coupled with overcoming testimony). This initial wave of overcomers are pulling others along this track, much as an engine pulls a train (Joel 2:25-27).

We are indeed "foreigners and strangers" here, spirit beings known to God before the earth was made (Ephesians 1:4), sent to planet earth to inhabit a human body with a specific mission – colonize earth with heaven's government (Kingdom). When we 'awaken' to the fact that we are no accident, but rather a well-intended spiritual force with a specific purpose, we 'awaken' to a union (reunion) with our Father who lives in heaven. Matthew 6: 9,10 comes alive when we pray "Our Father in heaven, hallowed be your name, your Kingdom come, your will be done ON EARTH AS IT IS IN HEAVEN" – as does Matthew 6:33, "Seek first His Kingdom and His righteousness, and then all these things will be given to you…" These, and many other of Jesus' words, implore us to understand heaven's government such that it can be shared upon the earth.

Our inheritance is the Kingdom – our job is to colonize earth. We have appointed authority to accomplish our purpose. We have a right to be here, the devil does not. Demons are jealous that the earth is not theirs. When we as believers recognize that we as colonizers have God's authority, the harassment of hell must stop. We are appointed to do "greater works," which includes complete authority over demonic influences. We have the right to arrest the enemy when he unlawfully enters our domain.

We are NOT 'human beings' who happen to have a physical body, but rather 'spirit beings' who happen to be housed in a human body on planet called earth. When we 'AWAKEN' to this reality, we begin to sense purpose beyond human understanding – it is here, in spirit form that real life begins! We see in two dimensions – spirit and natural. Joshua and Caleb saw in both worlds, and conquered the one because they could see in the other! The limitations of human understanding fall off like scales, and "greater works" become possible. "Take the land!"

The Kingdom you serve determines how you live…your gift is your key to overcoming power: it is where your joy is – the real you! When your gift is complete, you become (like) a tree bearing fruit, a distributor of the Kingdom's love, power, and authority on earth as it is in heaven – a witness of overcoming testimony, revealing to earth a witness of Kingdom government. When you find your gift you find life – When you distribute your gift you give Kingdom life to earth just as it would be in heaven!

You are heaven's agent, an ambassador of the King, sent to share His Kingdom glory to earth just as it currently exist in heaven. Just as any ambassador, your job is to share your government's position on all matters. Awaken' ambassadors to your assignment on earth, and live like you've never lived!!!
Clay Sikes
www.lighthouseprophecy.com




3. News Headlines
The JESUS Conversation -- The Unthinkable: A Muslim Follower of JESUS? - 9/23/2016
A Muslim follower of JESUS.... I know this sounds like a complete contradiction, but it's true! People from any culture can genuinely become a follower of JESUS. (nations-cultures). - (Ron's Comment: Christ Jesus and the Kingdom of God are greater than any religion and transcend all cultures in followers of Jesus. However, what the people believe will change the culture!)
Full Article »

The Terrorist Ties That Bind? Red Flags Raised about Clinton's Adviser - Top Clinton Aide for 2 decades has Family Ties to Terrorist - 9/23/2016
New details are surfacing about Democratic nominee Hillary Clinton's top aide and her ties to a radical Muslim journal. Huma Abedin worked for the Journal of Muslim Minority Affairs for more than a decade, as assistant editor under her mother who is still editor-in-chief today. The journal has been known to oppose women's rights and blame the United States for 9/11.
Full Article »

Pastor Abedini spoke at a rally September 20th in New York - shared Gospel with prison official while he waited at airport for 'ransom' money to arrive - 9/23/2016
Iranian American Christian Pastor, Saaed Abedini, in prison in Iran over three years for chuch work spoke at a rally Sept. 20th in New York protesting a visit to the UN by Iran's President. Abedini and others called for a halt to Tehran's sponsorship of terrorism. They also demanded a halt to the executions in Iran, and urged the prosecution of the regime's leaders.
Full Article »

Women's shelters must admit 'transgender' men: Obama admin rule - 9/23/2016
Women's shelters must admit men who say they are "transgender" if they receive federal funding, according to a new regulation imposed by the Obama administration. The administration stripped out a provision that would allow shelters to deny a biological male access to women's facilities, under narrow circumstances, if they felt it would endanger women's "health and safety....
Full Article »

News From British Isles, Ireland, Europe and Worldwide - 9/23/2016
Syria: aid delivery to Aleppo to resume? - Christian comeback is coming - Britain's opportunity a new role - Hungary: government to tackle Christian persecution - Sweden: TV advert says 'accept multiculturalism' - Israel: Netanyahu holds security meeting - Iraq: US pastor gives $4,000 for weapons for Christian militia - Middle East: church summit - Iran and Saudi Arabia
Full Article »

David Platt recounts story of man raised from dead in Southeast Asia - 9/23/2016
In a remote Southeast Asian village, a leader's death and resurrection from the dead fueled revival among a previously unreached group. Standing over the fallen leader, they began praying "that God would show His mercy to the people in the village, Then something astonishing happened. As they were praying over the man, all of a sudden the man coughed and started breathing ...
Full Article »

Why the Media Doesn't Want You to Know the Real Story behind Trump's Recent Visit to Black Church - 9/23/2016
You won't believe how the mainstream press twisted what happened between former boxing promoter Don King and Donald Trump. Watch what really happened. Trump met with pastors at the church. There were a lot of headline moments— like when the pastors laid hands on and prayed for Trump. But you wouldn't know that by scanning the headlines. Watch the video.
Full Article »

Baby Body Parts Company StemExpress Held in Contempt of Congress for Stonewalling - 9/23/2016
The company tried to shield itself from scrutiny by saying the requested information could lead to the murders of its employees. The House Select Panel on Infant Lives has voted to hold StemExpress in contempt of Congress for stonewalling its investigation into the harvesting and sale of aborted babies' body parts. StemExpress was Planned Parenthood's partner.
Full Article »

Billy Graham Chaplains Shine the Light of Christ on a Dark Night for Charlotte - 9/23/2016
The Billy Graham Rapid Response Team is requesting prayer for the United States and the city of Charlotte, North Carolina, in the wake of violent civil unrest. Please also pray for the chaplains as they decide how to best minister to the community. "The light shines in the darkness, and the darkness has not overcome it." -John 1:5
Full Article »

Did Hillary Clinton Have Another 'Medical Episode' at a Campaign Event? - 9/23/2016
Hillary surprisingly canceled a $2,700-a-plate fundraiser in North Carolina on Tuesday, just hours after a new video emerged that put her health in question again. The video shows her eyes weren't tracking together - a sign of potential neurological distress. Clinton's missed fundraiser was in Chapel Hill, North Carolina a key "battleground state."
Full Article »


Unlimited permission to copy and post or reprint without altering text or profiteering is hereby granted subject to proper credits and inclusion of this web address: archive.openheaven.com . However, if an item not written by Ron McGatlin is marked Copyright, you should contact the original publisher for permission to reproduce.


Edited by News Room on 09/23/2016 at 6:28pm