Moderator


Admin Group





Joined: 03/16/2005
Online Status: Offline
Posts: 6133
Posted: 09/19/2005 at 7:40pm | IP Logged

---
A Review of Jim Rutz's Megashift
By Steve Eastman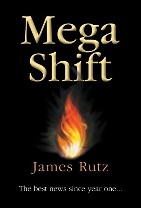 "A leper is healed in the marketplace. A small bit of food feeds a large group. A demonized man chained up for years is delivered and set free. And Jesus appears in a vision to one of His chief persecutors. And all have happened in the last twelve years." --condensed from page one of Megashift.

Jim Rutz starts off with the miracles, over three dozen summaries in chapter one. He mentions hundreds of resurrections from the dead in 52 countries. Rutz goes far beyond anecdotal evidence, supplying pictures, phone numbers and email addresses. It's all to prove that God has accelerated His dealings with mankind, resulting in an 8 percent annual increase in what he calls core apostolics. Rutz projects that figure, tongue-in-cheek, to prove there will be more Christians than people by the autumn of 2032. Many of the recent miracles and much of the growth has taken place in the Third World, but Rutz is confident this megashift is knocking on the door of the West.

A crucial part of this change is in the way we do church. Rutz uses the term open fellowship to describe groups of empowered laity with no clergy in sight. In his words, "They include the Holy Spirit—as Master of Ceremonies, not just Guest of Honor." Typically these groups meet in homes, but according to him, they can also meet in offices, barns, dorms, coffee shops, bars and the woods.

Rutz's list of "nineteen things we do in open, body life gatherings" goes beyond what some long-time house church people have experienced. His smorgasbord of ideas includes spoken blessings with a possible prophetic element, spontaneous songs that connect to something God is doing at the moment and handing your car keys to a single mom without reliable transportation. Make no mistake about it, Rutz is not proposing a new liturgy for house church. He believes each meeting will be different, just like snowflakes.

Rutz encourages area house churches to get together in a combined meeting every month or so. Some have been taught that the interactive/every-member-functioning dynamic collapses when the number of people exceeds 20 or a similar upper limit. Rutz refutes this idea with his epilogue. In it, he tells a hypothetical story with the reader as the central character. You return to town in the year 2012, to visit a house church network you started in 2005. His description of a combined meeting is fleshed out with fictionalized versions of events involving real people. No longer does a meeting of a thousand people with no human leader sound impossible.

Not everybody is passionate about history, but for those who are, Rutz includes a wonderful treasure tucked way in the appendices, How Did We Ever Get into This Mess in the First Place? The section is reminiscent of Frank Viola's Pagan Christianity and David Newby's The Bubble Will Burst, but all boiled down to about 20 pages.

Megashift makes a major contribution to the understanding of house church and related revival/renewal movements. For hundreds of years or more, people have been saying, "God is doing a new thing in our day." Critics may call these pronouncements subjective, saying, "Give us a sign that this is indeed a new day." In chapter 5, Rutz refers to the veil of the Hebrew temple being torn in two from top to bottom in Matthew 27:51. He then continues, "… to my knowledge there were no basic changes in the status of believers after that—until October 20, 1996. On that day, God—or some angel with a deadly karate chop—split an equally heft "veil" in two, signaling the end of the separation of common Christians from the power center of traditional ministry, where only a pastor normally could stand: the church pulpit." Rutz is citing an event at the early morning service of Christian Tabernacle in Houston, Texas. It seems the presence of God was so heavy that the first 15 minutes were spent waiting on God. Then Pastor Richard Heard started to speak. Rutz tells us, "At that instant, a loud thunderclap of noise hit the sanctuary. Heard was picked up and thrown backwards. The heavy cast acrylic pulpit was split into two pieces, then flung toward the congregation in two directions, landing about six or seven feet apart …."

Others writers have done fantastic jobs explaining the theory and practices of Megashift, but Jim Rutz makes the information relevant to newcomers. His book does for house church what Hal Lindsey's The Late Great Planet Earth did for the rapture theory over 30 years ago. Although the two authors doubtlessly differ on many points, both know how to connect with the masses.

Read Steve Eastman's interview with Jim Rutz.



Edited by Steve Eastman on 09/23/2006 at 8:21am