Posted: 04/12/2012 at 9:33am | IP Logged

---
Worldwide Kingdom Awakening News and Views




Published by Ron & Barbara McGatlin - Basileia Publishing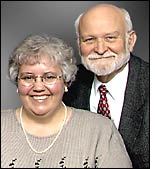 In This Edition
1. Hideaway in His Presence
2. The Kingdom Manifest - Video
3. Top News Headlines


Subscribe To OpenHeaven.com Digest





1. Hideaway in His Presence

By Ron McGatlin
God is speaking an urgent message – a call of emergency to the people of God.
We may be going about our daily routine of business as usual when our phone rings with an emergency call of extreme and urgent importance. Time seems to stand still and everything changes in that moment. The urgency involved in the emergency causes us to leave our routine of daily life. We alter all of our plans and address the urgent issue at hand. The routine issues of the day that seemed important a moment ago quickly become almost insignificant in the light of the urgent message received.
Our routine business may involve important service to man and God. It may involve issues of natural importance and spiritual significance to our family and others around us. However, the emergency of the message received may involve the continued well being and effectiveness of our service to God and man.
Such a message is coming forth from God today.
Broad spectrums of the body of Christ from the nominal believers to the maturing leaders of groups, congregations, and ministries are hearing the call to deep intimate oneness with God. However, many of us either do not know how, or we are failing to implement what we know to enter and remain in this intimate place of spiritual depth in oneness with God.
Words are powerful seeds but are useless if unheard or not believed. Hear what the Spirit of God is saying and live abundantly in everlasting life now and forever.
Being in love with God opens our ears and tunes our hearts to hear clearly the desires of His heart. Experiencing God's love and reflecting it back to Him also produces obedience to His desires and every word He speaks to us.
The urgent word from God is a call to extreme and deep worship one-on-One alone with God today and every day.
In this season, the coming forth of the kingdom on earth and our very lives – our well being rests upon our finding our secret place of deep worship and communion with God. Some of us have heard this word before. We may have walked in it for a season. So you ask, what is new about it? It is the urgency of the time we have entered and the existing lack in our spiritual oneness with God that has created this life or death emergency call to personal worship and communion alone with God.
Corporate Meetings Do Not Replace Personal Worship
We may have looked to powerful corporate worship and praise in weekly gatherings, and from time to time larger conferences or gatherings, to replace our daily abiding in true worship and communion with God. In so doing we may have neglected our true intimacy with God in our spiritual secret place with Him. Abiding in Christ is daily personal one-on- One living in His presence, fully connected as the branch to the vine.
Some of us may have substituted gathering in small fellowship groups in place of our abiding in our secret place alone with Him. The exciting times of sharing together may have become so service or socially focused that most of the time together is spent in discussion of personal and natural things about natural life. While we so sweetly address one another with hugs and smiles, it is as if Jesus stands in the corner desiring to spiritually embrace us and watching while we socially embrace one another. The Spirit of God jealously waits while we do our pleasantries and acknowledge one another instead of acknowledging Him.
Fellowship in small groups, corporate worship in large groups, and loving on one another are very important parts of life in God on earth. However, the primary and most important thing is one-on-One worship and communion with God alone in our secret place.
The group things will never, never, never be what they could be if we are not one with Him alone. We may find ourselves from our souls pretending loving affection to one another or just going along with the motions of corporate worship. False smiles and hugs along with shallow or pretended worship are an abomination to God and are pleasing to the devil.
The secret place refers to a spiritual place with God more than a prayer closet.
However, it is needful that there be a time and place of being entirely alone to worship and commune with God. The depth of our time in God is increased by our praying in the Spirit and meditating the written word of God. Praying in our prayer language and waiting to hear from God by the Spirit leads to our entering and abiding in the spiritual secret place. Our longing hearts are fulfilled and contamination from daily life in a fallen world is cleansed, thus opening the windows of heaven for greater revelation and intimate fellowship with God in the Spirit.
Distractions may need to be removed.
If we can't seem to find the time and place but do find time to watch the TV, we may need to get rid of the TV or any other distraction that robs our time in personal worship and communing with God.
This closeness with God must become our lives to the point that all day long we are connected in the Spirit speaking to and hearing from God in our hearts. We will find ourselves communicating with Him about everything that is going on in our work or personal lives as it happens. We must find our secret place of alone worship and communion with Him daily.
We are kept in the spiritual secret place with God.
Cataclysmic events will bring great travail upon the people of the world in the seasons of transformational judgments upon all that exalts itself against God. We shall not fear the treachery and devastation of world cleansing judgments. Whether we live long lives on earth or are martyred in His service, we are at perfect peace and shall be with Him now and forever. In His shadow in our secret place, the children of the kingdom shall survive to bring forth the glorious kingdom of God on earth as it is in heaven.

Psa 91:1-9:

He who dwells in the secret place of the Most High Shall abide under the shadow of the Almighty.
I will say of the LORD, "He is my refuge and my fortress; My God, in Him I will trust."
Surely He shall deliver you from the snare of the fowler And from the perilous pestilence.
He shall cover you with His feathers, And under His wings you shall take refuge; His truth shall be your shield and buckler.
You shall not be afraid of the terror by night, Nor of the arrow that flies by day,
Nor of the pestilence that walks in darkness, Nor of the destruction that lays waste at noonday.
A thousand may fall at your side, And ten thousand at your right hand; But it shall not come near you.
Only with your eyes shall you look, And see the reward of the wicked.
Because you have made the LORD, who is my refuge, Even the Most High, your dwelling place
.

When we see the urgency of personal worship and communion alone with God, we will drop other things to seek the secret place with God.
We will no longer busy ourselves working or ministering, seeking to do good things to the point of neglecting our one-on-One communion with God. The enemy would have us to be running about in our natural compassion and strength seeking to put out fires of difficulties in the lives of suffering people who are experiencing transformational judgments.

When we truly grasp the urgency and value of remaining in our spiritual secret place, we may no longer take on additional jobs and extra hours of work to try to get things for the family.
The answers we need, the power and guidance that will unlock the resources of heaven to overcome every situation of life, will only be found in the secret place. We must meet with Almighty God and have His direction and empowerment before seeking to deal with the needs of our world. We must spend time close to Him, if we are going to be anointed to bring forth His life in the world.

Jesus went from one isolated place of prayer and communion with God to another, and released awesome miracles to meet the needs of people in between. Jesus today in us will do the same as He did in His natural body.

The world will not be changed – the kingdom of God will not be established – by our running around trying to put our fires. The fires of hell will be quenched in the lives of believers as we find the secret place of power and guidance of God.

We must find our secret place with Him. The first priority of disciples of Christ must be to love God with our whole heart.

The secret place is that space in the Spirit in which all the world grows dim and leaves our awareness as we intimately bask in His embrace of love and glory. The comfort of the Holy Spirit in His embrace is awesome and complete. We are totally comforted no matter what our circumstances.

Our reason for living becomes to express our love for Him – to worship Him with deep all- consuming love. Our mouths and lives are filled with praise for Him as we exceedingly and lovingly admire His glory. Our hearts are melted as He pours the liquid fire of His love upon us.

This outpouring of His love brings a great desire to obey Him – to serve Him at all cost. The greatest desire of our heart is to please Him – our only fear is that of disappointing Him. We are motivated to fully serve Him and carefully obey Him.
Supernatural Impartation in the Secret Place


The empowerment and wisdom imparted to us in the secret place of intimacy with Him enables us to change the world. Wise creative ideas and solutions to unsolvable problems can be imparted into our hearts.
Supernatural powers begin to work in the world to change natural circumstances, to cause them to come into alignment with the will of God and the assignment He has given to us. Miracles are just God working in ways we cannot explain. Nothing is impossible to the one who believes (Mark 9:23). The one in intimate love with God will believe in Him without reservation and limitation.

There remains a season of great beauty as the powerful presence of God changes the people of God and subsequently our world. Eventually the perilous persecution will give way to a time when God's people will live in a world filled with the peace of God. All who have escaped in the secret place with their lives through the time of transition and judgment will be holy – cleansed of the Lord. The kingdom of God coming forth in our world is worth all the cost.

Isa 4:2-6: In that day the Branch of the LORD shall be beautiful and glorious; And the fruit of the earth shall be excellent and appealing For those of Israel who have escaped.



2. The Kingdom Manifest - Video

Kriston Couchey



THE THE MIND OF CHRIST - KRISTON COUCHEY

Having the mind of Christ and God's perspective





3. Top News Headlines




Christian leader beheaded as Islamists terrorize Mali - 4/9/2012
A Christian leader has been beheaded and others are being threatened with similar treatment as Islamic militants run amok in Mali, West Africa. Christians have fled the town of Timbuktu in the north of the country where harsh Sharia Law has already been imposed amid reports that churches in Gao, 200 miles to the east, have been completely destroyed. Read On: http://archive.openheaven.com/forums/forum_posts.asp?TID=39438&a mp;a mp;PN=1&TPN=1


MALI: Christians flee as jihadists seize control of north - 4/11/2012
What started out as a violent, destructive and bloody Tuareg rebellion in pursuit of an independent Tuareg homeland has ended in Islamic conquest and the spectre of al Qaeda. The main ethnic Tuareg rebel group announced a ceasefire. Having seized the capitals of the three main northern provinces in three days flying the black flag of al Qaeda. Read On: http://archive.openheaven.com/forums/forum_posts.asp?TID=39452&a mp;a mp;PN=1&TPN=1


New Hope Among Forgotten Tribe - 4/11/2012
The Miskito Indians occupy about 120 villages along the Rio Coca River bordering Nicaragua and Honduras. These witchcraft-practicing people live in a secluded area. He stumbled upon the Indian tribe of about 71,000 by accident. Ford was moved by this forgotten group riddled with extreme poverty, hunger and spiritual darkness. Read On: http://archive.openheaven.com/forums/forum_posts.asp?TID=39451&a mp;a mp;PN=1&TPN=1


Lao Officials Confiscate Church Buildings - 4/8/2012
Lao officials on (April 5) confiscated and sealed a church building in southern Laos after holding a two-day seminar warning against religious belief. They warned that other churches would soon be shut down. Local Communist Party official and the district deputy chief of police, and the district head of religious affairs, ordered villagers to attend the seminar. Read On: http://archive.openheaven.com/forums/forum_posts.asp?TID=39437&a mp;a mp;PN=1&TPN=1


Hugo Chavez makes tearful appeal to Jesus for healing - 4/11/2012
The status of Venezuelan President Hugo Chavez's cancer is officially a state secret, but that didn't stop him from making a tear-filled appeal for healing from Jesus at a Catholic Mass in his home state. Chávez sat in the pews with his parents. He held hands with them while a priest led a prayer for his health. At one point, tears rolled down his cheeks. Read On: http://archive.openheaven.com/forums/forum_posts.asp?TID=39453&a mp;a mp;PN=1&TPN=1


Into Africa -- On A Unique Medical Safari - 4/11/2012
Hundreds of Christian Doctors Will Be 'Hunting' For Evidence of 'Divine Healing' During Exceptional Conference in Nairobi, Kenya, May 25-26. Organized by the World Christian Doctors Network its 9th Annual International Conference will be held at the Safari Park Hotel in Nairobi. Medical professionals who believe in divine healing meet as "Spirituality and Medicine." Read On: http://archive.openheaven.com/forums/forum_posts.asp?TID=39454&a mp;a mp;PN=1&TPN=1


News From British Isles, Ireland. Europe and Worldwide - 4/12/2012
Hope Invasion in York - Philippines: Film leads police officers to Christ - My hand was healed by God says Tory MP - Bishop warns stripping Britain of religion leaves country vulnerable to extremism - Turkey's religious freedom record slides - Syria: Media sceptical of peace plan - Egypt: Coptic Church withdraws from constitutional panel - Afghanistan: Church growth - More... Read On: http://archive.openheaven.com/forums/forum_posts.asp?TID=39456&a mp;a mp;PN=1&TPN=1


Pastor Youcef Nadarkhani Spends 35th Birthday Behind Bars - 4/12/2012
(April 11, 2012), is Pastor Youcef Nadarkhani's birthday, and sources in Iran confirm that he is still alive. "This is the third birthday that Pastor Youcef has been forced to celebrate behind bars, condemned to death in Iran for apostasy - becoming a Christian in a regime governed by Shariah (Islamic) law. Tomorrow, marks exactly two and a half years of imprisonment." Read On: http://archive.openheaven.com/forums/forum_posts.asp?TID=39458&a mp;a mp;PN=1&TPN=1


Alaska Voters Defeat LGBT Measure - 4/12/2012
In a victory for traditional marriage, Alaska citizens overwhelmingly voted in favor of the natural family by rejecting Proposition 5. The measure was defeated by a margin of 58-41. Proposition 5 would have given special rights based on lesbian, homosexual, bisexual and transsexual behavior (LGBT). The measure was put on the ballot and supported by LGBT groups. Read On: http://archive.openheaven.com/forums/forum_posts.asp?TID=39459&a mp;a mp;PN=1&TPN=1


'Simpler Times' With 'The Painter of Light' - My meeting and interview with Thomas Kinkade, who died on Friday - 4/7/2012
When I first heard the news that popular California artist Thomas Kinkade, 54, had died of natural causes on Friday (April 6, 2012) at his home in Los Gatos. California, it brought back memories of when I first met Kinkade and later interviewed him. He credits the Lord for both the ability and the inspiration to create his paintings. "I see my art as a tool to share Christ." Read On: http://archive.openheaven.com/forums/forum_posts.asp?TID=39432&a mp;a mp;PN=1&TPN=1


Syrian Christians in Desperate Times - 4/7/2012
The city of Homs, the third largest in Syria, has now seen almost its entire Christian population of 50,000 to 60,000 flee for safety as fighting continues in the stricken country. Muslim neighbors are turning on the Christians, and Muslim extremists from other countries have been coming to Homs to join the fighting. Less than 1000 Christians remain in the city. Read On: http://archive.openheaven.com/forums/forum_posts.asp?TID=39431&a mp;a mp;PN=1&TPN=1


700,000 to be evicted from Sudan - 4/7/2012
The government decided to remove all people of South Sudanese origin living in the north. Most southerners are Christians and are fearful of what might happen to them. Church leaders fear persecution if they stay in the north. There has been a lot of talk about Sudan becoming "more Islamic." The mostly-Muslim north has a long history of persecution against believers. Read On: http://archive.openheaven.com/forums/forum_posts.asp?TID=39433&a mp;a mp;PN=1&TPN=1

For More Top News Headlines, Go Here: http://archive.openheaven.com/news/headlines/

---
Unlimited permission to copy and post or reprint without altering text or profiteering is hereby granted subject to proper credits and inclusion of this web address:
http://
archive.openheaven.com
. However, if an item not written by Ron McGatlin is marked Copyright, you should contact the original publisher for permission to reproduce.
Thank you for forwarding the OpenHeaven.com Digest to your mail list.


Edited by Ron McGatlin on 04/12/2012 at 10:50am