Posted: 12/07/2012 at 6:57am | IP Logged

---
Worldwide Kingdom Awakening News and Views










Published by Ron & Barbara McGatlin - Basileia Publishing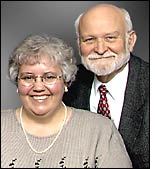 In This Issue
1. The Rock of Kingdom Foundation
2. A NEW DARK AGE?
3. Top News Headlines


Subscribe OpenHeaven.com Digest
1. The Rock of Kingdom Foundation
By Ron McGatlin
In a desperately changing world that has largely eschewed Christ Jesus, there is little hope for stability upon the failing foundations of ill-conceived ideologies from the minds of fallen unredeemed mankind.
The one solid rock of temporal life is the eternal reality of Spirit God in Christ Jesus by the Holy Spirit guiding and empowering mankind into the non-failing, always expanding kingdom of God reality on earth from Heaven.
There is no other solid rock foundation for the superstructure of quality life on Planet Earth. All the world and all systems of life on earth will come into peaceful, fruitful, and glorious order when our lives, the lives of mankind, are firmly built upon and filled with Christ Jesus the Lord God Almighty. In Christ Jesus the Father is manifest into this world by the Holy Spirit. Now is the time for the realization of the manifest rule of God in the hearts and lives of men, women, boys, and girls of every ethnic background and in every part of the world.
The Babylonian style life and governance is in its final hay day of running rampant across the hearts and lives of precious but radically deceived people. The anti-Christ spirit is loosed upon the land and rising up as a devouring river to flood the land with the words and ways of human theism of man as god of all or of other false gods. The thing that was created (man) has made itself in its own eyes to be its own creator and is fallen off a cliff into eternal frustration and loss of the real foundation and structure of real life.
Godly prosperity and fruitfulness of life is falling over the edge of the cliff into the valley of the oblivion of wasted human productivity. The glory of the fruitful forest of magnificent trees of the quality lives of mankind is falling and becoming a wasteland of debris among the dust of failure. The fires of removal leave only ashes of that which was and never again shall be, a fallen state infiltrated with the waste of the foolishness of self-worship and denial of the one true God.
The New World of the Kingdom upon the Rock
From the ashes arises beauty and from the barren land sprouts the glorious life of the one true kingdom upon the one true foundation of Christ Jesus the Lord of all – the one for whom and through whom all things were and are created. There is nothing made that is not made to be brought together in Christ Jesus the Lord of all.
Before us is the vision of the pure and holy life of beauty the life of peace on earth and goodwill toward man. The old is passing away, and the new shall come forth from the remnants of the wasted past made new. That which was despised will be loved. That which was deeply desired to feed the fallen flesh nature will be abhorred and will not exist in the beauties of the holiness that shall reign upon Planet Earth. The completed sovereign reign of God in Christ Jesus in His people shall show forth the glory of God in a renewed Planet Earth. It shall be renamed in reflection of its new state.
The New Jerusalem of the Israel of God shall speak forth a clear picture to all creation of the terrestrial manifestation of the eternal magnificence and glory of God-with-man, the completed union of Father/Son/Husband and Bride/Wife of God of all creation celestial and terrestrial forevermore. There is no end to the expansion of His glorious kingdom.
God's Chosen
We have little or no understanding as to how we (weak mankind) have been chosen to become carriers of the glory of God as a witness to all creation of His excellence and the brightness of His glory. God is loving beyond imagination and powerful beyond description. There is no god like our God, and He is preparing a people in whom He will abide and interact as one. Becoming one with God is beyond explanation or understanding. We simply believe and receive all that He provides without hesitation or reservation.
There is no tolerance in the pure holy reality of New Jerusalem life for that which defiles. God is the light of the land. Evil and darkness in any form are not allowed to enter the glorious City of the living God. No white washed "saint" with internal darkness can slip through to bring foolishness into the marriage of the Bride and Her Husband. The forever union of man and God in Christ Jesus is completed in the spiritual realm and is to be expressed, to fully possess the land of terrestrial earth beyond this now season of cleansing of the earth.
Now in this day the Babylonian style life is rising up for the last time on earth. The evil beast, the anti-Christ, and the devil are lifting themselves seeking to destroy the Sons of God from the earth. The devil's last great screaming offensive is being released even as this is being written. Like a wild ass with his tail on fire, he is spreading the fires of destruction and shall continue to do so until there is not one part of the pride and loftiness of man to lift itself against God. There shall remain not one particle of lust of the eyes and pride of life to derange the hearts of mankind.
The glory of the presence of God in Christ will consume and fill us with the life of God with all its love, wisdom, and power. All who remain will bow and fall on their faces before Him in full submission. In loving adoration they will arise to lift holy hands in full out praise to the One True God. The awesome works of God will manifest in the practical reality of the renewed earth filled with the life of God in peaceful harmony. All remaining mankind will be one with God ruling and reigning on this earth.
One begotten Son and many adopted Sons becoming one family of God.
The Family of God is one spiritual/natural family. While we live on earth, we as Sons are the family of God with the Father, the Son, and the Holy Spirit. We through marriage become the wife of God. There is no distance in the Spirit, and we are One Spirit family in heaven and on earth. This has all been done and is provided by God through Christ Jesus. We now today are the family of God in heaven while on earth. The creator (God) and the creation (man) have become one through Christ Jesus. Christ in you is the fulfilled hope of glory.
There is no distance in the Spirit between heaven and earth. The kingdom of heaven is the kingdom of God on earth and in heaven. Both realms are becoming as one in us. IF WE LIVE BY THE SPIRIT AND WALK IN THE SPIRIT, we on earth are one with God and heaven. We are one in the family of God that is in heaven and on earth. We are crucified with Christ and now live in this world as Christ lives in us.
Abraham saw this city of God with man afar off. With spiritual eyes we now see the city not made with hands and not afar off. It is now coming from heaven and being formed in us and eventually in this world as His kingdom grows to fill the cleansed and renewed earth. That which has ruled in the world that was not of God is being dissolved. The false will be replaced by the real. The kingdoms of this world shall be the kingdoms of our God.
Praise His Holy Name!
Keep on pursuing love. It never fails
and His kingdom never ends.

Ron McGatlin

archive.openheaven.com
basileia@earthlink.net





2. A NEW DARK AGE?

By Danny Korakas

(Excerpted from the full article)
The Dark Ages swept upon numerous civil societies which had been previously enlightened, creative, productive, and individually free in regard to expression. I do not desire to over-simplify the causal effects of the Dark Ages, but religious dogmatism, deception, and fear based apparatuses were a prime initiator. Many of the underlying characteristics of that time in history are present today in the form of Islam and Islamist ideologies.....
The question is not whether terrorism is now a world-wide reality, but why is terrorism happening at all? And, is it possible to thwart the activities of the Islamic extremists? To understand how to deal with an enemy, one must first seek to understand the issues which warrant certain behaviors. What is their motivation? Do they have a goal or end result? Who are these people? Why are they willing to go to such desperate lengths? Why are theirown lives apparently so easily expendable? Why do they target innocent civilians who have no direct conflict with them, and have no understanding of their agenda? Why attack office buildings, ships, buses and airplanes carrying innocent and unarmed civilians? Why is deception necessary to disguise themselves as normal citizens and college students? Why hide in the everyday crowd, then attempt to perpetrate as much carnage and damage as possible? How do you fight an enemy you cannot identify until it is too late?
The world must wake from its slumber and come to grips with why are all these attacks and atrocities committed by followers of Islam? This is not a coincidence, as many in the media, academic, and liberal circles would have us believe. I am writing this article to ask questions and bring attention to the Islamic religious orientation, goals, and spiritual significance.
In our multicultural democratic society we embrace diversity. Diversity is a large culture shift that is also prevalent in most large American businesses. On the surface this is a seemingly embraceable societal virtue on many levels. However, the Islamic terrorists are taking advantage of our propensity to be accepting, and are wielding US ideological "freedom for all" against us. Islamists are cloaked within their own religious people, most of whom, on the surface at least, appear to be peaceful. They also know it is unacceptable for the rest of the western democratic population to single out one religion for vilification. While we are busy bending over backward to make certain religious freedoms available to all, those of a religious orientation that desires to destroy all other religions, operate from within that freedom and safety to wage war against western and democratic based institutions which they view as heretical. And of course, "heretics" are put to death under Sharia Law.
We also must take note that it doesn't matter whether others of their own Islamic faith are marginalized, attacked, and even murdered, so long as the goal of Islamic conversion is ultimately reached. Muslim against Muslim is perfectly acceptable, and apparently even necessary to many fundamentalist organizations. Look no farther than the US grand investment in Iraq where militants are attacking other Muslims, simply because they align themselves with those who promote peace and democracy. This is not merely a conflict between one group of Muslims and another, or even simply between Muslim and those of other faiths, although that is used as an excuse. Rather it is a martyrdom ideology, where life is expendable, and the loss of one's life is desirable in pursuit of the end result.
We view this as extreme, but in Islamic belief systems, it is the ultimate jihad to be shaheed (martyred) or to cause other Muslims to be shaheed in the name of Allah. The terrorists are not only fighting against the West and democracy. They are not simply fighting against Jews and Christians. Rather, these are necessary conflicts in their view, to further their Islamic world-wide cause. Islamists are for and speak of "peace", but only on their terms, which means when Islam rules the world there will be peace. Until that day, jihad and shaheed must continue and be executed in the name of Allah.
Terrorists are not necessarily insane. In their minds, through social conditioning, they are the military "troops" for Islam and part of it success. Adherents that refuse the "terrorist" or "jihadist" label are on a different level in the jihad or struggle, but nonetheless are just as dangerous, because they soften up the unsuspecting masses by being peaceful law-abiding citizens who simply wish to live and let live. These people may reflect a peaceful citizenry, but yet they also are misunderstood in relation to the greater Islamic picture. They have no desire to blow themselves or others to pieces. However, this perceived peace is still a form of jihad, because it allows Islamic ideology to infiltrate local and national level societies. Once Islam becomes an accepted part of a particular society, more extreme jihad forces are able to begin operating under the cover of its accepted populace. This stratagem is exponentially growing in Europe, Africa, and America. This is a "holy war" and Islamists are wielding a sword of "peace" as the weapon of choice and its wounds will become more deep and severe as humanity embraces it blade.
This is only an excerpt from this timely and comprehensive article. For the full article, Go Here: http://archive.openheaven.com/forums/forum_posts.asp?TID=42172&a mp;a mp;a mp;a mp;PN=1&TPN=1




3. Top News Headlines




Tanks Deployed to Cairo after Mass Anti-Morsi Protests - 12/6/2012
The proposed constitution would be disastrous for Christians. Clashes between supporters and opponents of President Mohammed Morsi claimed five lives, hundreds injured. "We're going to continue protesting in every possible way, including a general strike, until we regain our rights and our freedom, and we correct the course of the revolution." Read On: http://archive.openheaven.com/forums/forum_posts.asp?TID=42182&a mp;a mp;;PN=1


Nigeria: the terror of jihad - a call to pray for the Church in Nigeria - 12/6/2012
20 Christians were killed and dozens wounded on Sunday 25 November in a twin suicide bombing - 1 December a band of jihadists attacked Kupwal 10 people killed. They then set fire to homes. 2 December police station attacked - reports go on and on. A full-blown Islamic jihad is raging in Nigeria and it is terrifying for the Christians of the north." Read On: http://archive.openheaven.com/forums/forum_posts.asp?TID=42183&a mp;a mp;;PN=1


Islamist Group Boko Haram Accused of Slitting 10 Christians' Throats - 12/5/2012
At least 10 Christians, including one pastor, were killed by Islamists connected to the Muslim group Boko Haram in an attack on the village of Chibok in Nigeria's state of Borno. "They went into Christian homes and slaughtered 10 people like sheep," In a separate attack, three churches were burned as a group of Islamics attacked the border town of Gamboru Ngala. Read On: http://archive.openheaven.com/forums/forum_posts.asp?TID=42178&a mp;a mp;PN=1&TPN=1


Typhoon Bopha pounds Philippines; thousands evacuated at least 274 dead - 12/6/2012
As of Wednesday morning, Typhoon Bopha (nicknamed Pablo)--the strongest storm to hit the country this year--had killed at least 500 killed. Winds of 160kph (99 mph) with gusts in excess of 210 kph (130 mph), the 500 kilometer-wide (311 miles). In some areas, landslides took out whole villages, while flash floods surged across the region's mountains and valleys. Read On: http://archive.openheaven.com/forums/forum_posts.asp?TID=42184&a mp;a mp;PN=1&TPN=1


Stakes High for Marriage Fight at the Supreme Court - 12/6/2012
The Supreme Court may be about to finally weigh in on what marriage really is. Nine states and the District of Columbia have re-defined marriage. Will the Supreme Court follow suit? The Court is expected to announce Friday morning if it will hear two major cases that could have far-reaching impacts on the definition of marriage in the United States. Read On: http://archive.openheaven.com/forums/forum_posts.asp?TID=42181&a mp;a mp;PN=1


Gen XXX: Teens Addicted in a World Awash in Porn - 12/4/2012
When it comes to pornography, no one is immune. It affects men and women of all ages. Today, teenagers are bombarded with these images like never before through the Internet. They're growing up in a world awash in X-rated material. The average age to first see it is 11. Ninety percent 8 to 16 viewed it online. Many are now addicted - that could ruin their future lives. Read On: http://archive.openheaven.com/forums/forum_posts.asp?TID=42167&a mp;a mp;PN=1


Clinics Quit Planned Parenthood over Abortion Push - 12/4/2012
Several affiliates have quit Planned Parenthood rather than obey its mandate that all their clinics must provide abortions by 2013. "Taxpayer money goes to the Planned Parenthood empire."They perform around 300,000 abortions a year." "And we're paying a million dollars to them everyday: today, tomorrow, next day; we're paying them a million dollars." Read On: http://archive.openheaven.com/forums/forum_posts.asp?TID=42168&a mp;a mp;PN=1


Crisis tests Egyptian constitution - Christians in Egypt are becoming more concerned - 12/4/2012
In a fast vote, Islamists approved the charter without the participation of liberal and Christian members. The move pre-empted a court ruling that could dissolve the constituent assembly, but it also inflamed the conflict between the opposition and Morsi. "Our situation here is getting worse day by day." Ministries are concerned as radical Islam gains control in Egypt. Read On: http://archive.openheaven.com/forums/forum_posts.asp?FID=3&T ID=42166&PN=1&TPN=1


Syria - Christians targeted for their politics or their faith? Many Killed and Wounded. - 12/4/2012
This week's twin deadly car bombs in the Christian and Druze suburb of Jaramana in the Damascus targeted two communities which have not joined the uprising against Bashar al-Assad's government. State media said "terrorists" were behind the blasts which killed at least 38 and injured at least 83; the government says it is protecting minorities. from "terrorist extremists." Read On: http://archive.openheaven.com/forums/forum_posts.asp?TID=42170&a mp;a mp;PN=1&TPN=1


The Door of Hope offers forsaken babies a chance for life - 12/2/2012
At least three babies are found abandoned in Johannesburg every day. They are found lying on the side of the road, dumped in garbage cans or tossed in a river. Pastor of a Baptist Mission church arranged for some men in the church to cut a hole in their mission center to create a "baby bin" where people could place their abandoned babies. Over 1000 babies have come through the hole. Read On: http://archive.openheaven.com/forums/forum_posts.asp?TID=42157&a mp;a mp;PN=1&TPN=1


News From British Isles, Ireland, Europe and Worldwide - 12/7/2012
Mega-mosque' recommended for refusal - Thousands of children are praying for the first time! - Gagged - judge who dared to stick up for marriage - Sweden: Row over school ban on mentioning Jesus at Advent - Eurozone unemployment hits record high - NIGERIA: Inside the lion's den - Myanmar: Ethiopian-like starvation - Syria: Weapons of mass destruction - Much More. Read On: http://archive.openheaven.com/forums/forum_posts.asp?TID=42189&a mp;a mp;PN=1&TPN=1


War on global terror far from over - 12/7/2012
A recent U.S. military briefing on the war on terror painted a rosy picture. However, the war on global terror far from over. "If Nigeria goes down, Africa goes down. That is their goal." The group has set its sights on spreading its ideology across Africa and into Europe. Muslim state leaders have imposed Sharia law in 12 northern states and parts of four others. Read On: http://archive.openheaven.com/forums/forum_posts.asp?TID=42190&a mp;a mp;PN=1&TPN=1


Swedish Christian Worker Shot in Pakistan - 70-year-old woman in critical condition - 12/7/2012
Birgitta Almby, who has been serving as area director with Full Gospel Assemblies (FGA), was returning home for lunch from the FGA Bible School in Lahore. Almby has served in Pakistan for 38 years. "Pakistan is her home for so many years. She never spoke of having any threats to her life and moved in the city quite comfortably." Two men rode up on a scoter and shot her. Read On: http://archive.openheaven.com/forums/forum_posts.asp?TID=42191&a mp;a mp;PN=1&TPN=1


For More Top News,

GO HERE

:

http://archive.openheaven.com/news/headlines/
Unlimited permission to copy and post or reprint without altering text or profiteering is hereby granted subject to proper credits and inclusion of this web address:
http://
archive.openheaven.com
. However, if an item not written by Ron McGatlin is marked Copyright, you should contact the original publisher for permission to reproduce.
Thank you for forwarding the OpenHeaven.com Digest to your mail list.


Edited by Ron McGatlin on 12/07/2012 at 11:07am