Posted: 01/04/2013 at 7:14am | IP Logged

---
Worldwide Kingdom Awakening News and Views










Published by Ron & Barbara McGatlin - Basileia Publishing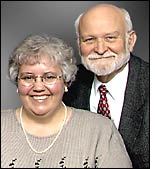 In This Issue
1. The Great Spiritual Showdown of the Ages
2. There is ALWAYS Good News
3. Top News Headlines


Subscribe OpenHeaven.com Digest




1. The Great Spiritual Showdown of the Ages
By Ron McGatlin
It is impossible to make reasonable sense of current world events without considering the great spiritual showdown of the ages taking place worldwide. The ongoing war of the ages between two kingdoms for the rule of the world is coming to a showdown.
The kingdom of God has begun to arise in recent times. The revelation of the real gospel of the kingdom of God coming forth on earth as it is in heaven has begun to be widely proclaimed for the first time since Christ Jesus and His disciples introduced it to the world two millennia ago.
The false kingdom of darkness that has dominated the world since the fall of Adam is now being greatly threatened. The victory won in Christ Jesus is now coming alive in many people, especially young people who are beginning to spiritually sense the potential of the kingdom of light within them changing the world.
This spiritual war is first a battle for the minds and hearts of people. That which rules in the minds and hearts of mankind rules the world. If the light and life of Christ fills the minds and hearts of the people, the kingdom of God will rule the world. If the darkness and life of antichrist fills the minds and hearts of the people, the kingdom of darkness will rule the world.
The love, power, and wisdom of God is imparted and established into the world through redeemed mankind in whom Christ fully dwells by the Holy Spirit. This awesome leadership of supernatural heavenly strength coming forth in the world means the end of the false rule of the evil darkness that has burdened the entire world for millennia. Christ is coming forth in His people to save and rule in the world as the kingdom of God. This is the enemy's worst nightmare.
In this day the ruling kingdom of darkness is waging an all-out offensive to stop the advance of the light and life of Christ Jesus and destroy the kingdom of God from the earth.
With great cunning and deception, the enemy has enslaved millions into a vicious army of enraged people bent on the removal of Christ by the elimination of all of God's people form Planet Earth. Education and entertainment media are primary tools among many others used to capture and mold the minds and hearts of the people. They are not out to destroy just the religious lukewarm Christians. Their primary target is to convert or kill any and all who carry the life of Christ Jesus and the light of the kingdom of God.
The spirit of antichrist now occupies high places of religious and political leadership in the nations of the world giving the offensive against God's people the very effective power of the deceived masses to rise up in direct conflict of all that is of truth and righteousness.
The Showdown
The situation now is much the same as it was in Elijah's day as recorded in 1 Kings 18.
Evil had been enthroned in the political leadership of the nation. The prophets of God had been slaughtered by Jezebel, and the nation was in famine because God had withheld rain for three years. Ahab, the king, had become involved in worship of foreign false gods and brought in the evil Jezebel as his queen. Jezebel became a strong force in the nation, and Ahab became weak and tolerant of the evil Baal worship and ungodliness in the land. It was not a good time to be a follower of God in Israel.
It was time for a showdown between God with His prophet Elijah and 450 prophets of Baal. God spoke to Elijah to call for the showdown. You probably know the story how the 450 prophets of Baal set up a sacrifice and cried out for their god to send the fire to ignite the wood for the burnt offering. Nothing happened even after the prophets cried out all day and cut themselves till they bled, seeking to get an answer from their god, to no avail.
Elijah then rebuilt the altar of God with twelve stones - one for each tribe of Israel, dug a trench around it, and stacked the wood upon it. The bullock was cut into pieces and laid upon the wood. Then he called for water to be poured over the whole thing three times. Then he called upon the LORD.
1 Kings 36-39: And it came to pass, at the time of the offering of the evening sacrifice, that Elijah the prophet came near and said let it be known this day that You are God in Israel and I am Your servant, and that I have done all these things at Your word.
Hear me, O Lord, hear me, that this people may know that You are the Lord God, and that You have turned their hearts back to You again."
Then the fire of the Lord fell and consumed the burnt sacrifice, and the wood and the stones and the dust, and it licked up the water that was in the trench.
Now when all the people saw it, they fell on their faces; and they said, "The Lord, He is God! The Lord, He is God!"

The Great Showdown of the Ages
World history is shaping itself for what may be the final great showdown, between the light of God and the darkness of evil, to turn the hearts of the people of the world to the Lord God Almighty.
We are now in the phase of the enemy gaining great strength and systematically killing the people of God who will not yield to the powerful deception of evil training and mental conditioning from cunning deception through secular education and media. The deceived masses, if not participating directly in the destruction of God's people, are at least tolerant of the vicious killing of the people and destruction of the things of God and Christ across the world.
A people of God after the spirit of Elijah will arise - even in the midst of the darknessof evil oppression - to challenge the masses of evil prophets of Baal now marauding across the land and in high positions of authority ruling over the masses. In impossible circumstances of great oppression by the powerful spirit of antichrist leading the nations to worship Baal, a prophetic people of the true God will arise to demonstrate the awesome power of God establishing Christ Jesus as LORD and King of this world and all creation.
From out of the darkness of wilderness is coming the Spirit of God in a people prepared to stand in the power and presence of God to release the absolute authority of God of heaven upon Planet Earth.This awesome work of God is now preparing a people after the spirit of Elijah – a mass of people of Christ who regard not their own lives but present to the world the life of Christ Jesus by the Spirit of God from heaven.
In the deep darkness the light of God is brighter, and the great contrast of godliness and evil will once and for all bring the great showdown that will turn many of the people of the world to the kingdom of God and to Christ, the rightful King Who will reign forever. Everything that exalts itself against God will be consumed in the fire of God demonstrating once and forever the LORD is GOD of all.
The greatest move of God of all history is before us now. Be prepared to experience the fire of God beyond imagination and understanding. Only believe, and all things are possible to the people of God who believe. Faith grows in the presence of God in the time of desperate darkness and need.
Rejoice in the desperate times of utter evil and foolishness in high places bringing the madness of the enemy upon the land. Know that the enemy is rushing to his own end. The greater the darkness, the greater the light will come forth to bring forth the real kingdom of God on earth as it is in heaven.
We are the people upon whom this time has come. There is no reason to hold back and no reason to procrastinate or look for some future event. Biblical history is being made, and you are there. This is your day of the Lord. Awaken and look unto the hills of heaven for the Lord is near, and even in His holy temple His purified body on earth. Arise and shine for you light has come.
Keep on pursuing love. It never fails,
and His kingdom never ends.

Ron McGatlin

archive.openheaven.com
basileia@earthlink.net


2. There Is ALWAYS Good News!
By Rob Hotchkin
With the almost non-stop flow of information that is coming at us these days, it is more important than ever that we be intentional about what we focus on. Thanks to our TVs, radios, computers, laptops, tablets and smart phones, there is a near-constant flow of updates, headlines, alerts, messages, e-mails and texts ringing, dinging, tweeting, and announcing to us what has just happened, what is happening, and what is about to happen. Amidst this swirl of 24-hour-a-day input it can be a battle to keep our eyes and hearts focused in faith on the good news of who our God is and His amazing ability to do the impossible in the midst of the difficult (see Luke 18:27).
Peter and Circumstances
In Matthew 16 we see examples of just how important and powerful it is to focus on God and what He is highlighting in the midst of information overload. In Matthew 16:13-19 Jesus and the disciples are discussing some of the many things the world has to say about who the Son of Man is. Some say He is a prophet. Some say He is John the Baptist. Some say He is Elijah. And others say He is Jeremiah. But when Jesus asks Simon, Simon is able to focus in on the reality of the good news, even when it seems the most amazing and impossible of all the reports.
Simon answers that Jesus is the Son of Man, He is the Messiah, the long-awaited Promise of Emmanuel, the Son of the Living God. Jesus erupts with praise for Simon, telling him that he is truly blessed because he was able to focus in on what his Father in Heaven was highlighting to him in the midst of the swirl of information. Simon's ability, in that moment, to focus on what Heaven was highlighting had a powerful and lasting impact – so much so, that Simon emerges from the moment transformed. He is given a new name, Peter, which means "rock."
Focusing in on the good news of who our God is and what He is capable of in any situation grounds us in the truth of Heaven and works to transform us and our circumstances.
Compare that to what we see in Matthew 16:21-23. In this passage, Jesus tells the disciples that they are all going to go to Jerusalem. Then He shares what will happen once they get there. Jesus lets them know that He will suffer many things at the hands of the leading priests, elders and teachers; He will be killed and then on the third day He will be raised from the dead. That is quite a bit of information to take in all at once.
Peter, who had done so well at focusing in on what Heaven was highlighting just a moment before, now blows it. He takes Jesus aside and says, "No, Lord! This will never happen to You!" Jesus then rebukes Peter and tells him that he is seeing things from a human point of view, not from God's. The mistake Peter made was to be overwhelmed by the report of what was going to happen, as opposed to being overcome with confidence in God's ability to miraculously turn it all to the good. See, Peter focused in on Jesus being arrested, then suffering, and being killed – the bad news, instead of focusing in on the good news – Jesus being raised from the dead!
Focus In On What God Has to Say
The key for us in this hour is not to ignore the information coming at us, but to remember to always focus in on what God has to say, and what Heaven is highlighting. We must never allow a bad report or alarming news to have a greater impact on us than the Good News of the Gospel of Jesus Christ and the miraculous ability of our Heavenly Father to bring about all of His promises – no matter what.
So let's pray this month for the Body of Christ as a whole. Let's join in agreement and declare that:
1. We will seek first the Kingdom of God, maintaining an eternal perspective in all things and at all times (Matthew 6:33).
2. We will not give heed to reports of the world, or listen to the distractions and discouragements of the enemy, but instead we will clearly hear what the Lord is highlighting to us, and be encouraged (John 10:4-5).
3. We are strong in our faith and we believe that our God is well able – always and in all ways (Mark 5:36).
4. We will keep our focus on the realities of Heaven; we will allow our minds to be filled with the love, light and truth of Jesus; and we will dwell not on how temporary facts say things seem to be, but on how the eternal Word of God says they truly are (Colossians 3:1-12).
5. We will remain childlike in our faith, always trusting in our Heavenly Father to perform His Word and bring about His purposes (Matthew 18:3-4).
6. We will trust in the love of Jesus and cast our cares (concerns, fears, doubts, distractions, discouragements) upon Him, allowing Holy Spirit to comfort and strengthen us so that we can continue doing good, believing for the best, and contending for the certain victory (1 Peter 5:7; John 14:26; Romans 8:37).
7. We will be absolute in our resolve to continue on in our assignments, advancing the Kingdom and bringing Heaven to earth (Isaiah 50:7; Philippians 3:12).
8. We will praise the Lord in all things and at all times knowing that, no matter how things might look or seem at present, His Word never returns void but always accomplishes all it is sent to do (Isaiah 55:11).
Rob Hotchkin
XP Ministries
rob@xpmedia.com




3. Top News Headlines

More Than 4000 Students Pledge Lives to Mission Service at Urbana 12 Conference - 1/2/2013
4,224 students from US and Canadian colleges pledged themselves to long-term missionary service at the close of Urbana 12, twice as many as the last Student Missionary Conference in 2009. All the other measured outcomes of the conference broke records making this the most responsive student conference for foreign missions since the end of World War II. Read On: http://archive.openheaven.com/forums/forum_posts.asp?TID=42388&a mp;a mp;PN=1&TPN=1


13 Year Old Girl Comes Back from the Dead! - 1/2/2013
During morning prayers in the ATK Nakivumbi church, Sania's sister came in running and said "Sania has just died! She was taken to the hospital for treatment, and she died." The hospital declared her dead and released the body to be taken home for burial. She was dead 45 minutes... She was taken back to the hospital to certify the records that she was now alive. Read On: http://archive.openheaven.com/forums/forum_posts.asp?TID=42391&a mp;a mp;PN=1&TPN=1


James Robison's Daughter Loses Cancer Battle - 1/1/2013
James Robison's daughter has lost a long battle with cancer. Robin, who was 40 years old with three children, passed away on Friday. Robison wrote about his loss on his personal blog in a post entitled, "A Tribute to Robin." "Our precious daughter Robin, who lived for Jesus with all of her heart, went to live with Him this past Friday. Read On: http://archive.openheaven.com/forums/forum_posts.asp?TID=42378&a mp;a mp;PN=1&TPN=1


Averting a "Spiritual Cliff" - Franklin Graham - 1/1/2013
"My hope and prayer is that the Lord will once again move in our land. It can happen, and we are trusting that a fire of revival will ignite us as homes are opened to share the Gospel through "My Hope with Billy Graham." America is facing many challenges. Our country's financial problems are nothing compared to the spiritual and moral cliff that is far more destructive. Read On: http://archive.openheaven.com/forums/forum_posts.asp?TID=42381&a mp;a mp;PN=1&TPN=1


Sudan Bombings Kill More Nuba Christians Around Christmas - 1/2/2013
Non-Arab Christians in Sudan's Nuba Mountains said they feel forgotten after Muslim Sudanese air forces killed at least 11 of the faithful in bombings before and after Christmas, according to area sources. "We are surprised why the international community is so silent about the killing in South Kordofan," Thousands of civilians have taken refuge in Nuba Mountain caves. Read On: http://archive.openheaven.com/forums/forum_posts.asp?TID=42389&a mp;a mp;PN=1&TPN=1


Flooding in Sri Lanka Affecting over 300,000 - 1/2/2013
While people around the world celebrated Christmas and then the New Year, catastrophic flooding sliced through the island nation of Sri Lanka, leaving thousands homeless and more than 300,000 impacted-many without basic needs to survive. Floods destroyed 4,000 homes and damaged 10,000, caused landslides and wiped out thousands of acres of crops. Read On: http://archive.openheaven.com/forums/forum_posts.asp?TID=42390&a mp;a mp;PN=1&TPN=1


Christmas persecution calls for faith - Elizabeth Kendal - 1/2/2013
NIGERIA: gunman attack two churches inspite of increased security - INDONESIA: Security in Indonesia was high - SUDAN: KHARTOUM. two Coptic priests arrested for baptising Arab convert. - SUDAN: SOUTH KORDOFAN. Christians spent Christmas Day under aerial bombardment - LIBYA: MISRATA: Two killed in church bombing - PAKISTAN: At noon Muslims attacked believers - More. Read On: http://archive.openheaven.com/forums/forum_posts.asp?TID=42393&a mp;a mp;PN=1&TPN=1


News From British Isles, Ireland, Europe and Worldwide - 1/3/2013
India: Unique film released in Hindi - Survey of deaths in police custody - Young 'cannot cope with daily life' - Belgium: Considering extending euthanasia law to children - NIGERIA: 36 killed over Christmas - Pakistan: Charity workers killed - Afghanistan: Looking ahead the Church is growing - Bangladesh: Christian children vulnerable - Syria: Plight of Christians intensifies - More. Read On: http://archive.openheaven.com/forums/forum_posts.asp?TID=42398&a mp;a mp;PN=1&TPN=1


'Lost Tribe's' Return to Israel Fulfilling Prophecy? - 1/3/2013
A "lost tribe" has come home to Israel and the return could be part of biblical prophecy. More than 50 members of the Bnei Menashe tribe made history. Nearly 2,000 tribe members live in Israel, but five years ago the government stopped their return. A recent decision now permits all the Bnei Menashe, about 7,000, to now return. Read On: http://www.cbn.com/cbnnews/insideisrael/2013/January/Lost-No -More-Bnei-Menashe-Tribe-Returns-to-Israel/


Cynicism greets North Korea's New Year speech - 1/4/2013
In an historic New Year's address, North Korea's Kim Jong-un told the nation he planned to tackle the economy, relations with South Korea, and more. "He talked about unification with South Korea being 'the most urgent assignment' for North Korea, that 'it can no longer be delayed." Is it one Korean peninsula under Kim Jong-un? Or is it the democracy of South Korea. Read On: http://archive.openheaven.com/forums/forum_posts.asp?TID=42400&a mp;a mp;PN=1&TPN=1


Human Rights Group Urges Burma's Government to Immediately Stop Military Offensive against Kachin People - 12/30/2012
Four jet fighters and two helicopter gunships were used this morning to attack Kachin Independence Army (KIA) troops close to their headquarters. The aerial attack follows several days of shelling and a significant increase in troop movement and fighting. The Burma Army has been conducting a military offensive against the Kachin since June 2011. Read On: http://archive.openheaven.com/forums/forum_posts.asp?TID=42364&a mp;a mp;PN=1&TPN=1


For More Top News, GO HERE: http://archive.openheaven.com/news/headlines
---
Unlimited permission to copy and post or reprint without altering text or profiteering is hereby granted subject to proper credits and inclusion of this web address:
http://
archive.openheaven.com
. However, if an item not written by Ron McGatlin is marked Copyright, you should contact the original publisher for permission to reproduce.
Thank you for forwarding the OpenHeaven.com Digest to your mail list.


Edited by Ron McGatlin on 01/04/2013 at 9:08am