Worldwide Kingdom Awakening News and Views



Published by Ron & Barbara McGatlin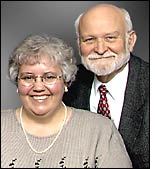 In This Edition
1. Rolling Thunder
2. There is a Fresh Breakthrough of the "Prophetic Voice" in this Hour
3. TOP NEWS Headlines


Subscribe to OpenHeaven.com Digest


---
1. Rolling Thunder
The TV revivalists preach their hype. The kingdom teachers speak beautiful words. The worship leaders sing and play all night. The humdrum Sunday morning preachers please their seekers. They all build their castles and dream their dreams. The watchmen quietly watch, and the intercessors moan and groan. The prophets sell their wares of edification for the foolish.
Where are those who partake of the pure water from the throne of God? Who will speak truth in love and roar the true heart of God? Who will tell the people that they have strayed far from the place of holy union with God? Who has a voice untainted by greed and immorality that can roar the truth from heaven? Who will tell the people that your sins have separated you from your God, and your play has consumed you. Judgment is at the door, and the time is short. Godís love is jealous for you and will not leave you to sleep with your false and foolish gods.
The roar of unleashed power will roll across the land.
Where are the mighty kings with lightening in their hands?
Who are these children dressed in battle array?
Where are the mighty men to stand in the way?
Why are the foolish leaders blind and weak?
Why is there no one of truth and love to speak?
Is there one who will boldly stand?
And roar as the Lion from heaven across the land?


The Spirit of God will lift up a STANDARD
, a pure and holy standard directly from the fresh, pure clear waters of the well of Christ Jesus, the Holy One. Without even a trace or whiff of manís corruption, the holy standard of God shall be lifted high among the people for all to see and be measured against.
Isa 59:19: Ö When the enemy comes in like a flood, The Spirit of the LORD will lift up a standard against him.
Then men will no longer measure themselves against themselves and find one better than another. For even the best are corrupt, and the worst are defiled beyond measure. Yet, comparing themselves among themselves, they are found acceptable in their own sight. Measuring corruption against corruption is utter foolishness and without value.
2 Cor 10:12: For we dare not class ourselves or compare ourselves with those who commend themselves. But they, measuring themselves by themselves, and comparing themselves among themselves, are not wise.
The finest Christian religious institutions are tainted with corruption. Their pure waters from God are contaminated with manís impurities.
The secular world has made standards in the midst of vile corruption. Ungodly laws are enforced with force that is contaminated with filth. Governments have lost the way of God and are attempting to outlaw God and legalize evil of every sort.
Secular media proclaims evil as good, violence as fun, and sexual perversion and immorality as a right for all people. While ďChristianĒ media has made mockery of the purity and holiness of God by flowing streams of contaminated waters infested with greed and spiritual adultery.
The enemy is literally flooding our world, and nations are being swept away. Multitudes are ignorant of the reality of God and His kingdom. They have not yet seen or heard Godís true standard. When they see the standard of the pure and holy kingdom of God will they receive it or decide to reject it and continue in their prideful foolishness?
This is not a time to try to clean up our act and do better. This is a time to go all the way to the core of pure and holy Christ Jesusí life in us. Repentance for our worst sins will not fix our problem. This is a time for fall-on-your-face repentance for our whole lives. Repent for mixing our stuff in with the pure life stream from heaven.
God is not calling for more of what we have called good Christian living. He is not looking for more show-based conferences. At this time He is not reaching for more good preachers to maintain the flock.
God is calling for a multitude of mighty men and women of Christ washed in the blood, crucified with Christ, dressed in the pure white glory of Christ, without spot or blemish from the world. These will be men and women drinking from the well of the pure water of Christ Jesus and filled with the supernatural power and wisdom from heaven.
Holy sent ones speaking the oracles of God. Angels working with the sons of God thundering out words that impact like a lightning bolt from heaven. God is making His ministers a flame of fire to flow the supernatural powers of heaven to defeat the enemies of God and destroy every work of the devil.
Heb 1:7: And of the angels He says: "Who makes His angels spirits And His ministers a flame of fire."
Instead of a government of the people, for the people, and by the people, the new government will be of God, for God and by God, in and among the people. Beyond the cataclysmic and apocalyptic events of the near future, the government of God (the kingdom of God) will rule on earth.
The Spirit of Christ Jesus is beginning to manifest in the purified holy sons of God to cast down and overcome the enemy.
Sons of God arise to be made holy by drinking from the pure water of the well of Christ Jesus within. Receive the full measure of the Spirit of God to be made a flame of fire in the hand of God.
Rev 12:10-11: Then I heard a loud voice saying in heaven, "Now salvation, and strength, and the kingdom of our God, and the power of His Christ have come, for the accuser of our brethren, who accused them before our God day and night, has been cast down. And they overcame him by the blood of the Lamb and by the word of their testimony, and they did not love their lives to the death.
Let the dead bury the dead.
Luke 9:60: Jesus said to him, "Let the dead bury their own dead, but you go and preach the kingdom of God."
Rev 22:11: "He who is unjust, let him be unjust still; he who is filthy, let him be filthy still; he who is righteous, let him be righteous still; he who is holy, let him be holy still."
James 2:13: For judgment is without mercy to the one who has shown no mercy. Mercy triumphs over judgment.
---
2. There is a Fresh Breakthrough of the "Prophetic Voice" in this Hour

By John Belt

God is raising up a new group of people that will release His voice, His thoughts, His life in this hour. He is also calling "whosoever will" to embrace the prophetic expression of the face of God at a new level, to bring forth His words without mixture, in purity.

The Prophetic Voice

Genesis 1:1-3 In the beginning God created the heavens and the earth. The earth was without form, and void; and darkness was on the face of the deep. And the Spirit of God was hovering over the face of the waters. Then God said, "Let there be light"; and there was light.

From the beginning all creation, everything seen came forth from the voice of God. The voice of God is the creative force behind everything we see before the hand of man touched it. The voice of the Lord is powerful. The voice of God is integral for our spiritual lives. For His life to flow in us we must hear and receive the voice of God. The sound of His voice sustains us and keeps our spiritual blood flowing.

Psalm 29:4-5 The voice of the Lord is powerful; the voice of the Lord is majestic. The voice of the Lord breaks the cedars; yes, the Lord breaks in pieces the cedars of Lebanon.

His voice is health to our body. When He speaks His words to us there is life that is released within our spirit that enables us to walk in sync with His purposes. When we lay all the business aside to hear His voice we come into greater union with God and His ability is released within us. The prophetic voice is where we become a vessel to speak what He speaks. Moses wrote, That all God's people would be prophets. To be a prophet is to be someone who draws close to God, to desire His will and to speak His words. The name "prophet" or "prophetic" has become a mystified term in many circles and to many people, but it is the most basic of things to our spiritual lives. God does nothing without revealing it first to His prophets.

Amos 3:7 Surely the Sovereign Lord does nothing without revealing His plan to His servants the prophets.

So if we desire to be in on what God is doing, which we should, then all of us should desire to be a prophetic people that hear and speak His heart. If there is fear of "prophets" or being "prophetic" it may be because of abuse and misuse, but being close to God so you can to hear His voice is what we are all called to. "My sheep hear My voice and they follow Me." The least in the Kingdom of Heaven is greater than John the Baptist. John was a prophet in the wilderness. Jesus fulfilled the role of "The Prophet." If we are to be like Jesus we will be a prophetic people.
John Belt
Live In His Presence Ministries
admin@liveinhispresence.com
This is only a portion of this article for the full article Go Here:
http://archive.openheaven.com/forums/forum_posts.asp?TID=31927&a mp;a mp;a mp;a mp;a mp;PN=1&TPN=1

---
3. TOP NEWS Headlines




Where Revival is Led by Four Year-olds Who Get Up at 4 AM to Meet with God - 4/11/2010
Imagine a school where children are more eager to enter into the worship of the Lord than to play on the playground. In one case, a family which has usually harvested only about 10 sacks of rice a season is now harvesting 100. This is no fantasy story, but the reality of what God is doing today in the Omkoi Province of Northern Thailand. Read On: http://archive.openheaven.com/forums/forum_posts.asp?TID=31890&a mp;a mp;a mp;a mp;a mp;PN=1&TPN=1


Survey Says Millions of Unchurched Adults Are Christians - 4/12/2010
According to the Barna study, self-identified Christians among the unchurched stray from common assumptions. Within this group, women outnumber men; Boomers and their elders outnumber the young; downscale adults double the number of upscale unchurched; conservatives are more common than liberals; and whites outnumber minorities by nearly a three-to-one margin. Read On: http://archive.openheaven.com/forums/forum_posts.asp?TID=31897&a mp;a mp;a mp;a mp;a mp;PN=1&TPN=1


Promise Keepers Relaunches, Invites Women - 4/12/2010
Promise Keepers once attracted one-point-four million men to the Washington Mall for a historic prayer meeting. Then it started to disappear out of the national spotlight. Now Promise Keepers is relaunching with an emphasis on families, including the 50 percent in America that are headed by women. Coach Bill McCartney is back along with president Raleigh Washington. Read On: http://archive.openheaven.com/forums/forum_posts.asp?TID=31898&a mp;a mp;a mp;a mp;a mp;PN=1&TPN=1


Threat Against Homeschoolers Over in Britain, At Least for Now - 4/12/2010
Parliament was considering a plan that would have given local officials total discretion over whether to "register" homeschools. It would also have required criminal background checks of parents. The plan came from two sources Ė a UN convention and a British education expert's related interpretation. The issues may resurface when Parliament reconvenes. Read On: http://archive.openheaven.com/forums/forum_posts.asp?TID=31900&a mp;a mp;a mp;a mp;a mp;PN=1&TPN=1


Man 'Praying in Tongues' Finds Missing Florida Girl - 4/13/2010
Eleven-year-old was discovered in a swampy area near Lake Jesup in the Orlando suburb of Winter Springs by James King, a member of Metro Church, where Nadia and her family worship. Nadia, who has Asperger's syndrome, is in the hospital being treated for insect bites and dehydration. "James said he was praying. He said he was praying in tongues and he went right to her." Read On: http://archive.openheaven.com/forums/forum_posts.asp?TID=31918&a mp;a mp;a mp;a mp;a mp;PN=1&TPN=1


The Vietnamese witchcraft doctor who found Jesus - 4/14/2010
Seeking a more powerful religious experience, he journeyed to the dark side. "I went to study black magic and became a witchcraft doctor, serving 3,366 gods, They gave me power, but they made me bow my life. In 1970, missionaries entered Ai's town. He visited the crusade and went home to fast and pray to his 3,366 gods to shut it down. "but none of them showed up." Read On: http://archive.openheaven.com/forums/forum_posts.asp?TID=31929&a mp;a mp;a mp;a mp;a mp;PN=1&TPN=1


North Korea Freedom Week to Be Held in Seoul April 25-May 1 - 4/15/2010
NKFW 2010 will begin with a prayer service and will conclude with a balloon launch from the DMZ which will include radios, money, and a special message about the Universal Declaration of Human Rights. "North Koreans are increasingly finding out that their misery is a direct result of the Kim Jong-il regime, not South Korea and America as we were brainwashed to believe." Read On: http://archive.openheaven.com/forums/forum_posts.asp?TID=31943&a mp;a mp;a mp;a mp;a mp;PN=1&TPN=1


District Attorney Warns Teachers They Could be Charged for Obeying New Sex Law - 4/10/2010
District Attorney Scott Southworth says he will continue to do the right thing, despite death threats. He's warning teachers in Wisconsin they could face charges for showing kids how to use condoms in accordance with a new state law. He says that's contributing to the delinquency of a minor and can result in nine months in prison and a $10 thousand fine. Read On: http://archive.openheaven.com/forums/forum_posts.asp?TID=31880&a mp;a mp;a mp;a mp;a mp;PN=1&TPN=1


School Board Considers Ban Against Textbook Biased Against Jews and Christians - 4/9/2010
The textbook currently used in Knox County schools in Tennessee, defines creationism as "the biblical myth that the universe was created by the Judeo-Christian God in 7 days." One knowledgeable critic has responded evolution is a myth. He's the author of a master's thesis on the theory. Board members are polarized, but expect to make a decision next month. Read On: http://archive.openheaven.com/forums/forum_posts.asp?TID=31865&a mp;a mp;a mp;a mp;a mp;PN=1&TPN=1


Move by Mayor that Osteen Helped Inaugurate May Allow Men in Women's Restrooms - 4/9/2010
It depends on who you talk to. The Area Pastor Council fears an order signed by Houston Mayor Annise Parker will allow at least some men into women's restrooms. Supporters of the measure say it won't. Then too, there's the tendency for politicians to understate the nature of a hated change at first and admit an alternative interpretation later. Time will tell. Read On: http://archive.openheaven.com/forums/forum_posts.asp?TID=31868&a mp;a mp;a mp;a mp;a mp;PN=1&TPN=1


Official Admits Welfare Payments Linked to Polygamous Muslims - 4/9/2010
Centerlink is an agency that delivers human services in Australia. Spokesman Hank Jongen says benefits are paid regardless of the number of "couple" relationships a person may be in. But a Muslim women's group is crying foul. Joumanah El Matrah, of Islamic Women's Welfare Council, says the religion only permits men to take multiple wives if they can afford them. Read On: http://archive.openheaven.com/forums/forum_posts.asp?TID=31866&a mp;a mp;a mp;a mp;a mp;PN=1&TPN=1


Former Muslims Find Newfound Faith in Christ - 4/9/2010
The late John Wimber called this sort of thing "Power Evangelism." Muslim Mariam Mendo lost her sight, apparently from diabetes. Her husband, who used to be commander of a Muslim rebel group, asked a pastor to pray for her. After two days, she regained her sight. Now she confesses Jesus is living in her. Read On:
http://archive.openheaven.com/forums/forum_posts.asp?TID=31878&a mp;a mp;a mp;a mp;a mp;PN=1&TPN=1


For More Top News Headlines, http://archive.openheaven.com/news/headlines/

Subscribe to OpenHeaven.com Digest
---
Unlimited permission to copy without altering text or profiteering is hereby granted subject to proper credits and inclusion of this web address: archive.openheaven.com . However, if an item not written by Ron McGatlin is marked Copyright, you should contact the original publisher for permission to reproduce.
Thank you for forwarding the OpenHeaven.com Digest to your mail list.