Maryam Ziadat


Senior Member





Joined: 01/10/2011
Location: United States
Online Status: Offline
Posts: 434
Posted: 01/10/2013 at 2:21pm | IP Logged

---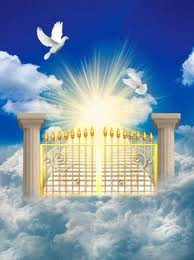 The Door of the Sheep
Jan. 10th 2013
While worshiping at the Chapel this morning I saw a vision of the Lord Jesus Christ standing between heaven and earth, I was standing beside him but my feet where on the ground, I had sack clothes on (rough brown woven cloak) and was looking at the Lord when he said to me with so much concern on his face and his voice "Look, my sheep are scattered"
I looked at the direction his hand pointed to and I saw sheep and they were in a land that looked like a desert, nothing much to eat. The sheep were standing in like groups, two together and then a distance apart another group of three and another of 10 or so far away from other groups.
I said " Yes Lord, they are scattered, but what do you want me to do ?"
I heard the Lord saying :
" Call on the mighty wind of the spirit of God to hover over the waters and gather my sheep from all over the earth to my pasture, where they will be fed, they will be healed, they will be safe and secure and declare me "The door of the Sheep" for all of those who will enter through me to the pasture will be saved. I am building my church on the truth of my word, I am raising up walls of living stones, walls on a strong foundation, walls build on me where no one and no thing can shake or move or tear down!
I am building my temple, a place for me to dwell where the enemy can't come and nothing unclean abides. My sheep will enter through me and they will know how to worship me in spirit and truth. I am the door of the sheep and only those who enters through me will be saved. It is not the pastor and his agenda, it is not the system or the name of the denomination, it's not the religion that will serve me and save my people, it is I and I alone! I am the good shepherd who sacrificed his life for his sheep, I died so my sheep will live and live life abundant. I Am against all of the false shepherd who takes care of themselves and forget my sheep and I will punish them. Says the Lord!
Prophetic declaration :
Mighty wind of the spirit of God, come, come on the command of the word of God and hover over the waters and gather his sheep, gather his children from all over the plant earth into his pasture that he is preparing for them, a place where HE wants to dwell in. We declare you, Jesus, the DOOR for your sheep and we declare you the good shepherd, You are the door in which your people should come through to the pasture to be saved, secured ,whole and alive! We bless you and we love you.
John 10:7-11
New King James Version (NKJV)
Jesus the Good Shepherd
7 Then Jesus said to them again, "Most assuredly, I say to you, I am the door of the sheep. 8 All who ever came before Me[a] are thieves and robbers, but the sheep did not hear them. 9 I am the door. If anyone enters by Me, he will be saved, and will go in and out and find pasture. 10 The thief does not come except to steal, and to kill, and to destroy. I have come that they may have life, and that they may have it more abundantly.

11 "I am the good shepherd. The good shepherd gives His life for the sheep.



__________________
Maryam Ziadat