Posted: 09/09/2012 at 6:20pm | IP Logged

---
Church Demolished by Russian Gov't Gathers Among Ruins
Church members of a Russian evangelical church in Moscow that the government demolished this week gathered to pray among the ruins of their once-standing church, early Sunday morning.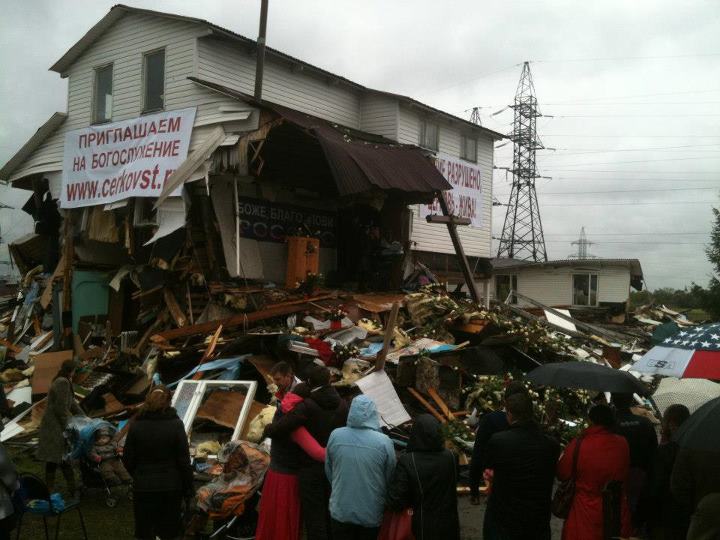 More than 200 people stood with umbrellas worshiping God and listened to Holy Trinity Pentecostal Church Pastor Vasily Romanyuke preach. They also prayed for the country's authorities.
Several banners were hung on the remains of the church's structure, including one that said, "The Building demolished Ė Church is ALIVEĒ
Earlier this week, a demolition crew accompanied by police tore down the Holy Trinity Pentecostal Church.
Human rights groups and members of the church were shocked by the late night demolition, which was apparently court ordered.
"Right now officials destroyed our church building ... now 4.30 am - Moscow time," a church member wrote in an email to Frank Wright, president and CEO of the National Religious Broadcasters.
"They came at night to avoid conflict with people," he continued. "All church property is there... some were stolen, other[s] - destroyed. We can do nothing... just pray and cry."
The man explained that the Russian government is "forcibly" relocating churches, giving them land in more remote areas to build a new church.
"The usual conditions are that the church develops the property within some specified time period," he wrote.
But in order to build on the land, permits are needed, which are often denied or rejected.
When a congregation fails to meet the deadline, the land is repossessed and everything built on it becomes government property.
Holy Trinity Pentecostal Romanyuk posted a video on YouTube from the scene.
Watch the video and read a translation of all of Pastor Romanyuk's reaction on The Global Lane blog.
"The last service was held last night. And tonight the tough guys have brought the machinery, broken into the church and started to demolish the building," Romanyuk said.
"There was a court decision that we cannot use the building anymore, and it does not belong to us any longer," he explained.
Human rights groups say the Holy Trinity Pentecostal congregation tried to meet the city's legal requirements.
Holy Trinity is among many evangelical churches kicked out of Moscow in recent months. Some Christian leaders fear the incidents are evident that religious freedom is fading in Russia.


Edited by News Room on 09/09/2012 at 6:34pm