Ron McGatlin


Admin Group





Joined: 08/23/2004
Location: United States
Online Status: Offline
Posts: 4141
Posted: 03/08/2012 at 7:43am | IP Logged

---
Worldwide Kingdom Awakening News and Views




Published by Ron & Barbara McGatlin - Basileia Publishing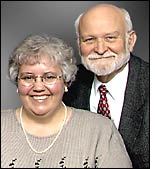 In This Edition
1. The Natural Spiritual Rock
2. The Kingdom Manifest
3. Top News Headlines


Subscribe To OpenHeaven.com Digest





1. The Natural Spiritual Rock
Can you imagine having both feet firmly planted in the air? Perhaps if you have stepped out of an airplane at several thousand feet in the air you have a real sense of standing firmly on nothing but the natural air of Planet Earth.
In this season God is opening spiritual eyes and ears to begin to grasp the solid eternal reality of the Spirit and the transient temporal reality of the natural realm of existence. Far beyond understanding, Spirit God remains the ultimate source of all that exists. There is no greater life on earth than to live in the Spirit and walk in the Spirit – to see and hear that which exists in Spirit reality is beyond description. However, to speak into and speak from the Spirit reality is a privilege beyond all measure.
God, the creator of all spiritual and natural existence is Spirit. Jesus spoke of spirit as the wind that is not seen though the sound of it is heard and the results of it are clearly seen. The New Testament Greek word translated spirit is "pneuma" which literally means "a current of air."
Spirit God is all powerful, all knowing, and always present; above all Spirit God is ultimate love. Yet, to the natural world of Adamic fallen mankind, God is unseen and unknowable. However, even fallen mankind can know that God exists because of His natural creation that can be seen and because of the dynamics of living moving creation that can be experienced. Yet, Spirit God Himself is not knowable to a natural person. Spirit God can only be intimately known and communed with by redeemed spirit to Spirit interrelationship.
Spiritual Rock in a Natural World
There is a solid rock foundation of Spirit God that was seen and clearly recorded (written) as the Son of God came to earth in human form for all to observe and believe. Spirit God came in natural flesh, a created solid natural form to connect with and redeem mankind and through man, the world. Spirit God became a natural man in Christ Jesus – a solid spiritual rock in a natural world. There is no way for natural man to ever come to God except by the Spirit Rock Christ Jesus.
Jesus is the foundation cornerstone of spiritual heaven in a natural world.
He is the Solid Rock of Spirit that was seen and known by natural man. The same Christ Jesus, the Son of God now abides on Planet Earth in His people by the "Spirit of the Lord," the Spirit-being Christ Jesus in the Holy Spirit (2 Cor 3:17). It is no longer necessary for man to stand in only thin air with no ability to intimately know and relate to God as Father.
The Old Testament picture of Moses speaking to the rock in the wilderness and water flowing out to the thirsty children of Israel is a clear type of the Spiritual Rock Christ Jesus flowing spiritual life into the natural world.
Moses was a major part of the work of God on earth in leading the chosen people of God out of captivity and through the wilderness toward the Promised Land which is a natural picture of the spiritual kingdom of God on earth.
Moses, in the frustration of leading the complaining children of Israel, struck the rock twice and thereby distorted the picture of Christ
(Num 20:11-12). This act resulted in this very important man, who communed face to face with God and wrote much of the Old Testament, to not be able to enter with the children of Israel into the Promised Land, but rather to only see it from a distance.
Likewise, not everyone in this generation of the manifesting of the kingdom of God will enter into its New Jerusalem life now. Many who have had a part in the journey may only see the promised land of the kingdom of God lifestyle from a distance, in this life now.
Abraham was called out from among his people to bring forth the generations of the people of God through Isaac, the promised son who the generations of the then future coming Messiah, Savior of the world, Christ Jesus. Isaac's son Jacob became Israel and brought forth the twelve tribes of the nation of Israel through which Messiah, Christ Jesus, was to come.
Prior to the birth of Isaac, Abraham and Sarah became impatient in their old age and caused Abraham to father a son named Ishmael by a servant maid called Hagar. Ishmael was not the son of promise. He was not a part of the inherited promise of the linage of the coming Savior of the world. He became the father of the Arabian nations of the world who by nature to this day remain in bitter conflict with the sons of Israel.
For the most part, the children of Ishmael and the children of Israel are opposed to the Son of God Christ Jesus as Messiah or Savior.
However, all who come to Christ Jesus, whether descendants of Israel or of Ishmael or Gentiles, can become one people in Christ Jesus by the Holy Spirit. In the kingdom of God there is no distinction between Jew and Gentile, bond or free, and male or female. In Christ Jesus, all are one.
Natural World Redemption and Transformation
In the kingdom of Christ Jesus there is one people with one Father of all (1 Cor 12:13) (Gal 3:28). The Jerusalem from above is the mother of us all (Gal 4:26). Through the one man Christ Jesus, the natural is becoming as the spiritual – the earthly is becoming the heavenly as it was originally created to be. It is becoming a visible living manifestation of Spirit God to show forth God's glorious attributes. All things shall be gathered into Christ Jesus in the kingdom of God on earth as it is in heaven (Col 1:19-20). There shall be no end to His kingdom.
We are blessed to be a part of the redemption of this world, transforming the world into the glorious love and beauty of the holiness of God Almighty.
The restoration process of all things has begun in the Spirit realm. The spiritual New Jerusalem is coming down, and there shall nothing enter it that defiles. The Spirit is bringing forth the will of God in the spiritual realm and those who will can walk in it now by living and walking in the Spirit of God now in this life. Enter the life of the Spirit now, and become a part of that which is now in the Spirit and will be manifest in the natural through those who live in the perfect peace of oneness with God in union with all things heavenly in Christ Jesus the Lord, King, and Savior of the world.
Heaven has come to earth in Christ Jesus living in us by the Spirit of the Lord. The Spirit realm is first and is the source of natural reality.
The natural is not forming the Spirit; the Spirit is forming, or should I say transforming, the natural.
From a natural perspective we see first the natural and then that which is spiritual. From the kingdom of God spiritual perspective, the spiritual is first and the natural follows. We see and hear what Father is doing and saying in the Spirit, and then we become a part of supernaturally bringing it forth into the natural world. Natural life becomes like a moving wheel within the larger supernatural spiritual wheel that turns first, and the inner wheel follows.
This mortality must put on immortality. The natural must put on the Spiritual.
God is lifting up a humble people of all ethnicities who are of little or no reputation in the fallen world to become those who carry the Spirit reality of King Jesus in all the power of love releasing the new order of the kingdom of God on earth. Now, the Spirit is calling out those who will respond to come into the awakening of spiritual reality in the Holy Spirit, the Spirit of the LORD.
Make the inward journey to the upward call of God into the Spirit. Surrender your mind and heart to the will of God and abandon all that is not of His desire. He will lead you and lift you up into the realm of the Spirit above and beyond all the turmoil and strife of the present chaos of a fallen world. His burden is light, and His yoke is easy.
Set your affection on things that are above. Seek and you shall find. Knock and it will be opened to you. Ask for the Spirit to fill and saturate you, and He will take you into the holy of holies. The veil is rent; the way is before you. Enter into the Spirit realm of Christ Jesus, and walk in heavenly places in the Spirit of the Most High God. Allow your haughty spirit to become broken and contrite and receive the resurrected life of Christ to fully saturate your spirit with His Spirit, with the quality of His eternal life. Dwell with Him in high heavenly places of the Spirit now.
For thus says the High and Lofty One Who inhabits eternity, whose name is Holy: "I dwell in the high and holy place, With him who has a contrite and humble spirit, To revive the spirit of the humble, And to revive the heart of the contrite ones - Isa 57:15.
"As the Father loved Me, I also have loved you; abide in My love.
If you keep My commandments, you abide in My love, just as I have kept My Father's commandments and abide in His love.
These things I have spoken to you, that My joy may remain in you, and that your joy may be full." ~ Jesus
Keep on pursuing Love. Love never fails
and His kingdom never ends.


Ron McGatlin
archive.openheaven.com
basileia@earthlink.net
2. The Kingdom Manifest - Video


By Kriston Couchey
THE KINGDOM MANIFEST - Kriston Couchey
-
http://vimeo.com/38001311


3. Top News Headlines




Update: Monrovia, Liberia Crusade over half a million decisions for Christ - 3/8/2012
I have just heard from our crusade organizer that they have counted 540,400 decision cards that were completed and returned during our campaign in Monrovia, Liberia. These precious souls are now being followed up by the local churches that are bursting at the seams with new converts! This is wonderful news for a country whose entire population is less than 4-million. Read On: http://archive.openheaven.com/forums/forum_posts.asp?TID=39109&a mp;PN=1&TPN=1


Ethiopians Coming to Christ in Droves; Women Leading the Way - 3/7/2012
The response has been astronomical. Women can't get enough of hearing how Christ loves them. Ethiopia is causing the Gospel to spread like wildfire. It's being fueled primarily by women whose lives have been changed watching the JESUS Film movie, "Magdalena Released From Shame." Women have long been "undervalued" in the country. "Women are being healed as they watch." Read On: http://archive.openheaven.com/forums/forum_posts.asp?TID=39194&a mp;PN=1&TPN=1


Remembering Wade Taylor - 3/1/2012
Wade Taylor passed away February 29th after a heart attack, but it was not his first trip to heaven. Although I had probably heard of him for many years, what really got my attention was a friend who considered Wade a mentor. I valued my friend's intimacy with the Lord and wanted to meet the man who inspired him to seek more. I had my chance in 2009. Read On: http://archive.openheaven.com/forums/forum_posts.asp?TID=39145&a mp;PN=1&TPN=1


Mission Aviation Fellowship Celebrates 25 Years of Service in Haiti - 3/7/2012
Beyond natural disasters, MAF is committed to the people of Haiti who live in remote and isolated areas. Poor infrastructure has plagued Haiti's development and causes non-profit organizations serving there to seek alternative transportation. A trip that might take eight hours or longer over rough, unsafe roads can be reduced to 25 minutes aboard an MAF plane. Read On: http://archive.openheaven.com/forums/forum_posts.asp?TID=39195&a mp;PN=1&TPN=1


News From British Isles, Ireland. Europe and Worldwide - 3/8/2012
Ethiopia: Ahmed met Jesus - Ethiopia: Women coming to Christ in droves - Crematorium cross set to be dumped, despite no complaints - Medics suggest legalising infanticide - Olympic mega-mosque opposition campaign re-launched - Turkey: Indictment of 'masterminds' of murders expected - Afghanistan: Update - Syrian Christians fleeing to Lebanon - & More> Read On: http://archive.openheaven.com/forums/forum_posts.asp?TID=39202&a mp;PN=1&TPN=1


2,200 new refugees pour into South Sudan - 3/7/2012
Omar al-Bashir has stated that he wants to cleanse this area "There's been a huge buildup of military. The Nuba people have largely fled. Half of them have either been killed or displaced, or have gone into a refugee camp." 2,287 new arrivals in two refugee sites in South Sudan, bringing the total of registered refugees there to more than 80,000. Read On: http://archive.openheaven.com/forums/forum_posts.asp?TID=39193&a mp;PN=1&TPN=1


Netanyahu: Israel Must be Master of Its Own Fate - 3/7/2012
"We still think there's a window that allows for a diplomatic resolution to this issue," Obama added. "But ultimately the Iranian regime has to make a decision to move in that direction, a decision that they have not made thus far." Netanyahu also pointed out why the United States has a stake in this fight. "You know, for them you're the great Satan, we're the little Satan. Read On: http://archive.openheaven.com/forums/forum_posts.asp?TID=39192&a mp;PN=1&TPN=1


Muslims in Egypt Use Rumors to Attack Christians - 3/7/2012
5,000 mostly Salafi Muslims went on a rampage over a false rumor that a church was holding a girl against her will in order to convert her back to Christianity. Between 2,000 and 5,000 hardline Muslims harassed Christian villagers in in the Nile Delta, attacked a church building to "save" the girl, damaged a priest's house and then destroyed his car. Read On: http://archive.openheaven.com/forums/forum_posts.asp?TID=39191&a mp;PN=1&TPN=1


Egyptian Christian Sentenced to 6 Years in Prison for 'Insulting the Prophet' - 3/7/2012
Ahmad Sayed Gabali, said that during his 18 years as lawyer, he has never experienced what he went through in this case. "Over 80 Islamist lawyers representing civil rights claimants filled the court, locked the door of the court from the inside, not allowing the judge out, and prevented me as the defense lawyer from going inside the court and defending my client." Read On: http://archive.openheaven.com/forums/forum_posts.asp?TID=39190&a mp;PN=1&TPN=1


Christian Woman in Pakistan Freed After 'Blasphemy' Accusation - 3/7/2012
In a rare triumph of rule of law over mob mentality in Pakistan, police resisted pressure from violent Muslim mob and released a Christian woman falsely accused of desecrating the Quran. "The minute I interviewed the staff members, I knew the charge against Saira was fabricated." He commended his officers for putting their lives at risk while rescuing Saira from the mob. Read On: http://archive.openheaven.com/forums/forum_posts.asp?TID=39189&a mp;PN=1&TPN=1


Nigeria: Boko Haram plot to 'end the Christian presence' - 3/7/2012
The Nigerian Muslim terrorist group Boko Haram is plotting to 'end the Christian presence' in Northern Nigeria. The group is preparing to launch a 'war' against Christians through bombings and kidnapping Christian women. The women will be held for ransom and returned only to Christian families who leave the region. The goal is to eradicate Christians completely. Read On: http://archive.openheaven.com/forums/forum_posts.asp?TID=39188&a mp;PN=1&TPN=1


Why the Saudis' Downfall Could Impact America - 3/5/2012
The so-called Arab Spring just passed the 15-month mark and continues to leave chaos in its wake. Dictators are falling and radical Islamists are filling the gap across the Middle East and North Africa. Now Islamists have their sights on a bigger prize, and it could send shock waves through the United States. The U.S. and Saudi Arabia have had an alliance based on oil. Read On: http://archive.openheaven.com/forums/forum_posts.asp?TID=39173&a mp;PN=1&TPN=1


Radio Ministry Invites Arab World to go on 'Journey of Hope' - 3/5/2012
Christians are scarce in the Middle East and North Africa. Less than 1 percent of the region's 355 million people are believers, and an estimated 95 percent of people in the Arab World will never met a Christian. "Journey of Hope" program producers create programming across North Africa and the Middle East secretly due to government and social hostility toward Christians. Read On: http://archive.openheaven.com/forums/forum_posts.asp?TID=39175&a mp;PN=1&TPN=1


Thirteen Christian converts have been arrested following an attack by security authorities on a house church in Iran. - 3/5/2012
February 21, 2012, at 7 in the evening, security authorities raided a home dedicated to be used a house church and seized all thirteen gathered there for worship. The authorities also invaded and thoroughly searched the detainees' homes and confiscated some of their personal belongings. Growth in the number of Iranian converts to Christianity in recent years. Read On: http://archive.openheaven.com/forums/forum_posts.asp?TID=39176&a mp;PN=1&TPN=1


For More Top News Headlines, Go Here: http://archive.openheaven.com/news/headlines/
---
Unlimited permission to copy and post or reprint without altering text or profiteering is hereby granted subject to proper credits and inclusion of this web address:
http://
archive.openheaven.com
. However, if an item not written by Ron McGatlin is marked Copyright, you should contact the original publisher for permission to reproduce.
Thank you for forwarding the OpenHeaven.com Digest to your mail list.