Posted: 03/01/2012 at 2:39pm | IP Logged

---
Worldwide Kingdom Awakening News and Views




Published by Ron & Barbara McGatlin - Basileia Publishing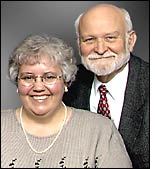 In This Edition
1. The Inward Journey to Upward Life
2. In Loving Memory of Wade Taylor
3. Top News Headlines


Subscribe To OpenHeaven.com Digest





1. The Inward Journey to Upward Life
The major shift and transformation taking place in our world is first an inward spiritual change of focus – a turnaround from our previous mindsets. The journey into the spiritual kingdom of God involves moving from life that was guided by natural reality into a life in spiritual existence unseen and nonexistent to the natural man – a life that can only be perceived as it is revealed by the Spirit of the Creator of all life. It is life in the source of all life: spiritual and natural, living as created spirit beings in the Spirit God – a life reinstituted in that from which it was created.
The shift is from living and walking in the natural to living and walking in the Spirit. The transformed life is first lived in the spiritual unseen realm of God within us and in heaven as we abide with Him in heaven and He abides within us on earth. Our spirit having become one with His Spirit transforms our spirit being into sons of Spirit God living in spiritual heaven and walking in the Spirit of God on natural earth (1 Cor 6:17).
All life changes for us as we no longer live as a natural person dependent upon our natural minds, wills, and emotions to guide us through our lifetime of natural life on earth. Our spirits become one Spirit with God in Christ Jesus by the Holy Spirit filling our spirit with the heavenly life of Christ. His far more dominant Spirit becomes our living Spirit within as we become one Spirit and one flesh with Christ (Eph 5:31-32)

Our spirits feed basic foundational life guidance into our souls that works out into and through our bodies. Our minds, wills, and emotions become His mind, His will, and His emotions. Thus our bodies become His body. His life is our life. His limitless life becomes our limitless life. His supernatural love and power become ours. We become as Christ is in this world (1 John 4:17). Our allegiance and sincere worship and praise of abandoned love are focused entirely upon God (Col 3:2).
Our natural life purpose and function is changed, transformed.
For the most part our natural minds have been focused on accomplishing varied goals or objectives in this life. These motivational targets were considered worthy or unworthy of our effort according to our mindset. Our life energy and time, our very lives were invested according to our personal goals and objectives, our reasons for living.
Goals and objectives always exist in every life whether they are perceived as such or not.
The lower levels of goals may be derived from natural needs and desires without specific thoughts in the mind. The base animal-like nature guides and motivates the simple natural person to take some action to supply base needs and desires of life. The moral compass of the person serves as a balance to check the actions to be taken. These actions can range from criminal acts of taking by force or devious fraud to working hard and long to meet needs and desires. The laborer's appetite works for him; his hunger drives him on - Prov 16:26.
In this fallen natural life guided by the "tree of the knowledge of good and evil," human good leads to a more compassionate and benevolent life of natural affections and moral ethics derived from an inner base of human understanding in comparing one thing or person with another and justifying some and condemning others. The natural human life guided by knowledge without God has no solid foundation or standard and will sink into the darkness of the guidance of other spirits of darkness, other gods.
In my lifetime of 79 years we have personally observed a major downward swing of the moral compass of the western world. Strong nations that once based their fiber of moral ethics, to a significant degree, upon the Bible have abandoned that guide and become severely weakened in the corruption of fallen world lust and greed eroding rapidly toward severe weakness, need, and lack which eventually leads to captivity to other nations and bondage.
While nations erode into chaos and captivity, the inner workings of the kingdom of God is growing rapidly and steadily into place. The upward life of the inner kingdom is moving God's people from natural life into realms of heavenly spiritual life to eventually bring forth the kingdom of God on earth as it is in heaven. The kingdom of God is come to earth in Christ Jesus within His body.
The inner and upward move into kingdom of heaven living is in great contrast to the outer natural life of chaos and bondage. A massive process of purification to holiness will eventually move from within God's people outward to re-establish a new natural life in the world. No longer a natural life apart from God in a fallen world, but a natural life of the reality of life in the Spirit ruling and reigning as kings and priests in a redeemed world that is being restored to God's original creation plan and purpose.
"Do not fear, little flock, for it is your Father's good pleasure to give you the kingdom." ~
Jesus


2. In Loving Memory and Celebration in the Eternal Life of Wade E. Taylor
It seems that life stood still for the multitude who heard the news that Wade Taylor had passed on into Glory February 29th, 2012. He had become one of Gary and my dearest friends. He was not only a friend to untold numbers, but also an extraordinary father in the faith. He was known by heaven as a faithful friend of God, a man who received powerful revelatory breakthrough with a burning desire to impart into those who had the spiritual receptivity to conceive.
Untold numbers will never be the same due to the great treasures Wade deposited from heaven. As someone shared recently, "His messages were like rain on roses. Our spirits were opened, revived and refreshed again and again.
Wade, my friend, we are eternally grateful for the time we had with you. Thank you for your love and friendship. Forever you are loved and cherished and will be greatly missed.
Traci and Gary Carson

~~~~~~~~~~~~~~~~~~~
Only God Knows

Only heaven knows the multitudes of lives touched by the life of God flowing through our dear friend and respected teacher Wade E Taylor. Many lives will continue to be enhanced by the written words of His many articles and books in the years yet to come. I pray that his words would be preserved for many generations to come. Barbara and I are honored to have known him in this life and to know him in the one to come.

Ron & Barbara McGaltin


In a recent article Wade Wrote:

A Living Word for Your Spirit
By Wade Taylor
God created all that was created in "six days" and on the "seventh day," He rested. Each of these days was an indeterminate period of time in which a particular aspect of creation was accomplished.
Peter limited these days to specific time periods by saying, "a day is as a thousand years, and a thousand years as a day."
Of this time, "six days" relates to man's time, and the "seventh day," to the Millennial Kingdom of God. The first four, "thousand year days" relate to the Old Testament, and the next two, "thousand year days," to the Church Age.
This time (six days) came to an end in the year 2000, and the time of transition into the Millennial Kingdom of God (seventh day) began. Read More: http://archive.openheaven.com/forums/forum_posts.asp?TID=39141&a mp;PN=1&TPN=1





3. Top News Headlines




Fires of Holy Ghost Revival Burning in China - 2/24/2012
For decades we have experienced mighty revival in China, but it was mostly in the rural house churches. This has resulted in close to a hundred-fold increase in Chinese believers. Now this revival is sweeping many large official churches. Also many congregations now meet in non-official but registered church buildings. These are basically house church fellowships. Read On: http://archive.openheaven.com/forums/forum_posts.asp?TID=39094&a mp;PN=1


260,000 people attended powerful meeting - that's nearly 30% of the entire capital - 2/27/2012
Another fascinating testimony came from a self-proclaimed witch. She said that she has killed 10 people in the past using spells and juju and a couple of nights ago, her coven sent her to the crusade to kill me. When she tried to place the curse on us, to her amazement, she said our prayers were too powerful. Suddenly she fell to the ground and began manifesting demons. Read On: http://archive.openheaven.com/forums/forum_posts.asp?TID=39109&a mp;PN=1&TPN=1


'Friends of Syria' call for peacekeeping help - 2/27/2012
The possibility of Assad's departure is alarming to Syrian Christians. "They had a relationship with the government that allowed protection underneath Assad's regime. He kept the forces that would destroy the Christians at bay by his dictatorial power. If Assad is removed from power, all bets are off." Syria's Christians face a situation similar to Iraq's church. Read On: http://archive.openheaven.com/forums/forum_posts.asp?TID=39112&a mp;PN=1&TPN=1


Syrian Christians Ask for Prayer - 2/27/2012
In the wake of a year of protests and violence, the volatile situation in Syria has brought great suffering to the entire population. The danger has prompted many churches across the country to meet only in daytime on Sundays. On Fridays, the Islamic day of assembly, many Christian schools close because of rampant killing, theft and kidnapping of children. Read On: http://archive.openheaven.com/forums/forum_posts.asp?TID=39110&a mp;PN=1&TPN=1


Suicide Bombers Attack Worship Service in Jos, Nigeria - 2/27/2012
Two suicide bombers from the Boko Haram Islamist sect drove a car laden with bombs into the worship service of a Church of Christ in Nigeria (COCIN) congregation here this morning (Sunday, February 26, 2010), killing at least one Christian girl and injuring dozens of other church members. Boko Haram seeks to impose strict sharia (Islamic law) on Nigeria. Read On: http://archive.openheaven.com/forums/forum_posts.asp?TID=39113&a mp;PN=1


The terror continues in Iran - 78 year old Christian women arrested - 2/27/2012
Ms. Hakimpour had not been in good health the night before she was arrested and was using some medicines because of knee replacement surgery she had undergone. Also her doctor had ordered that she should not be stressed and that she needs to be under special care. She has trained many nurses, some of whom are currently serving in the hospitals of Iran. Read On: http://archive.openheaven.com/forums/forum_posts.asp?TID=39114&a mp;PN=1&TPN=1


A Marriage Made in Heaven - The extraordinary love story of Joni Eareckson Tada and her husband, Ken Tada - 2/27/2012
After being becoming a quadriplegic, unable to use her hands or legs, after a tragic 1967 diving accident in Chesapeake Bay, Joni Eareckson was so depressed that she contemplated suicide. - Joni spoke about her recent battle with breast cancer when Ken thought he might lose his wife. "Over the last three years, our love for each other has deepened to a whole new level." Read On: http://archive.openheaven.com/forums/forum_posts.asp?TID=39115&a mp;PN=1&TPN=1


Terror Group 'Enjoys' Killing Nigerian Christians - 2/28/2012
An African Muslim terror group linked to al Qaeda has declared war on Nigeria's Christians. Muslims have killed scores in multiple attacks on Christian homes and churches. There have been calls for revenge, but also for forgiveness. "I enjoy killing anyone that Allah commands me to kill," the spokesman said in a video released online. Read On: http://archive.openheaven.com/forums/forum_posts.asp?TID=39124&a mp;PN=1&TPN=1


Dutch Sheets Shares Vision for Christ For The Nations - 2/29/2012
Dutch Sheets is stepping into a new role: director of Christ For The Nations Institute (CFNI). Sheets steps into his new role at the end of the 2012 spring term. I have such passion for the younger generation. I believe the Lord has given me vision and ideas. I believe He's going to help us turn this into a real hub and voice for awakening. Read On: http://archive.openheaven.com/forums/forum_posts.asp?TID=39130&a mp;PN=1&TPN=1


News From British Isles, Ireland. Europe and Worldwide - 3/1/2012
Africa: Young people meet in 'powerhouses of prayer' - Mock Jesus but not Mohammed, says BBC boss - Belarus: Raids, threats, warnings for religious meetings - Iran :Pastor Yousof update - Egypt: Al-Qaeda official arrested at Cairo airport - Afghanistan: Apologizing for Qur'an burning fans flames - Syria: Christians prepare for the worst - & More> Read On: http://archive.openheaven.com/forums/forum_posts.asp?TID=39135&a mp;PN=1&TPN=1


Indonesia: Saying "NO" to Islamic Intolerance - 3/1/2012
After first staging a street protest -- displaying banners at strategic locations, railing against the FPI and its plans to open an office in the city -- the protestors met up at Tjilik Riwut Airport in time to besiege the FPI leaders on their plane. According to Tempo Interactive, "The residents said they did not want the organization, which often uses violence, to enter. Read On: http://archive.openheaven.com/forums/forum_posts.asp?TID=39137&a mp;PN=1&TPN=1


Christian Model Takes on Racy Cosmo - 3/1/2012
As a rising star in the modeling world, Nicole Weider found out the hard way it was not all fun and glamour. Now, she's on a mission to expose fashion's dark side, even taking on Cosmopolitan magazine. Weider said the magazine targets teens. "It is so damaging because it's so explicit. The sexual tips are pornographic, girls 13 or 14 buy the magazine and take it to heart. Read On: http://archive.openheaven.com/forums/forum_posts.asp?TID=39138&a mp;PN=1&TPN=1


Punishing Taxpayers: US Prison System Run Amok? - 3/1/2012
Even if those prisoners are guilty, many are questioning whether they all should be behind bars. Today, a person no longer must have criminal intent to be sent to jail. They just need to have crossed one of many thousands of lines drawn up by federal regulators. Conservatives also often talk about the money wasted. They say it's time to rein in those costs. http://archive.openheaven.com/forums/forum_posts.asp?TID=39140&a mp;PN=1&TPN=1


'Proton Therapy' Destroys Cancer, Not the Patient - 2/27/2012
Proton therapy patients have fewer side effects because it only kills the cancer. Traditional radiation therapy works like a bullet, damaging healthy tissue as it enters and exits. Proton therapy is like a firecracker placed inside the tumor. The explosion of radiation damages just the tumor, nothing else. There's no nausea, no burning and best of all, no organ damage. Read On: http://archive.openheaven.com/forums/forum_posts.asp?TID=39111&a mp;PN=1


For More Top News Headlines, Go Here: http://archive.openheaven.com/news/headlines/
---
Unlimited permission to copy and post or reprint without altering text or profiteering is hereby granted subject to proper credits and inclusion of this web address:
http://
archive.openheaven.com
. However, if an item not written by Ron McGatlin is marked Copyright, you should contact the original publisher for permission to reproduce.
Thank you for forwarding the OpenHeaven.com Digest to your mail list.