Posted: 04/19/2012 at 1:41pm | IP Logged

---
Worldwide Kingdom Awakening News and Views




Published by Ron & Barbara McGatlin - Basileia Publishing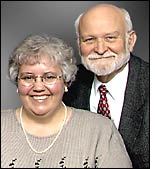 In This Edition
1. Kingdom Progression into Kingdom Unity
2. Top News Headlines



Subscribe To OpenHeaven.com Digest





1. Kingdom Progression into Kingdom Unity
The River of the Kingdom of Heaven
Where there are snow-capped mountains, there are many tiny streams of fresh pure water that begin high in the mountains. The many small streams flow down, soon coming together with other small streams and become larger streams. The larger streams of pure water from the mountains meet up with other streams and become small rivers that eventually come together with other small rivers until eventually a mighty river is flowing life-giving water to the lands beyond
(Rev 22:1).
The mighty river eventually flows back into the sea from which it originally came.
By the power of the sun, water of the ocean is evaporated and lifted up to form clouds that are moved by the wind to bring rain to the thirsty land and snow to the waiting mountain tops and the cycle of flowing life to the land continues.
So it is with the heavenly kingdom coming down from heaven bringing life and God's designed order to earth. God's holy people receive the spiritual moisture from heaven and flow it into the world
(John 7:38).
As they flow together and become one, they become streams of life. Eventually as they come together with other streams and rivers, they become a mighty river of life from heaven bringing God's life and designed order to the world.
Religion always causes division; much like a river flowing into a flat plain terrain spreads out into many shallow and slightly moving streams that may become small pools and marshes. Finally the river disappears as it soaks into the earth and is no longer a flowing living stream. Beyond the end of the river is dry land that without continued rainfall becomes a dry desert.
In the spiritual realm, division creates a shallowness and lack of flow leading to dry thirsty land that does not support life. The once flowing river goes underground to potentially reappear later as springs from the deep or to be accessed by the drilling of deep wells by thirsty men.
The many divisions of religious Christianity have created a spiritually dry state of lack and failure. Most, if not all, Christians are adversely affected in some way by the disunity and dissention caused by religious striving around the world. History is filled with the tragedy of century after century of religious strife. Literally the world endures a life of hell on earth while the religionists battle and war against one another.
Families, communities, and nations are torn apart by religious strife. I feel it most everywhere I go among Christians. It seems the only way to get along with a church group is to believe just like they do and adopt their vision. Jealousies exist between groups, each seeking to build their own church group more than the whole.
Most of the groups do not have real revelation of the kingdom of God on earth as it is in heaven. Therefore, if you are sent of God to bring forth the revelation of the kingdom to a group, you are subject to being ostracized and eventually rejected by most of the people in almost every group.
From time to time calls for unity come forth from Christian leaders. A lot of Sunday morning sermons have been preached on unity. Some have even built denominations around a call for unity at any cost. Yet, in all honesty, it seems Christian groups are not much closer, if any closer at all, to coming together into unity with one another. The need for love as a unifier is preached. However, rarely is it present and never to the degree of producing true unity among all groups. No proffered method or plan has yet produced a blanket of unity over the church groups.
There was a significant cry for unity after the Pentecostal reformation that began at the start of the twentieth century. The return of the baptism of the Holy Spirit and the restoration of the powerful gifts of the Spirit brought unity among some Christians that received it. For many, denominational walls were broken through in the Spirit-saturated lifestyle that developed. However, an increase in the severe combative strife among Christians came about as those who did not receive the renewal of the baptism of the Holy Spirit strongly rejected those who did.
Above the divisions that already existed; the entire Christian world became divided between non-tongue-talking Christians and the tongue-talking, Spirit-baptized Christians. This was and is probably the fiercest controversy to occur among church people groups in recent history.
Why is the baptism of the Holy Spirit so controversial?
When we understand the value and greater purpose of living and walking in the Holy Spirit, we can see why. The real underlying issue is the gospel of the kingdom. The gospel (good news) of the kingdom of God now on earth in His people to redeem the world will bring an end to the rule of the devil on earth. The baptism of the Holy Spirit is a primary key to receiving the revelation of the true kingdom of God on earth as it is in heaven. There is small wonder why that being immersed and saturated in the Holy Spirit is so attacked by the enemy and made to seem so foolish.
The greatest evidence of the fullness of the Holy Spirit is the pure love of God. Probably the second most significant result is the awakening and activation of powerful spiritual gifts. The purity and holiness produced by the release of the life of Christ in us by the Holy Spirit opens the way for the love and the powerful gifts to be activated and used to bring forth the real kingdom of God on earth as it is in heaven.
The kingdom of God is a spiritual kingdom. It is in the Holy Spirit. The kingdom of God is righteousness, peace, and joy IN THE HOLY SPIRIT
(Rom 14:17).
In the same way that a whole great oak tree is within a small acorn, the whole great kingdom of God ruling on the earth is seeded in the heart of those in whom Christ dwells by the Holy Spirit
(Rom 14:17) (Mat 13:19).
The revelation of the nature and reality of this magnificent kingdom and how it works out to restore the world to the kingdom of God will only be revealed to those who are filled and saturated in the Holy Spirit
(1 Cor 2:10).
As long as the enemy can stop the church groups from truly living and walking in the fullness of the Holy Spirit, he can limit the advancement of the kingdom and prolong the end of his evil rule in the world.
Unity among all church groups is part of the kingdom and is seeded in the hearts of His people by the Holy Spirit. If the seed is nurtured, spiritual growth will continue. Here are some potentially recognizable stages of growth. These stages may be accomplished more than one at a time and may not be clearly defined as a set moment or in this exact sequence:
Born again in Christ Jesus by the Holy Spirit

Filled and saturated in the Holy Spirit, Spirit baptized

Living and walking in the Holy Spirit

Oneness with Christ Jesus by the Spirit of Christ through the Holy Spirit

Revelation of the kingdom of God and its operation in the earth

Manifestations of the kingdom in service to God and His people

Mature Sons of God
Some of the things God chooses to use and to do regarding the kingdom are shocking and down-right mind-boggling to the natural mind. I was at a gathering once that most everyone had sensed from the Spirit was to be a greatly significant turn of the kingdom that would go beyond where we had been. Much instruction had come by the Spirit to let God direct the meeting.
We were all totally shocked when it was a fiasco of foolishness the first meeting. Why God!? We cried out in quite shame late that night into the morning. Our foolishness broke us and God did the great work that He intended the last two days, and NO ONE left feeling good about how well they had done. God had truly used the foolish to confound the wise in us.
God puts powerful anointing and exceptional faith in people that the worldly wise would not even consider. The Holy Spirit will do powerful things in weak unlearned base people in imperfect and sometimes unpleasant surroundings. God may not choose to pour His Holy Spirit and miracle working power into the person of stature and worldly quality. He may choose to reveal His kingdom to people who are of low esteem among the church groups
(1 Cor 1:26-29)( Rom 12:16
).
The Upward Call of the Kingdom
Unity will only come when the focus of all the people of the church groups is lifted to the higher reality of the kingdom of God. Unlike focusing on our lives or our churches or our understandings or our part of church ministry or anything else, focusing on the kingdom of God will allow all to move together in unity in one direction toward the higher goal and call of the kingdom of God
(Col 3:2).
The kingdom of God is not just another part of the manifold works and operations of God. It is the overall arching work of God. It is the all-encompassing plan and purpose of God under which all other true works and teachings of God will fit. It is the overall arching goal and vision of God. It is the theme of the Bible from start to finish.
Christ Jesus is the KING and therefore the One in Whom all things consist and through Whom and for Whom all things were created
(Col 1:17).
Christ Jesus and His kingdom on earth now is our reason for living and the ultimate purpose of all life on this Planet.
All creation is under the feet of Christ Jesus our Lord, Savior, and King, and we are called and destined to rule and reign with Him on this earth. The Spirit of Christ Jesus in us has become one with our spirit. He is our life, and without Him there is no life in us.
Seek first the Kingdom of God and His righteousness and all things needed to accomplish the will of God for our lives will be added to us
(Mat 6:33).
We must not seek anything in this life before the kingdom of God. There can be no greater priority in all of life.
The kingdom of God is complete within us in the Spirit of Christ by the Holy Spirit.
There is nothing in this life of ultimate value apart from the life of Christ in us by the Spirit.
Focusing on the kingdom of God brings unity, and the true church "ekklesia" of God will manifest the love and power of God becoming a part of the redemption and transformation of the entire world to the kingdom of God on earth as it is in heaven.
Many will come to accept the upward call of the Spirit to the resurrection life of Christ in the kingdom of God life now. Thousands have moved forward in their journey from religion to relationship and grown in the revelation of the kingdom of God lifestyle through devouring the revealed word of God written in the Kingdom Growth Guides available for free download at the archive.openheaven.com web site.
What on earth is more important than seeking His kingdom now?
Do not fear, little flock, for it is your Father's good pleasure to give you the kingdom
(Luke 12:32 ).
So I say to you, ask, and it will be given to you; seek, and you will find; knock, and it will be opened to you. For everyone who asks receives, and he who seeks finds, and to him who knocks it will be opened
(Luke 11:9-10).
Keep on pursuing Love. Love never fails
and His kingdom never ends.


Ron McGatlin

archive.openheaven.com
basileia@earthlink.net
3. Top News Headlines

Church in Egypt sending out missionaries
- 4/13/2012
Just as persecution in the early church caused a scattering of missionaries throughout the Roman world, pressures on the church in Egypt appear to be having the same effect. "Our goal is to send out hundreds of missionaries from Egyptian churches. Fifty-six missionaries have already been sent, and miracles, signs and wonders are happening for God's glory," Read On:
http://archive.openheaven.com/forums/forum_posts.asp?TID=39464&a mp;PN=1&TPN=1
Syrian Christians targeted in Syria
- 4/19/2012
Refugees who have fled to Jordan from Syria are telling about deliberate, new persecution from the "Arab Spring" insurgents. Nearly 100,000 Christians so far have fled from Homs and other cities being targeted by Muslims. "A group of terrorists threatened to kill my family, burn our house, and set fire to my supermarket if I didn't pay them $7,000 a week. They kidnapped me. Read On:
http://archive.openheaven.com/forums/forum_posts.asp?TID=39497&a mp;PN=1&TPN=1
Kuwait considers teeth for blasphemy law
- 4/13/2012
Kuwaiti lawmakers have taken a step that is strengthening the existing blasphemy laws. The parallel drawn to Pakistan's law was obvious. "The change is only in the punishment. It is already illegal to commit blasphemy against Islam or against Mohammed in Kuwait. Instead of a jail term being the punishment, this change will put the potential of a death penalty on the table. Read On:
http://archive.openheaven.com/forums/forum_posts.asp?TID=39465&a mp;PN=1&TPN=1
Week of prayer vital in light of North Korea Freedom Week
- 4/17/2012
Few were fooled by North Korea's attempt to prove to the world on Sunday's Day of the Sun that the North Korean people are all prosperous, happy, and free. In fact, while the nation was putting on airs, Open Doors was calling for prayers, asking Christians to celebrate a Day of the Son through constant intercession for persecuted believers. Read On:
http://archive.openheaven.com/forums/forum_posts.asp?TID=39488&a mp;PN=1
Chuck Colson's Condition Deteriorating, Family Gathers
- 4/18/2012
Prison Fellowship Ministries' founder Chuck Colson's condition has taken a turn for the worse, and doctors have advised the family to gather at his bedside. Colson, 80, had surgery March 31 to remove clotted blood from the surface of his brain. Shortly after the surgery his health worsened but until Tuesday, Colson had been showing signs of improvement. Read On:
http://archive.openheaven.com/forums/forum_posts.asp?TID=39491&a mp;PN=1&TPN=1
News From British Isles, Ireland. Europe and Worldwide
- 4/19/2012
Untold Titanic story, John Harper - Most Americans believe in positive effects of Christianity - Secretary supports increased church role in schooling - Govt lambasted over gay marriage plans - Schools told to put witchcraft and druids on RE syllabus - Belgium: National gathering of prayer 28th April - Nigeria: Call for protection of Christians - Much More>. Read On:
http://archive.openheaven.com/forums/forum_posts.asp?TID=39494&a mp;PN=1&TPN=1
Pakistani Christian Acquitted of 'Blasphemy' Charge
- 4/19/2012
A Pakistani Christian falsely charged with "blasphemy" after rescuing his 8-year-old nephew from a beating at the hands of Muslim boys has been cleared of the charge. Masih's nephew had gone out to fetch ice when Muslim boys from a nearby madrassa (religious school) beat him for refusing to convert to Islam, on June 10, 2011. "During my imprisonment, I prayed a lot" Read On:
http://archive.openheaven.com/forums/forum_posts.asp?TID=39499&a mp;PN=1&TPN=1
Teen God Squad Claims 200 Healing Miracles in One Year
- 4/19/2012
A burgeoning Christian teen group from the Bridgeman Downs Christian Outreach Center in Queensland, going by the name "Culture Shifters," claims they have healed over 200 people from cancer, deafness, blindness and other major diseases in the past year. They've even reportedly prayed for, and seen the healing of, an entire football team's injuries. Read On:
http://archive.openheaven.com/forums/forum_posts.asp?TID=39495&a mp;PN=1&TPN=1
AFGHANISTAN CHURCH 'A SMOULDERING WICK'
- 4/19/2012
On 15 April Islamic militants attacked Kabul and three other major cities. After occupying a building in Kabul's most secure sector, attacks were launched against the German, British, US, Japanese and Russian Embassies, as well as against government facilities and military bases. Amidst all this,the Church in Afghanistan, though very small and 'underground', is a reality. Read On:
http://archive.openheaven.com/forums/forum_posts.asp?TID=39496&a mp;PN=1
Christians in peril as Sudan and South Sudan head towards war
- 4/19/2012
The threat of an all-out war between Sudan and South Sudan is mounting amid fighting in the disputed border region, putting Christians in both nations in great danger. Sudan, has been dropping bombs in the border regions and the South for almost a year. "If Southern troops do not withdraw from the oilfields," Khartoum "will chase them out" and "hit deep in South Sudan". Read On:
http://archive.openheaven.com/forums/forum_posts.asp?TID=39500&a mp;PN=1&TPN=1
Parents Find Preemie Daughter Alive in Morgue 12 Hours after Doctor Pronounces Baby Dead
- 4/13/2012
Argentina)—Analia Bouter was 26 weeks pregnant when she gave birth to her fifth child. Doctors said the baby had no vital signs and sent the parents home with a death certificate. Twelve hours later, Bouter and her husband decided to go to the morgue to view their baby, "When a worker opened the drawer, we heard a cry and she was alive. I fell to my knees when I saw her." Read On:
http://archive.openheaven.com/forums/forum_posts.asp?TID=39463&a mp;PN=1&TPN=1
A Kenyan Doctor Who Believes in Divine Healing
- 4/13/2012
Dr. Zipporah W. Ngumi is a respected Kenyan doctor who believes in praying for her patients and says she has seen many healings. "I have prayed and God has answered those prayers and intervened very specifically in the hospital where I work. Some of the cases include a lady healed from fracture femur by prayer and a man on a wheelchair who stood up and walked." Read On:
http://archive.openheaven.com/forums/forum_posts.asp?TID=39462&a mp;PN=1&TPN=1

For More Top News Headlines, Go Here: http://archive.openheaven.com/news/headlines/
---
Unlimited permission to copy and post or reprint without altering text or profiteering is hereby granted subject to proper credits and inclusion of this web address:
http://
archive.openheaven.com
. However, if an item not written by Ron McGatlin is marked Copyright, you should contact the original publisher for permission to reproduce.
Thank you for forwarding the OpenHeaven.com Digest to your mail list.