Posted: 08/02/2012 at 6:24pm | IP Logged

---
Worldwide Kingdom Awakening News and Views



Published by Ron & Barbara McGatlin - Basileia Publishing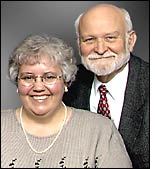 In This Issue
1. Spiritual Kingdom Arising
2. Releasing the Unlimited Resources of the Kingdom
3. Top News Headlines


Subscribe OpenHeaven.com Digest





1. Spiritual Kingdom Arising
By Ron McGatlin
These are the days of that for which we have longed – the arising of our spirits to meet the descending New Jerusalem life in the Spirit – the season of living above the weights and clamor of the fallen-world's ways.
A replenishing of the might of God's pure love is lifting us higher into the Spirit realm of God and empowering us with the ways of His words from His heart to ours. Intimate Spirit connection with the vast resources of heaven is well within reach of every maturing child of our Heavenly Father.
There is no lack of righteousness, peace, and joy in the kingdom-of-God experience of New Jerusalem life in this world, for those of us eternally connected to God through Christ Jesus by the Holy Spirit. We have but to lift our spiritual eyes to the high places in the Spirit from which the abundant grace empowerment of God's love flows to fulfill His every desire in us and through us who are His transforming agents of love from heaven to this world. Not yesterday, and not some future tomorrow, today is our time to shine the light of heaven dispelling the darkness of our world.
Love produces obedience.
Passionate intimate pure love relationship with God brings us into perfect obedience to His will, His purposes, and His continuous leading and direction. The obedience of pure love moves us from limited natural life unto the abundant life everlasting of glorious peace and joy that floods our souls.
Peace like a river is life to the desert lands of multitudes of hearts that have been robbed of the Holy Spirit for generations and left barren of the truth and the life of love. The freshness of life and luscious fruit of the Spirit are returning to the dry barren lands. The fruit of life from heaven on earth replenishes the land and multiplies the seed of Christ into the fruit of prosperity of soul and health of body in the precious children of kingdom reality – kingdom children with hearts as pure as and more valuable than fine gold.
Hope eternal rises from the depraved spiritually starved children conceived in sin for purposes of greed and lustful pleasure of a generation lost to wander in their own hell of lack and need that cannot be satisfied. God in His endless love and mercy is bringing an end to the miserable fate of godless mankind wandering about in the desolate wasteland of self-need: need that can grow into uncontrollable lust and greed that uses their children for lustful pleasure while attempting to fill an empty existence among the living dead.
The Great Harvest
The love of God from heaven is bringing God's vengeance and righteous judgment upon the evil of this world. It is also bringing the greatest harvest of the barren souls and lives of multitudes of abandoned children of this world.
Powerful ministering spirits from heaven are sent to accompany the purified holy sons of the kingdom in rescuing the perishing multitudes. Those who have within them a deep but often hidden spark of hope for a better day of the love and light of God on earth will come to the light of the kingdom as it brightly shines forth into the darkness.
The world will experience the greatest destruction of all time upon the evil high-minded wicked ways of darkness. At the same time the greatest arising of the humble pure holy ways of the brilliance of heaven upon the people of God ever experienced on Planet Earth is coming forth.
The sons of the kingdom are arising among us.
They come humbly weeping with eyes flowing tears of love from an always fresh encounter with the LOVE and LIFE of the RISEN LORD. They come full of glory with mercy and healing in their hands. The vast depth of the love of God is in their eyes toward the precious souls of the kingdom babies being born and the young children growing rapidly in the life of the King in His kingdom. The fire of truth is in their eyes toward the lawlessness and unruliness of the evil oppressors inspired by the prince of darkness. None shall be able to stand before the sons of the kingdom in opposition to the love and power of Father God and Christ Jesus that is in them by the Holy Spirit of love. The sword of truth comes as holy angels harvest the fully mature fruit of the land.
Multitudes of holy angels were dispatched from heaven a couple of years ago that are now beginning to be more clearly seen and experienced by maturing sons of the kingdom. There probably has not been a time of more spiritually active work of powerful holy angels on earth than now in this the early seasons of transformation to the kingdom of God on earth. The full redemption is drawing near and the mighty armies of God are being quickly prepared. The sons of love will bring the thunder of the word of the kingdom from heaven as the lightning from Heaven pours out the power of its fire upon the earth. Purification by ultimate cleansing fire and rebuilding in truth by love and power is the process of transformation of Planet Earth and its atmosphere to the kingdom of God.
The End of Mixtures
The coexistence of light and darkness that has continued in this world will come to an end. The light of heaven came two millennia ago in Christ Jesus and began to dispel darkness with light within those who would receive it.
However, religious and fallen-world ways have mingled darkness with the light of truth and has hidden much of the reality of the true kingdom of God on earth. Gross deception has led to much failure and many empty lives void of the reality and experience of the Holy Spirit of truth. False religions and secular humanism arose to guide and subsequently rule over the nations of the world. The seed of this foolishness has grown and is now approaching the fullness of its vile fruit in this season of worldwide darkness. Wickedness is attempting to cover the world on a scale probably never before seen on earth.
The work of God in Christ Jesus by the Holy Spirit has been largely excluded from the governance of the nations of this world. The governments ruling over the nations have reached new levels of hatred toward Jesus and all who follow Him and honor His name. For the most part they are now inspired and led by demonic forces of darkness. The "church" leadership and governments of once "Christian" nations have become gross mixtures of darkness and light that will not peacefully coexist with the real kingdom of God people. The antichrist "church" systems and antichrist governmental systems cannot remain as the kingdom of God comes forth in the humble purified holy sons of God.
There is becoming a distinct division among leadership people, whether they are in the churches or governments. The division is between those who are of the Spirit of Christ and those who are of the spirit of antichrist. We would like to believe that we can easily tell who is in which camp. At this moment in time we cannot always tell the wheat from the tares. However, as the sons of the kingdom are manifesting, the spirit of antichrist is clearly seen standing in the temples and palaces of governments both religious and secular.
Sons of the kingdom are being prepared under cover.
Many sons of the kingdom are being formed and prepared under cover out of sight. As the trumpets are beginning to thunder the call to arise, true sons are emerging from places where we would not think they would come from. Many will arise from what we may have deemed as false religions. The Spirit of God has sovereignly planted and grown the seed of the kingdom in their hearts. Maturing sons with the seed of the kingdom growing in their hearts are hidden under many different coverings. The clear word of the kingdom being trumpeted out by forerunners will resonate with the seed of the kingdom growing in their hearts, and they will arise
There is no kingdom denomination and no kingdom religion. The kingdom transcends all human boundaries, ethnicities, and languages. There is no difference between the Jew and Gentile, bond or free, male or female in the emerging kingdom of God from heaven on earth. Though kingdom sons arise from many tribes, they are all of one tribe with one Father. The spiritual DNA of God is planted within all sons of the kingdom of God. We are all as brothers and one with Christ Jesus and Father God by the Holy Spirit that knows no human boundaries or limitations.
Subsequently, no one without the spiritual DNA of the Father is a true son of the kingdom of God, no matter how impressive are his credentials or talents. The sons are known by their fruit of love for one another. Sons manifest the fruit of the Spirit of God. Righteousness, peace, and joy will flow from their humble hearts and lives by the LOVE of God. The love connection with Father enables the fullness of His power and wisdom to flow through them.
Keep on pursuing love. It never fails
and His Kingdom never ends.

Ron McGatlin

archive.openheaven.com
basileia@earthlink.net



2. Releasing the Unlimited Resources of the Kingdom

By Larry Taylor
In Mark 6: 30-56 we are given three examples of the release of the unlimited resources of God's Kingdom. Jesus fed the multitude by multiplying meager scraps of food into overflowing abundant provision for 5000 people. Then, in the midst of a life threatening storm, He walked on water and stopped the storm. In the last of the three examples from this chapter, He healed those who merely touched his clothing.
Each case is an example of Jesus doing something that was not difficult, but impossible. There are three (or more) lessons to be learned, one from each story. First, in the feeding of the 5000, it is clearly shown that the size of your resources and the size of the need are not relevant to God's supply. He has unlimited supply and a willingness to transfer that supply to meet your need.
In the case of the storm, note that His first word to the disciples was, "be of good cheer, it is I; do not be afraid." Jesus establishes the kingdom mindset required to operate in the abundant supply of provision and power in His kingdom. Fear is the enemy, not the storm. Rejoice in the midst of an otherwise impossible situation, not because of the circumstances but because Jesus is with you. Finally, He exercised the authority to change the circumstances. He stopped the storm. That's what He does when He manifests His presence.
As Jesus and the disciples reached Gennesaret, the people were so expectant that they just wanted to touch Him, realizing that in that transaction healing would be imparted to their bodies. In times of suffering, the expectant hope of true faith reaches past the current conditions and touches the source of all life, releasing deliverance and healing.
It is said of the disciples that they failed to understand the significance of the miracle of feeding 5000 people because of the "hardness" of their hearts (v. 52). A look at the literal Greek in this case might give this paraphrase: "they failed to grasp the significance of the event due to the rigidity of their reasoning process." To release the free flow of kingdom dynamics in our lives we must move beyond our normal way of processing information and allow the full impact of the revelation of the kingdom to transform our limited perspectives. If Jesus did one impossible miracle, then there is no limit to His power and authority, He can work in any arena. We must break out of the compartmentalizing tendency that segregates religious truth from "real" life. When Jesus breaks in, the kingdom reality is manifested.
Larry and Carol Taylor
goinmin@sbcglobal.net
3. Top News Headlines




Chick-fil-A Appreciation Day Sees Massive Turnout - 8/2/2012
From all appearances, Wednesday was a record-setting day for Chick-fil-A, with fans from Washington, D.C. to Texas and California flocking to their local restaurants as part of "Chick-fil-A Appreciation Day." Many were incensed recently when several big city mayors, including Chicago's Rahm Emanuel, attacked Chick-fil-A for speaking in favor of traditional marriage. Read On: http://archive.openheaven.com/forums/forum_posts.asp?TID=40219&a mp;a mp;a mp;a mp;a mp;a mp;a mp;a mp;a mp;PN=1


Billy Graham's 'Judgment' Letter Sparks Charismatic Commotion - 7/31/2012
Famed evangelist Billy Graham's letter calling America and its "deceived people" to repentance is one in a series of escalating warnings that the nation is in growing danger of judgment. This possibly could be the last opportunity. Nineveh is a great example. All the wickedness of that city, yet when they did what God said and repented, God healed their land. Read On: http://archive.openheaven.com/forums/forum_posts.asp?TID=40201&a mp;a mp;a mp;a mp;a mp;a mp;a mp;a mp;a mp;PN=1


Flying and bush conferences again! - Rolland & Heidi Baker - 7/30/2012
July 22. It's been a peaceful flight, flying toward Malawi from Pemba on our first long trip in our new Kodiak. We are covering a three-day road trip in two-and-a-half hours. Now all of east Africa is reasonably accessible to us. We can take a small missions team, sound equipment, a generator and basically all we need to hold open-air "bush conferences" in remote areas. Read On: http://archive.openheaven.com/forums/forum_posts.asp?TID=40187&a mp;a mp;a mp;a mp;a mp;a mp;a mp;a mp;a mp;PN=1


Missy Franklin, Olympic Swimmer, Trusts the Lord to help her "shine a little light" on Hurting in Aurora, Colorado - 7/31/2012
Seventeen-year-old Missy Franklin is still in high school, she has also been catapulted to the world stage of the Summer Olympics. Over the weekend, Missy won a bronze medal. Then on Monday, she took gold in the 100-meter backstroke. she attends high school and trains in Aurora, Colorado. Missy leans on her faith in God. Her relationship with the Lord grew. Read On: http://archive.openheaven.com/forums/forum_posts.asp?TID=40197&a mp;a mp;a mp;a mp;a mp;a mp;a mp;a mp;a mp;PN=1&TPN=1


Why Christians are dying in Nigeria: understanding Boko Haram - 8/2/2012
"Their agenda is Sharia. It is to establish Islamic rule in Nigeria." "If you look at the Quran, what you see is that there are two ways Muslims are instructed to deal with non-Muslims: that is to convert them, or to kill them." "I think the fact that so many Muslims are becoming Christians fuels some of these attacks as well. Muslims are afraid to lose out to Christianity. Read On: http://archive.openheaven.com/forums/forum_posts.asp?TID=40217&a mp;a mp;a mp;a mp;a mp;a mp;a mp;a mp;a mp;PN=1&TPN=1


Egypt scolded over religous freedom issues - 8/2/2012
Report notes that sectarian violence has increased in Egypt, despite efforts by the government to ease tensions. The report denounced "both the Egyptian government's failure to curb rising violence against Coptic Christians and its involvement in violent attacks." Despite promises from Egypt's new leader, President Mohamed Morsi, "to be the president of all Egyptians." Read On: http://archive.openheaven.com/forums/forum_posts.asp?TID=40215&a mp;a mp;a mp;a mp;a mp;a mp;a mp;a mp;a mp;PN=1&TPN=1


Syria + Sudan and Burma: the battles rage - 8/2/2012
On Sunday 29 July the Australian Broadcasting Corporation's Jim Middleton spoke to Prof. Vali Nasr about Syria's prospects. Nasr confirmed that al Qaeda was indeed gaining ground in Syria. He expressed concern that in the event of regime collapse, it is not clear who would 'prevent a massacre of the Alawites and the Christians and those Sunnis who supported Assad'. Read On: http://archive.openheaven.com/forums/forum_posts.asp?TID=40213&a mp;a mp;a mp;a mp;a mp;a mp;a mp;a mp;a mp;PN=1&TPN=1


Iraqi Christian Children Narrowly Escape Death in Double Bomb Blasts in - 7/31/2012
"The bus load of children were caught up in a major bomb. The bus was not badly damaged, and it continued on. All of children started singing the Lord's Prayer. In the midst of their prayer, another huge bomb exploded. All the glass of the windows shattered, people fell to the floor injured. One teacher was in a very bad way, none were killed. Read On: http://archive.openheaven.com/forums/forum_posts.asp?TID=40198&a mp;a mp;a mp;a mp;a mp;a mp;a mp;a mp;a mp;PN=1&TPN=1


'Games Pastors' help Olympic travelers navigate London through first ever program - 8/2/2012
When members of the Madagascar team landed at Luton airport with no one official to greet them. With their bags still in Paris, arrangements were made to provide them with clothes and essentials. There has been very positive feedback from the public. The many official staff who are serving travelers so well don't always have time to listen or talk those in need. Read On: http://archive.openheaven.com/forums/forum_posts.asp?TID=40214&a mp;a mp;a mp;a mp;a mp;a mp;a mp;a mp;a mp;PN=1&TPN=1


News From British Isles, Ireland, Europe and Worldwide - 8/2/2012
Religion playing strong role in background of Olympic Games - Pakistani Christians praying for team - PM on collision course with Church -Green council accused of 'vilifying' Christian - Romania: Mission team visits church facing closure - North Korea: Gospel balloons - Iraq: Widows of Iraq - China: Christians try to take legal actionl - Much More> Read On: http://archive.openheaven.com/forums/forum_posts.asp?TID=40220&a mp;a mp;a mp;a mp;a mp;a mp;a mp;a mp;a mp;PN=1


Syria: "Is al-Qaeda gaining a foothold?" ABC interview with Prof. Vali Nasr. - 7/30/2012
Nasr insists that the fall of the regime will not lead to democracy as the rebels are not democrats. Furthermore, "this is an uprising," This is no longer really about democracy. And liberal democracy does not emerge in these kinds of circumstances of violence and fratricide." Read On: http://archive.openheaven.com/forums/forum_posts.asp?TID=40192&a mp;a mp;a mp;a mp;a mp;a mp;a mp;a mp;a mp;PN=1


Romney Affirms Jerusalem as Israel's Capital - 7/30/2012
Iran took center stage during the short visit of presumptive Republican presidential nominee Mitt Romney to Israel on Sunday. Romney delighted a VIP audience by appearing to take a clear position on a longstanding international controversy: He confirmed that Jerusalem is Israel's capital -- something the White House press secretary recently refused to do. Read On: http://archive.openheaven.com/forums/forum_posts.asp?TID=40190&a mp;a mp;a mp;a mp;a mp;a mp;a mp;a mp;a mp;PN=1&TPN=1


How God's Merciful Design in the Womb Protected this Theater Shooting Victim Decades Later - An Awesome Miracle - 7/28/2012
"Prevenient grace: God working ahead of time for a particular event in the future…twenty-two years before." Petra's brain has had from birth a small "defect" in it, a tiny channel of fluid running through her skull. The buck shot enters her brain from the exact point of this defect. The defect channels the bullet through her brain. It turns slightly several times. Read On: http://archive.openheaven.com/forums/forum_posts.asp?TID=40168&a mp;a mp;a mp;a mp;a mp;a mp;a mp;a mp;a mp;PN=1&TPN=1


Refugee flood into Lebanon now could mean church boom in Syria later - 7/27/2012
To say that churches and aid groups in Lebanon are overwhelmed is an understatement. Church in Lebanon has exceeded its capacity by helping refugees from Syria. Although the provision of food, blankets, and long-term shelter has been a strain, they know that God has provided this opportunity to bring Christ to people--maybe an entire people. Read On: http://archive.openheaven.com/forums/forum_posts.asp?TID=40161&a mp;a mp;a mp;a mp;a mp;a mp;a mp;a mp;a mp;PN=1&TPN=1


Sex Tourists: Brazil Fights 'Out of Control' Child Exploitation - 7/27/2012
Brazil, which is hosting the 2014 World Cup and the 2016 Summer Olympics, is already making plans to ward off the sexual exploitation of children by sports fans. Taxi drivers, hotel workers, drug dealers, and others work together in an underground network, connecting supply (children in Recife) with demand (adults who sexually exploit them). "It's very easy to buy a girl. Read On: http://archive.openheaven.com/forums/forum_posts.asp?TID=40160&a mp;a mp;a mp;a mp;a mp;a mp;a mp;a mp;a mp;PN=1&TPN=1


For More Top News Headlines, Go Here: http://archive.openheaven.com/news/headlines/
---
Unlimited permission to copy and post or reprint without altering text or profiteering is hereby granted subject to proper credits and inclusion of this web address:
http://
archive.openheaven.com
. However, if an item not written by Ron McGatlin is marked Copyright, you should contact the original publisher for permission to reproduce.
Thank you for forwarding the OpenHeaven.com Digest to your mail list.


Edited by Ron McGatlin on 08/08/2012 at 7:15am